A Sugar Addict's Hints for the Whole30 Challenge: Results
Tastes of Lizzy T participates in affiliate advertising programs. We may earn a commission when you make a purchase through links on our site.
We made it! We successfully finished the Whole30 challenge! Thank for following along with us on this journey. I know that knowing I was going to report to you made a huge difference in me actually completing the entire 30 days.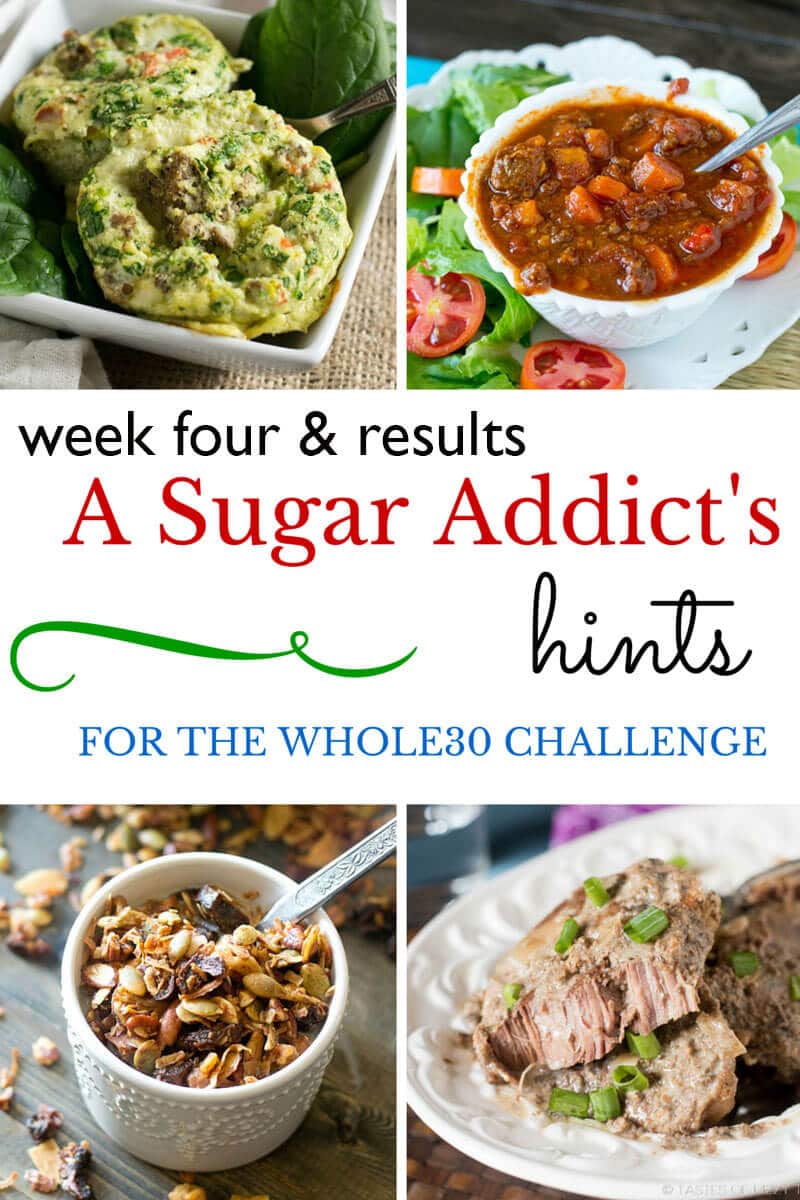 BUY OUR DOWNLOADABLE HEALTHY DINNER RECIPES COOKBOOK WITH 22 OF OUR MOST POPULAR HEALTHY MAIN DISH RECIPES INCLUDING PALEO, WHOLE30, GLUTEN FREE AND SUGAR FREE OPTIONS!

ONLY $4.99!
I'm going to jump into our week recap, then talk results and the ever pressing question of what comes next?
Sunday, January 24: It was a busy day as most Sundays are, but we did get in a short 2 mile run, cleaned the house, and got a nap between church and small group. Small group was "Cereal Night". Everybody brings their favorite box of cereal. Matt and I ate our paleo granola with cashew milk. This might not be 100% in the spirit of Whole30 challenge, but it is compliant ingredients. We figured joining in the fun festivities with something we actually like to eat was the most important thing for this event.
And can I just say that I love this granola? Dates sweeten the mix and cinnamon pumps up the flavor. The granola can be a little pricey to make (I buy these pepitas and sunflower seeds), but we don't eat a lot of it and it is a fun snack every now and then.
Monday, January 25: I set forth to make exercise a priority this week since my energy levels were up. Today I ran 2 miles. I can tell it's easier than it was a month ago! We had slow cooker coconut ginger chicken again for dinner. My family LOVES this. But for some reason when I smell it cook all day it gets to me. It's not the usual flavors that we eat. And when I eat it, it is good, but I mostly make it for my family who all devour it.
Tuesday, January 26: Days seem to be moving quickly and my will power is strong. We made cupcakes today (recipe testing for a friend making a cookbook). The kids ate one, confirmed they were amazing, and within 30 minutes I had them delivered to two friends' houses. Safely out of my reach. 🙂 Hamburgers for dinner. Always a good choice but I miss ketchup. And if you are looking for Whole30 side dishes, we have the best!
By the way, since I can't eat donuts and iced coffee, I wear donuts and iced coffee pajamas. They make me happy. 🙂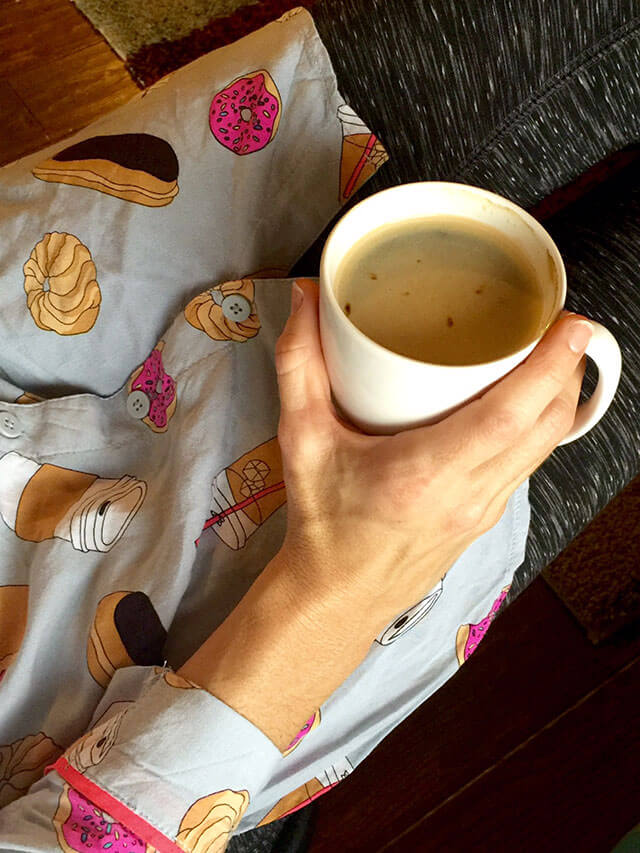 Wednesday, January 27: Today was a little hard. We had to test a chocolate peanut butter recipe. And for all of the recipes that we've made the past month, this was the one that I wanted the most during the moment. I haven't had sugar for 26 days, so it wasn't super hard to say no, I just really wanted to taste just a little bite. I need to test the recipe again so I think I'm going to wait until after we're done with this thing. 🙂 We had a pork chop & potato dinner. It's a recipe that Maddie created. When she made it the first time it was absolutely perfect, but we haven't been able to replicate it to such perfection to share with you yet. This is the second time we've made it and I'm still nailing down the baking technique.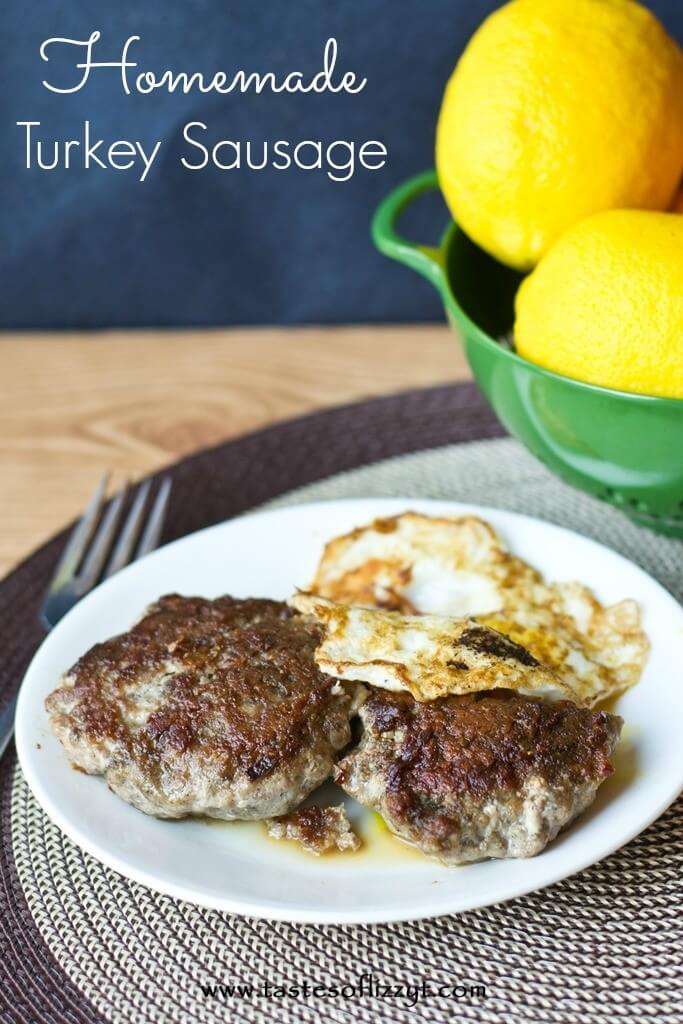 Thursday, January 28: My breakfasts this week have been broccoli and homemade turkey sausage. The first Whole30 we did, I ate this every morning for breakfast. I'm glad I've waited until the last few days to start eating it this time. I like it, but I know I'll get tired of it and be ready for my breakfast hash again soon. Part of my Whole30 Challenge prep was to make up a bunch of turkey sausage patties and throw them in the freezer fully cooked. This makes breakfast easy. I just pull them out, microwave them and steam some broccoli in Ziploc steam bags for a simple breakfast.
We had taco salads for dinner tonight. The kids threw this together quickly while I was out. Lettuce, tomato, peppers, onion, taco meat with my homemade taco seasoning. It was good. But I missed my cheese and sour cream on top.
Friday, January 29: Today was difficult. I'm ready to be done. I think I've realized I have cabin fever. Although I am completely a homebody and would rather be home than out partying in crowds, I'm ready to get out and do fun things in warmer weather with the kids. Remind me of this when we have track meets every.single.night this spring. 🙂
Breakfast and lunch were boring (more sausage and broccoli), so I made homemade buffalo chicken nuggets and skillet potatoes for dinner. I ran 2 ½ miles during the day so I was super hungry at night. And although I was tired and didn't feel like prepping dinner, I did it, it tasted delicious, and my belly felt full.
Saturday, January 30: Saturdays call for bacon! I had bacon and stir-fry veggies for breakfast. When Whole30'ing, I've always struggled with getting bored at the end. To the point of wanting to quit. I mean, 28 days is just as good as 30, right? I was determined this time to not give up even one meal early.
I headed out to the store and picked up a cut of beef that I have maybe bought once before in my life: sliced steak for fajitas. When we go out to Mexican restaurants, Matt and I almost always get steak fajitas, so I knew he'd be excited about this meal. We topped the fajitas and sautéed veggies with fresh pico de gallo, avocado, and put it all over cauliflower rice. I was going to take a picture, but we devoured it too quickly.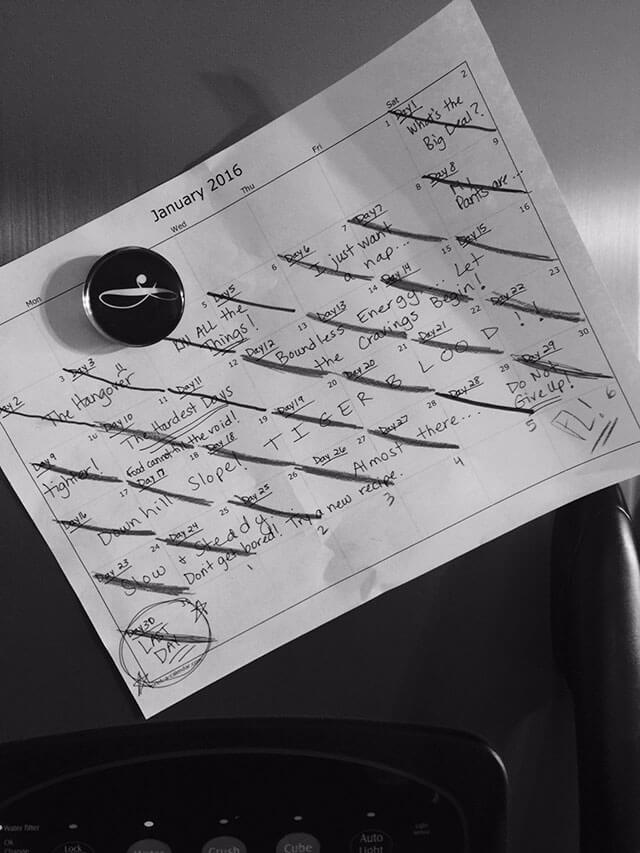 Sunday, January 31: The last day! We knew Sunday wouldn't be too difficult, just because it is a busy day for us. We had garlic bacon pot roast for lunch. Not too much wrong with that. Knowing that this was our last day made it fly by!
The Results:
Matt lost at least 10 pounds. We forgot to measure inches. Ooops.
I didn't lose any weight. Not.one.ounce. But…*sigh*…I'm okay with that. I'm really OK with it. Culture puts such an emphasis on the number that the scale says. I've not had good feelings towards the scale for some time now and really only step on it maybe once a month. After this month? I'm ready to throw it out the window. Even though the number didn't change for me, I know I'm not as bloated and I'm leaner. I've procrastinated putting on a certain pair of jeans for at least a year because I knew they didn't fit. And guess what? They fit. Shorts that didn't fit during the summer? They fit. So I definitely lost something. Why didn't we lose more? We probably ate too many potatoes. The experts say that if you're in the Whole30 challenge to lose weight, watch your potato and fruit intake. We didn't worry about that. We love potatoes and ate what we wanted to as far as potatoes were concerned. We also didn't get to exercise as much as we did during our other Whole30's. It's good to know that obviously I'm at a fairly healthy weight. That even when I am eating 100% healthy and chugging the veggies like they are going out of style that my weight stays about the same. I need to know that for my sanity.
My nails are growing at an alarming rate and they are stronger than ever.
We have energy and are running faster. My pace before the Whole30 challenge was about 10:30 per mile for 2 miles. Now it is down to about 9:45 per mile. I'm slowly adding more mileage.
For the past year or so I've had skin irritations on my neck, right underneath my chin, towards the side of my face. This has completely cleared up. I knew from past Whole30's that my skin would be clearer, but I didn't think about what I ate having to do with the skin irritations on my neck. Now I need to find out what it is that caused that irritation. It better not be chocolate. 🙂
Matt's asthma flare ups are much less. He hasn't used his rescue inhaler nearly all month. We know that dairy aggravates his asthma.
What Foods Did I Miss?
Ketchup. Yep. I may have missed ketchup more than sugar.
Iced coffee. If I'm drinking hot coffee, I really don't mind drinking it black. But I really like iced coffee, so I missed that sweet drink.
Licking spoons. Some days I can have pretty good self-control. I missed being able to lick the frosting of a spoon or eat the wandering chocolate chip that didn't make it in the bowl. I missed just tasting. The problem is that one of the good things about Whole30 is that you realize just how much you taste throughout the day. And how all those little nibbles can quickly add up.
And that's really about it.
I don't eat much bread unless it is homemade and straight from the oven. Otherwise I can pass it up. There was only once or twice that I had to turn down fresh biscuits and warm bread with soup. And I thought I'd miss cheese more than I did. At the most I missed parmesan on my spaghetti.
So all in all I'd say I did fairly well not missing the foods that so often I eat without even thinking twice.
So What Now?
I already know from previous Whole30 challenges that corn bothers me. I can eat a small amount of it with no worries, but if I eat too much, it bothers my stomach. I'd love to find out what is making the skin break out on my neck. I don't know if I'll have enough dedication to do the re-entry that Whole30 recommends. Mostly because we have a Florida vacation coming up and all bets are off when we are on vacation.
But I promise I'll do the best I can.
Hints For You!
Don't do the Whole30 challenge alone. I actually have done about 2 weeks on my own a few different times this past year, but it is just easier if you have someone to hold you accountable.
Keep busy. When you feel like eating? Move. Take a walk. Do a chore. I kept a list of little household tasks that I had been procrastinating about. If I was bored and just wanted to eat, I did one of those tasks. Something in the house gets cleaned or organized and I stay out of the kitchen. It's a win-win.
Do meal prep ahead of time. The hardest part of eating healthy is being able to grab healthy food when you are busy. Make freezer meals, sausages for breakfast, cut up veggies, buy large bags of frozen veggies. Have lots of meat on hand, even hamburger patties for quick meats to throw on the skillet or grill. Take a week or so to plan. It'll be worth it.
Keep compliant snacks on hand. Although Whole30 doesn't like you snacking, there were times when I was out and about and was just hungry. I needed a snack. For those times I carried a Larabar in my purse. Make sure you choose a compliant flavor. There are tons!
Be sure to read up on the official Whole30 rules and their hints. They explain everything so well and their books are worth the read!
Read about our other weeks!
Want to learn more about the Whole30 program? Here's some important books:
The Whole30: The 30-Day Guide to Total Health and Food Freedom
It Starts With Food: Discover the Whole30 and Change Your Life in Unexpected Ways
The Paleo Kitchen: Finding Primal Joy in Modern Cooking
Well Fed: Paleo Recipes for People Who Love to Eat