10 Creative Whole30 Side Dishes for Your Family
Tastes of Lizzy T participates in affiliate advertising programs. We may earn a commission when you make a purchase through links on our site.
Whole30 side dishes that will get you through your Whole30 challenge. From sweet potatoes to salads, these are Whole30 recipes for the family.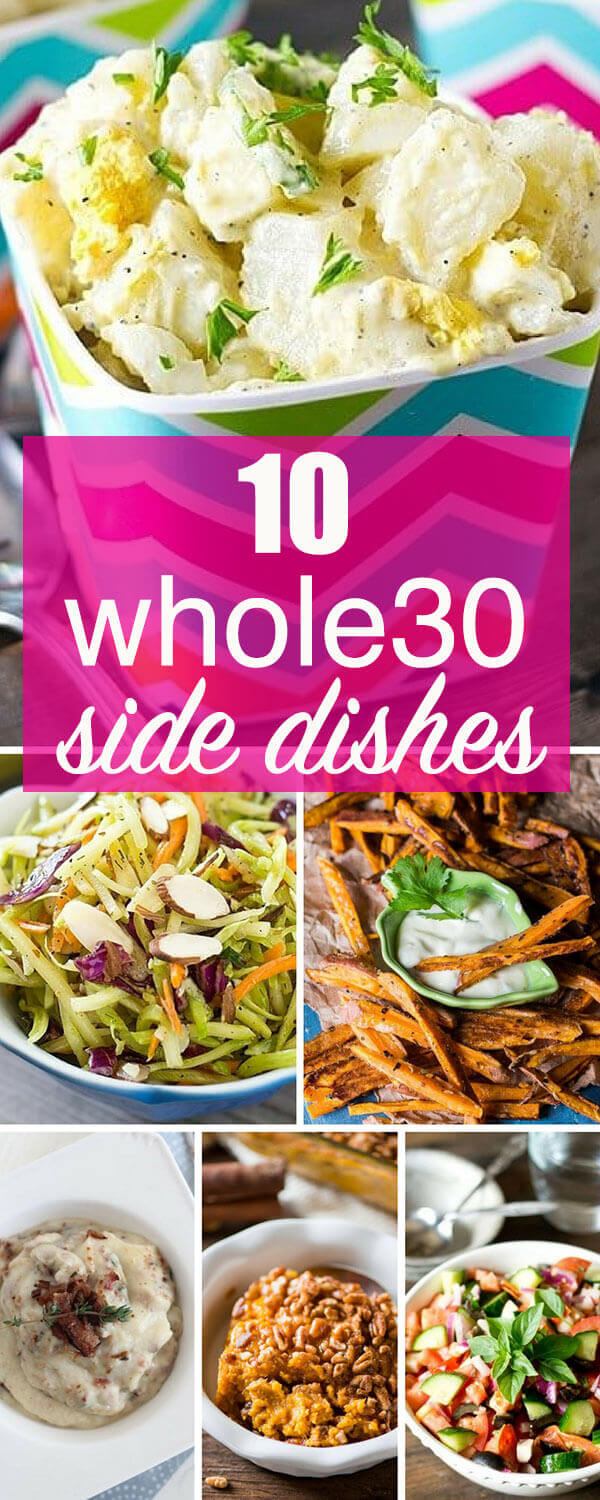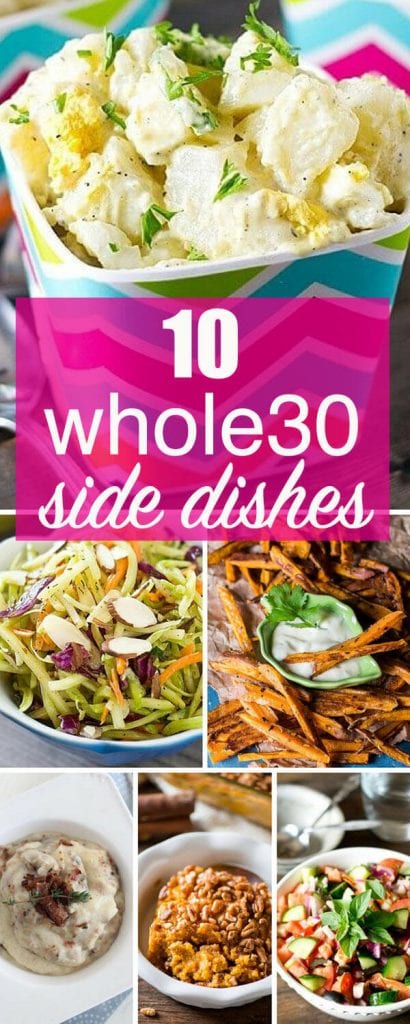 Whole30 Side Dishes
If you're walking through a Whole30 challenge, dinner can sometimes seem difficult to get creative with. I mean, you know you need meat, so you grill chicken, pork chops or prepare a juicy steak, but what do you serve with the main dish?
I've collected 10 of our most healthy Whole30 side dish recipes. All fit in the Whole30 eating plan. Most fit in a Paleo diet, which many transition to after completing a Whole30.
---
Whole30 Salad Recipes
One of the first things you think of when you hear about a real food diet is…salad. Yes, you'll most likely eat countless salads during your Whole30 Challenge, but don't get stuck with boring Whole30 salads. Try these colorful, veggie-filled salads that are great for a lunch, too! Grocery stores make it easy with prepackaged chopped veggies. Give yourself a break from dinner prep and throw together your favorite veggies with simple red wine vinegar and olive oil dressing. You'll learn to love the many combinations!
---
Whole30 White Potato Recipes
The first time we did a Whole30 challenge, white potatoes were not legal. We ate all the sweet potatoes we wanted, but couldn't touch the dreaded white potato. It was beneficial to me because I learned to love sweet potatoes. But white potatoes are now officially Whole30 approved, in moderation, so feel free to enjoy some of your favorite side dishes that use white potatoes. This Whole30 potato salad? We love this more than it's less-healthy sister.
---
Whole30 Sweet Potato Recipes
I've found that sweet potatoes are one of those foods that people either love or hate. I was in the latter category until our first Whole30. I learned to love their sweet taste and versatility. Top a baked sweet potato with a little clarified butter and a sprinkle of salt and cinnamon…mmmm…pure heaven! And Whole30 Sweet Potato Fries? Yes, please!
---
Other Whole30 Favorite Recipes to try
Did you know you could mash cauliflower for a low-carb potato substitute? Or make cauliflower rice to have on with your Mexican dinner? It's crazy the things you can do with veggies!
And sometimes, just using fresh fruit and veggies as a topper to steak, chicken or salads makes the difference you need to keep your Whole30 exciting.
Need to learn more about the Whole30 program?
Find our ultimate guide to the Whole30 challenge here. We talk about what to expect, shopping lists, where to get food and reintroduction.
Some of the best Whole30 books:
The Whole30: The 30-Day Guide to Total Health and Food Freedom
It Starts With Food: Discover the Whole30 and Change Your Life in Unexpected Ways
The Paleo Kitchen: Finding Primal Joy in Modern Cooking
Well Fed: Paleo Recipes for People Who Love to Eat
BUY OUR DOWNLOADABLE HEALTHY DINNER RECIPES COOKBOOK WITH 22 OF OUR MOST POPULAR HEALTHY MAIN DISH RECIPES INCLUDING PALEO, WHOLE30, GLUTEN FREE AND SUGAR FREE OPTIONS!

ONLY $4.99!