Twice Baked Sweet Potato Puffs
Tastes of Lizzy T participates in affiliate advertising programs. We may earn a commission when you make a purchase through links on our site.
Savory mashed sweet potato puffs make an elegant, healthy side dish for your family dinner. These sweet potato swirls are often called duchess potatoes.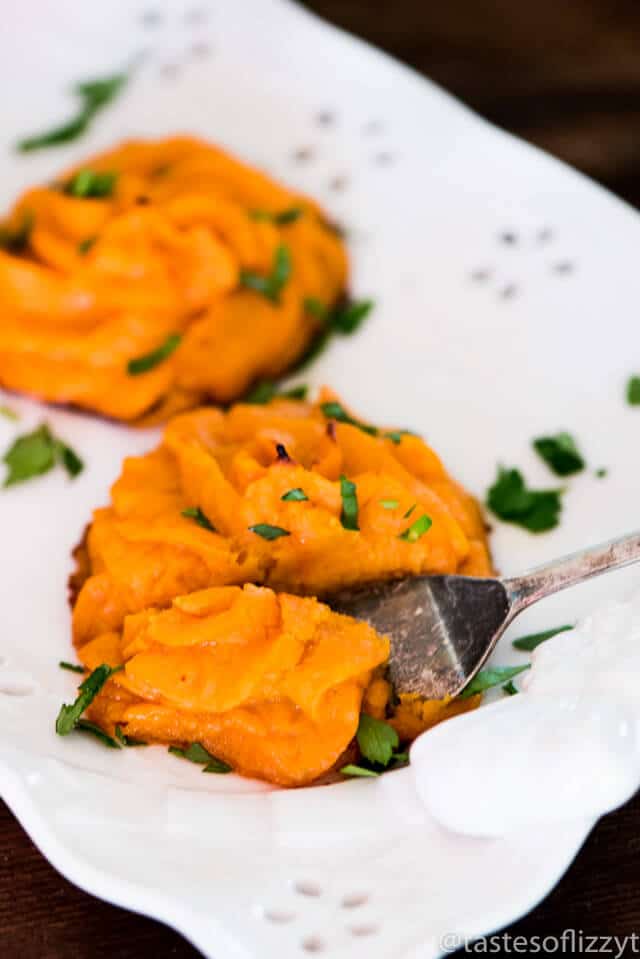 Ahh….vacation.
We're on Anna Maria Island this week loving every minute of the palm trees swaying in the breeze. There's nothing like the sound of the surf hitting the sand, feeling the warm sun on my face.
Ok, so maybe the food on vacation is just as good as the sun if not better.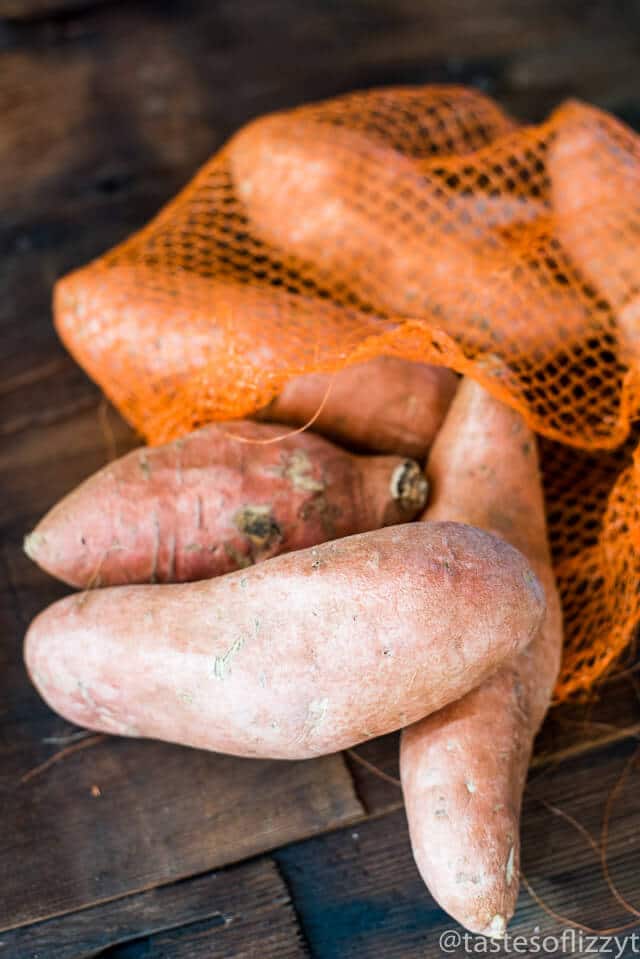 You know we just suffered through completed a Whole30. We're trying not to undo everything we accomplished in our healthy month of January. But we are saying "Yes, please!" to some delicious donuts, coffees and fish dinners.
And when we get home we'll need to push reset and get back to healthy eating. Which I'm not all that upset about because ya know what? You can eat a healthy diet and enjoy it.
Twice Baked Sweet Potato Puffs are just one example of a healthy side dish recipe that I come running for.  These mashed sweet potatoes are gluten free, dairy free (if you use ghee in place of butter), grain free and sugar free. Paleo-approved and a fun Whole30 recipe.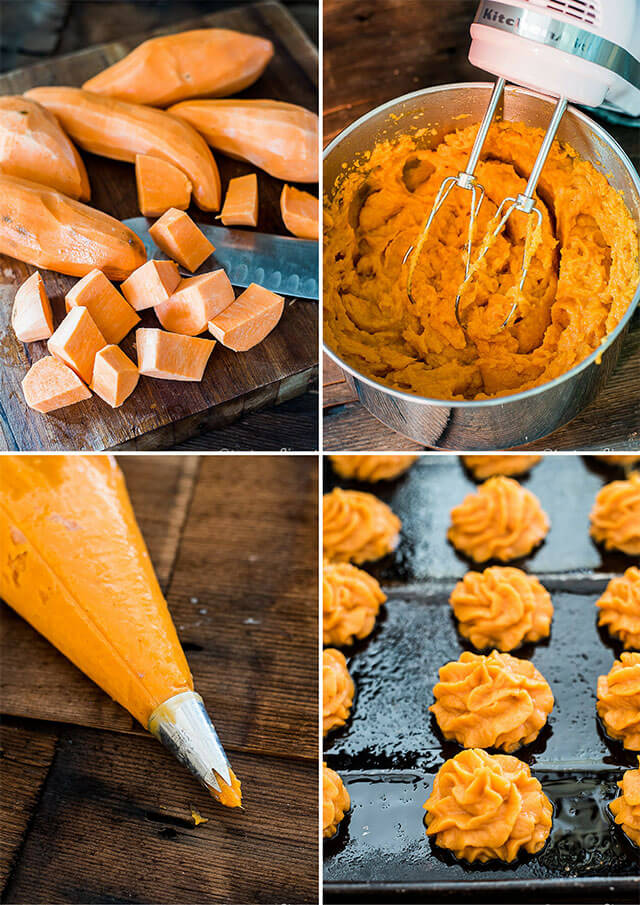 With Easter coming up, you may be looking for a healthy side dish to go alongside your honey baked ham. These sweet potato puffs are easy, savory and oh, so pretty!
Here's some tips on making them.
Wash and peel 3 pounds of fresh sweet potatoes. Please don't use canned sweet potatoes for this recipe. Fresh sweet potatoes are so much better and definitely give these sweet potato puffs a light, pleasantly clean taste.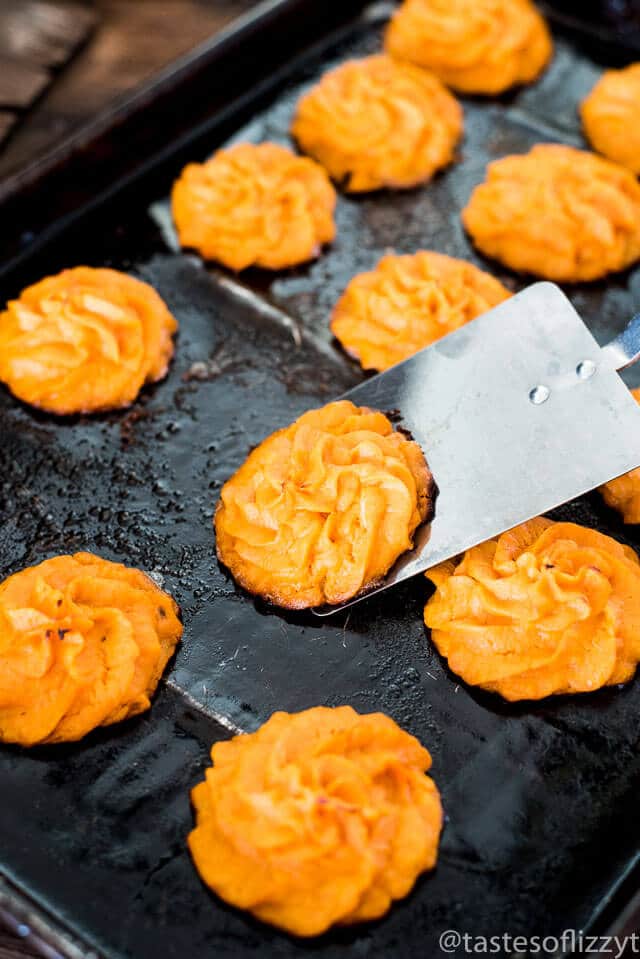 Cut the potatoes into large chunks and boil them until they are soft. Depending on the size of the potatoes this will take 15-20 minutes.
Drain the water off the potatoes and add butter (or ghee or even coconut oil) and cashew milk (or the milk of your choice). Use a mixer to whip and mash these potatoes until they are smooth. You don't want any chunks at all. Think baby food. Ok, maybe don't think baby food, but you get the picture.
Then add your two eggs and whip those potatoes and eggs together for a minute or two until they are light and fluffy.
Now comes the fun part. You're going to make those pretty little swirls using a decorating bag and a Wilton 1M tip. This is a tip with a large opening that is perfect for squeezing those potatoes out.
Fill the bag with the mashed potatoes and squeeze swirls onto a greased baking sheet. Once you've made all of the swirls, drizzle them with butter, then bake them for 15 minutes at 425 degrees. Then you can broil them for just 2-3 minutes in order to get a little bit of a brown edge on the swirls. This makes them look so pretty!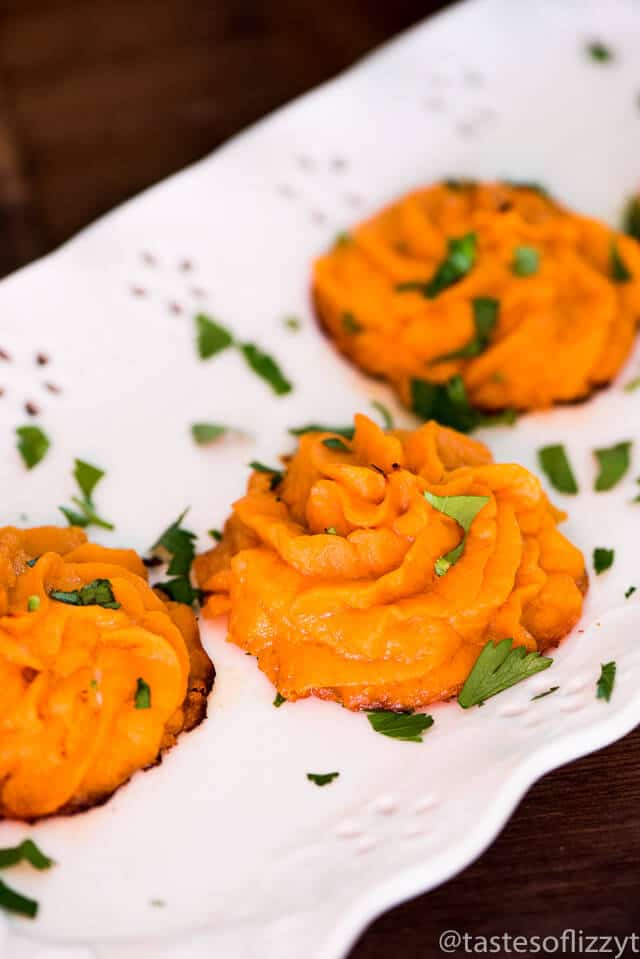 I've made these several times and I prefer using a dark baking sheet. The bottoms of the potatoes seemed to get a little more caramelized and slightly crispy when I used a dark baking sheet as opposed to a shiny metal sheet. Either works, though.
So officially these sweet potato puffs are not twice baked. They're once cooked and once baked. But they have that depth of flavor that twice baked potatoes have.
Serve them with ham or turkey as a main dish along with a side of veggies. A simple, healthy dinner that is perfect for holidays, company and family dinners!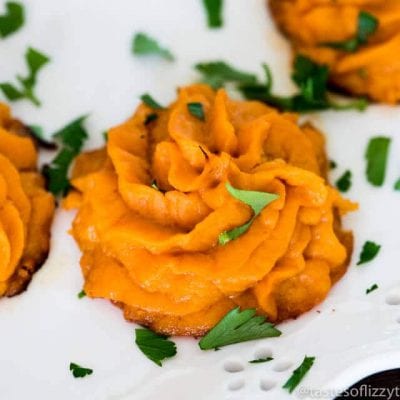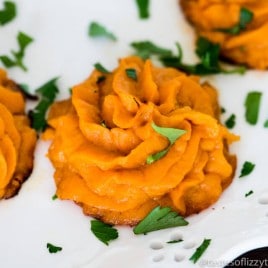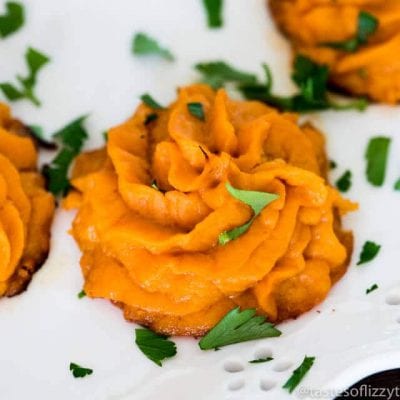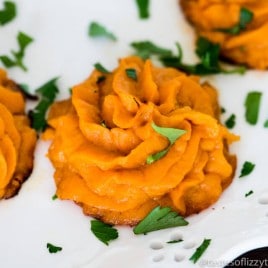 Twice Baked Sweet Potato Puffs
Savory mashed sweet potato puffs make an elegant, healthy side dish for your family dinner. These sweet potato swirls are often called duchess potatoes.
---
Ingredients
3

pounds

sweet potatoes

washed and peeled

1/3

cup

salted butter or ghee

softened

2

tablespoons

cashew milk

or any milk you prefer

2

large

eggs

3

tablespoons

salted butter

melted (for drizzling)

Additional salt

to taste

Fresh parsley

for garnishing
Instructions
Boil water in a large saucepan over medium heat.

Cut the potatoes into chunks and place the chunks in the boiling water. Allow the potatoes to boil for 15-20 minutes* or until the chunks are soft.

Drain off the water.

Add the butter and milk to the drained potatoes.

Use a hand mixer to beat the potatoes until the butter is completely melted and the potatoes are smooth.

Add the eggs and beat for an additional 1-2 minutes until the egg is completely mixed in.

Take a large disposable decorating bag and snip the tip off.

Place Wilton 1M tip inside the bag and push it into the cut off tip.

Fill the decorating bag with the sweet potato mixture.

Spray a baking sheet with coconut cooking spray.

Take the decorating bag, hold it perpendicular to the baking sheet and pipe a swirling mound of sweet potatoes. Continue until you've used all of the sweet potato mixture.

Drizzle the melted butter over the sweet potato swirls.

Bake at 425 degrees for 15 minutes.

Keep the oven rack in the same position. Turn the oven to high broil and broil for 2-3 minutes. Be sure to watch the sweet potato swirls carefully and take them out when they just barely brown on the edges.

Snip fresh parsley over the sweet potatoes if you desire. Add additional salt also if you'd like.
Notes
*The exact cooking time for the potatoes will depend on how big you cut the potato chunks.
Nutrition
Serving:
161
g
|
Calories:
261
kcal
|
Carbohydrates:
38
g
|
Protein:
3
g
|
Fat:
11
g