Skip the store-bought seasoning and try this homemade bbq chicken rub. Use this easy spice mix on your favorite cut of chicken for the BEST bbq chicken.
Grilled chicken. Don't you love how versatile it is? When I think about grilling out it's one of the first things my mind goes to. Often I think of a bbq sauce to marinate the meat in. But today we're talking all about dry rubs!
Guys I'm so pumped that summer is on the way. I'm ready for all things grilling! Let the summer begin! BBQ Chicken is a classic. We shared our dry pork rub last year and this year it's all about the bbq chicken rub.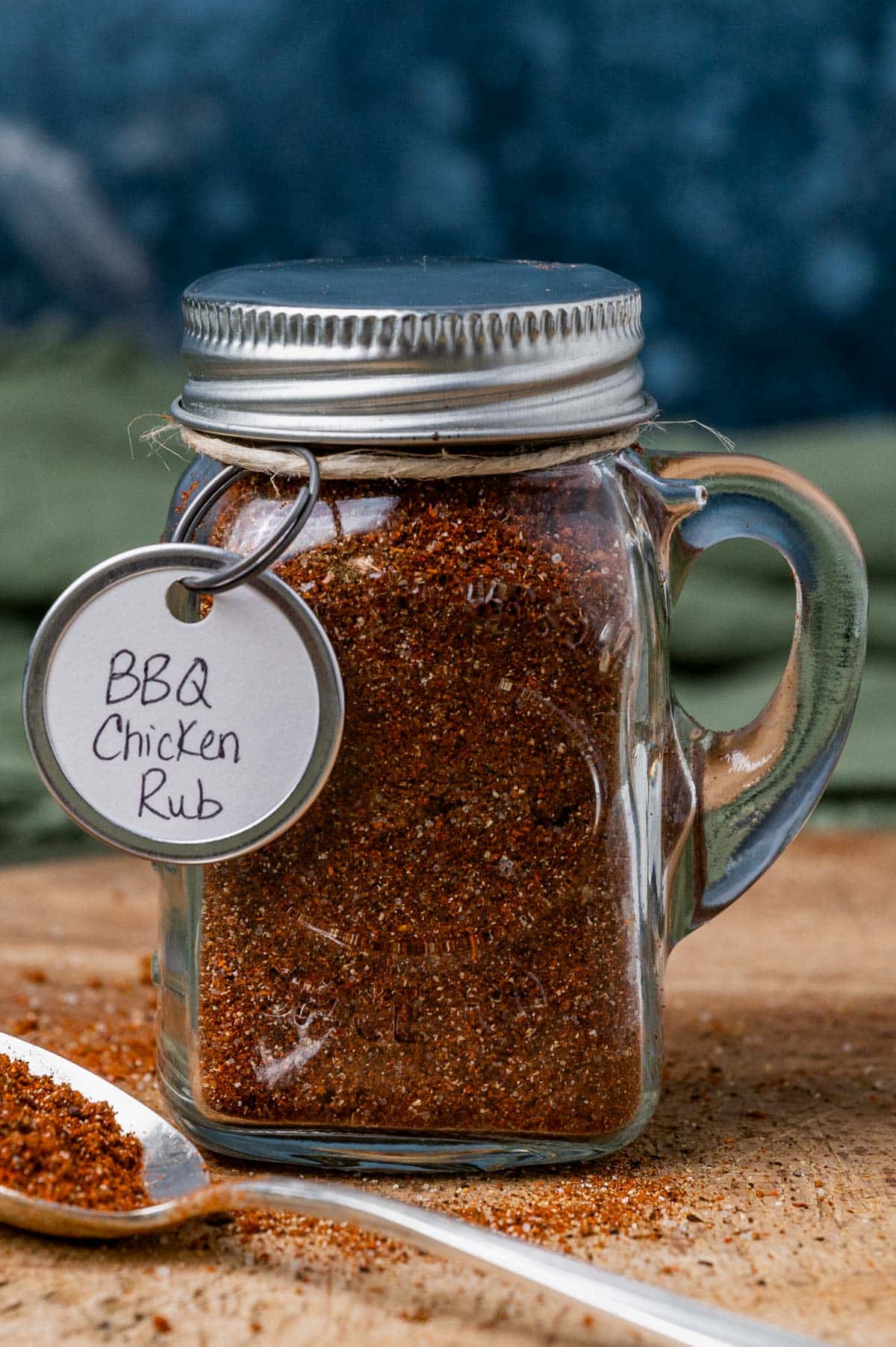 What is BBQ seasoning made of?
The common ingredients in bbq seasoning is chili powder, paprika, some sugar and then salt and pepper. From there you'll find seasonings such as thyme, garlic and cumin. Add a little cayenne pepper if you like the heat.
What can I use instead of bbq seasoning?
If you don't have any bbq seasoning mix, you can easily mix up your own. The spices in this homemade mix are very common and you most likely have them on your spice rack.
You can even mix up a batch in advance and have it ready for whenever the bbq craving hits.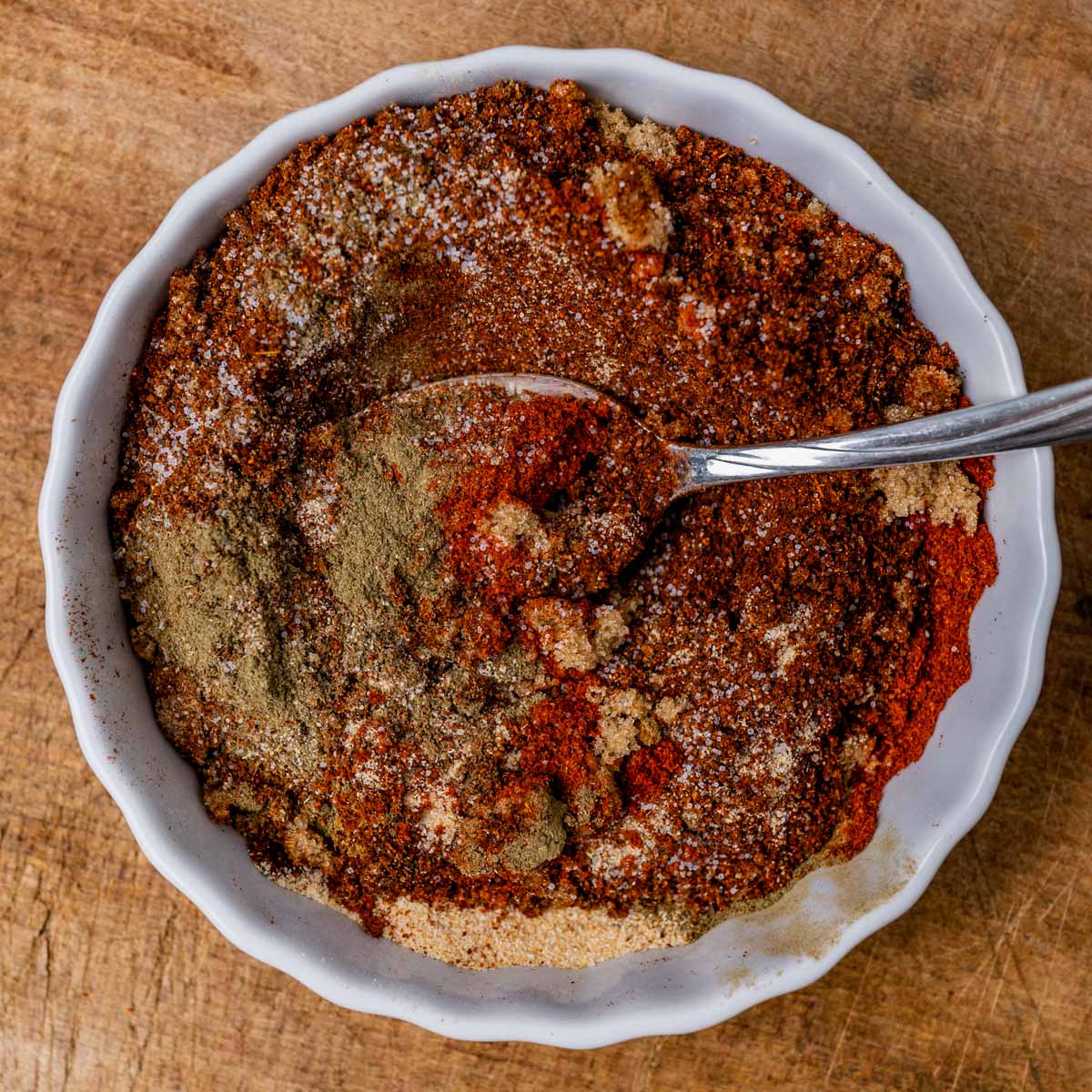 What kind of chicken is best for grilling?
You can really choose whatever type of chicken you like best for grilling. We like chicken thighs, chicken breasts and even wings for grilling. Chicken breasts are great for marinades and for chopping for grilled chicken salads.
Skin on chicken helps to hold in the moisture of the chicken when grilling.
Drumsticks and smaller chicken pieces don't take long to grill, but a whole chicken leg or small chicken will take potentially over 30 minutes to grill.
Just about any cut of chicken is a great choice!
Should I boil drumsticks before grilling?
Do you have to parboil chicken before grilling? No, you don't. But it does simply and speed up the grilling process. It also prevents the chicken from drying out since it doesn't have to sit on the grill so long.
If you do decide to parboil the chicken, boil for about 5-7 minutes for drumsticks, and a little longer for larger cuts of chicken. If you do this, you'll be able to cut the grilling time in half.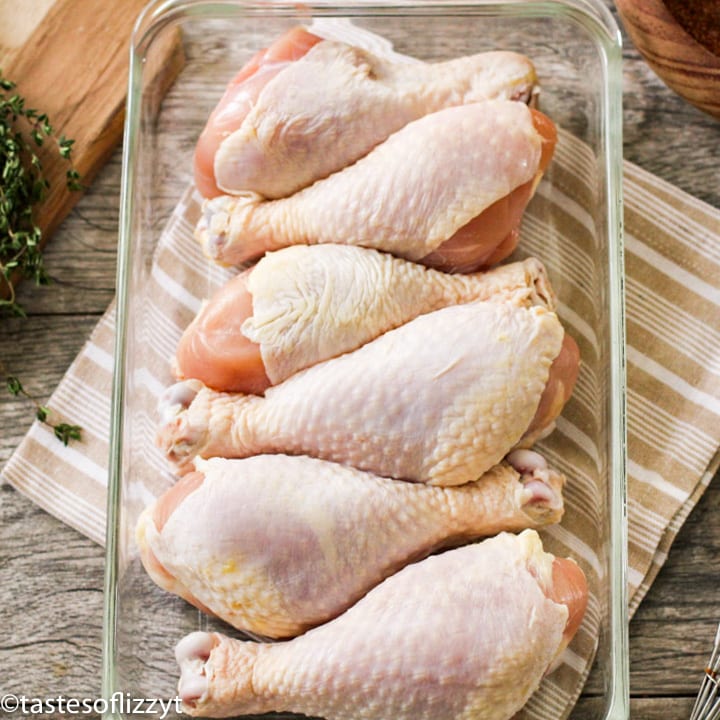 How long can I leave a dry rub on chicken?
We recommend letting your chicken sit with the dry rub on it for about 30 minutes. You'll want to let it sit at the very least for 15 minutes, but you can easily let the chicken sit for several hours or even overnight. Be sure to refrigerate the chicken as it sits.
**Pro Tip: If the chicken you are using has skin, rub some of the spice rub under the skin as well as on top of the skin.**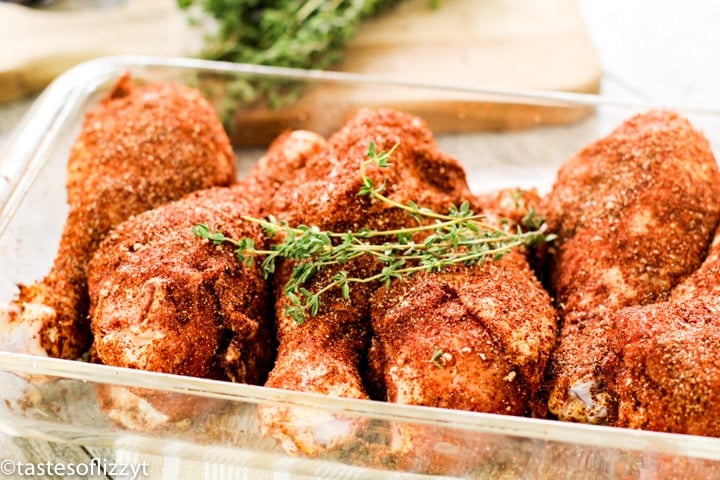 What temperature do you grill chicken legs at?
I like to set the temperature of the grill to medium high. You don't want the heat too high or the chicken will burn too quickly. The grill temperature should be around 350-400º Fahrenheit during grilling.
How long do you barbecue chicken for?
Plan about 30 minutes to grill the chicken drumsticks. Most likely the chicken won't take that long, but it really depends on the heat of the grill, the chicken temperature when you put it on the grill, and how big the chicken pieces are. Planning for 25-30 minutes (turning several times during cooking) should be just about right.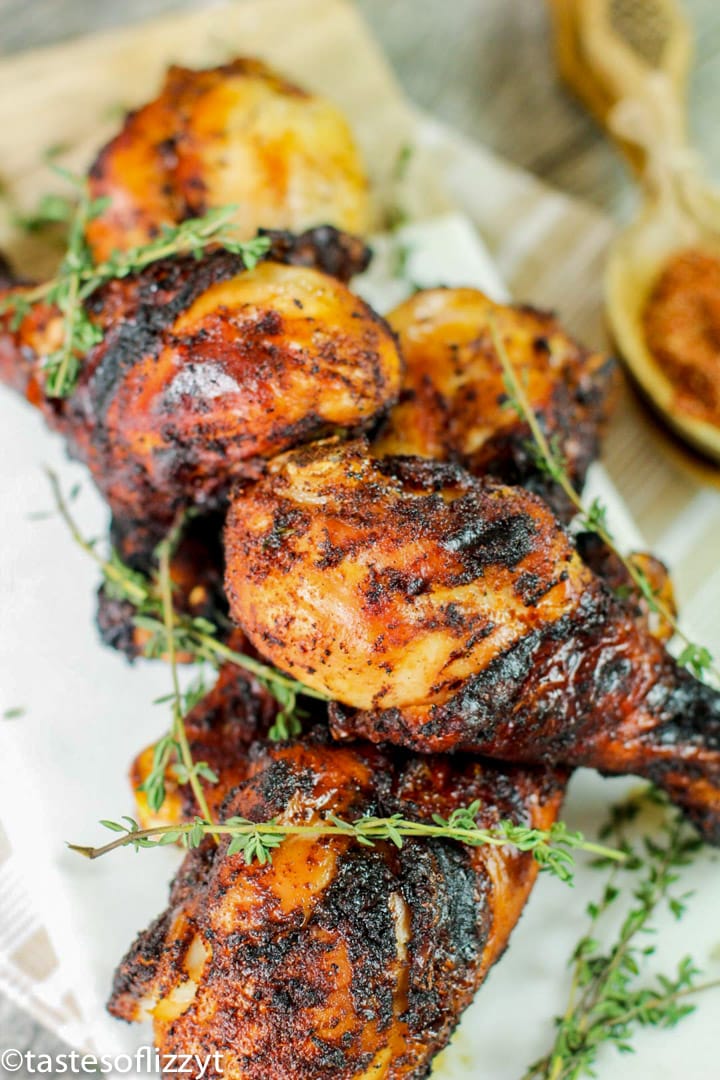 How do you know when chicken is done?
To be certain that chicken is done, you'll want to test it with an internal thermometer. Chicken should test at 165º Fahrenheit. We actually prefer our chicken on the bone to be done just a little more than this. I'll take it off the grill when it is about 170-175º Fahrenheit.
our favorite meat thermometer
We LOVE our Thermoworks ThermaPen to quickly test meat temperatures. This probe thermometer is AMAZING.  Get it here.
What to Serve with BBQ Chicken
Because this is a classic picnic recipe, you'll need some classic, picnic side dishes! Try our homemade potato salad, coleslaw, loaded baked beans or Instant Pot baked beans. You can also try a watermelon salad and some strawberry punch. Delicious!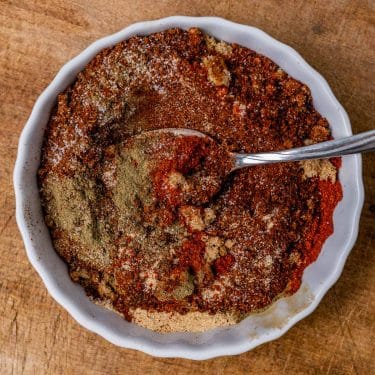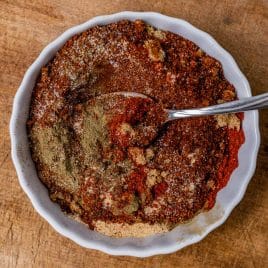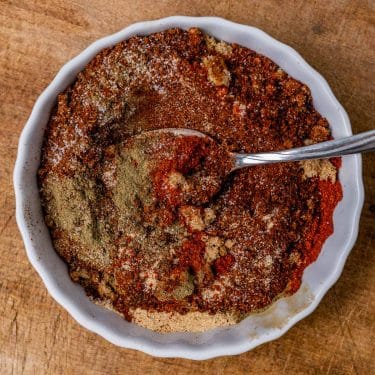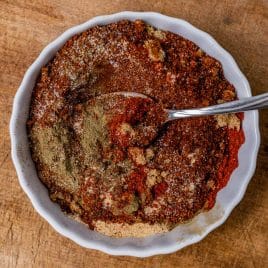 BBQ Chicken Rub Mix
Skip the store-bought seasoning and try this homemade bbq chicken rub. Use this easy spice mix on your favorite cut of chicken for the BEST bbq chicken.
---
Ingredients
Chicken Rub:
¼

cup

chili powder

1

tablespoon

paprika

1

tablespoon

thyme

2

teaspoon

salt

2

teaspoon

garlic powder

1

teaspoon

black pepper

1

teaspoon

cumin

1

teaspoon

cayenne pepper

1

tablespoon

brown sugar
Chicken:
6

drumsticks

(or chicken of your choice)

2

tablespoons

olive oil

(optional)
Instructions
In a small bowl mix together BBQ seasonings.

Season drumsticks (or chicken pieces of your choice) with BBQ seasonings and let sit for 30 minutes.

Grease grill and preheat oven medium high heat.

Add drumsticks and cook for 25-30 minutes, flipping every 4-5 minutes or until it reaches 175-180 degrees internally. Brush with olive oil half way through grilling if you'd like. This is optional!
Notes
The calories shown are based on the recipe making 6 drumsticks, with 1 serving being 1 drumstick. Since different brands of ingredients have different nutritional information, the calories shown are just an estimate. **We are not dietitians and recommend you seek a nutritionist for exact nutritional information.**
Nutrition
Calories:
180
kcal
|
Carbohydrates:
4
g
|
Protein:
13
g
|
Fat:
12
g
|
Saturated Fat:
2
g
|
Cholesterol:
69
mg
|
Sodium:
856
mg
|
Potassium:
227
mg
|
Sugar:
2
g
|
Vitamin A:
805
IU
|
Vitamin C:
2.1
mg
|
Calcium:
18
mg
|
Iron:
1.2
mg
Other BBQ Chicken Recipes