The possibilities are endless with this traditional Broken Glass Jello recipe. Use whatever color and flavor of gelatin that you'd like to fit the holiday or special occasion. It's a great make-ahead dessert.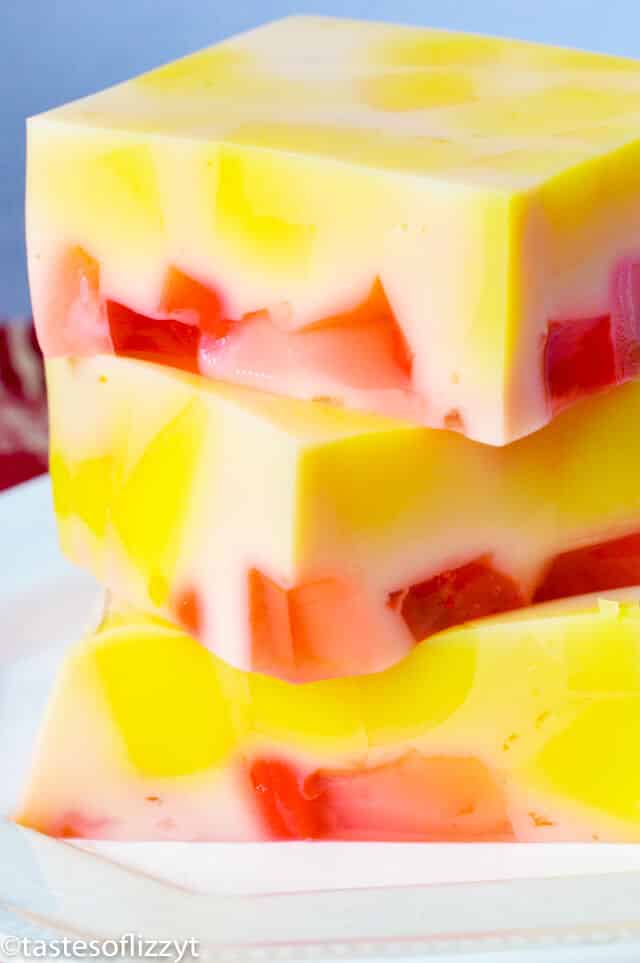 Broken Glass Jello Recipe
Have you ever had broken glass Jello? It's a Kraft recipe that has been around for ages. It's one of the most versatile and kid-friendly recipes around…and is perfect for just about any holiday. At Halloween use grape, orange and lime Jello. At Christmas, use lime and cherry. In the summertime, make it red, white and blue!
How do you make gelatin cubes?
Making gelatin cubes might seem like an extra step, but it is really easy. The most important thing to remember is to use half of the water that it calls for on the back of the box. We used 2 large boxes of Jello, but you can use 4 small boxes if you'd like. Just remember…use half the water so you can easily cut them into cubes.
Pour the Jello into a shallow baking dish. We like to use a dish that will give us Jello about 1/2″ to 1″ thick. You can do thicker if you'd like, but it will take longer for the Jello to set up and be harder to cut into cubes.
The Jello should only take about 2 hours to firm up if you chill it in a shallow dish.
Once the Jello is firm, just use a sharp knife to cut it cleanly into cubes.

How do you make a broken glass Jello dessert?
Once you have the gelatin cubes made, the rest is easy!
Place the jello cubes in whatever pattern you'd like in a 9×13 glass dish. Spray the baking dish with cooking spray so you can remove the Jello easily.
Mix the unflavored gelatin into a cup of hot water. Stir until it is dissolved, then mix in the milk.
Pour the milky mixture over the gelatin cubes. *Note…make sure the milk mixture isn't too hot or it may melt the Jello.*
Cover it, refrigerate until firm, then serve!

Sugar Free Jello Dessert?
Unfortunately they don't sell sugar free condensed milk, but they do make a low-fat or lite version that you could try. So although we definitely can't say this is sugar free, you can lower the calories by using sugar free Jello. Prepare it the same way!

OTHER JELLO SALAD RECIPES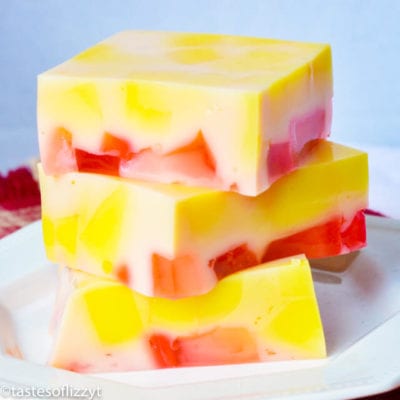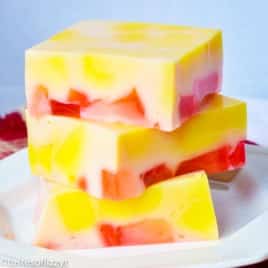 ---
Ingredients
6

ounces

red Jello

(1 large box)

6

ounces

yellow Jello

(1 large box)

4

cups

boiling water

14

ounces

sweetened condensed milk

(1 can)

2

envelopes

unflavored gelatin

1

cup

boiling water
Instructions
In one bowl, dissolve the red Jello in 2 cups of boiling water. In a separate bowl, dissolve the yellow Jello in 2 cups of boiling water. Whisk each until all of the Jello is dissolved.

Keeping the colors separate, pour the Jello in 2 shallow baking dishes or plastic dishes that you've sprayed with cooking spray. Refrigerate until firm.

Once the Jello is firm, cut the Jello into squares.

Place the colored squares in a 9x13 glass baking dish that you've sprayed with cooking spray.

Be sure the two colors of squares are mixed evenly.

In another bowl, mix the 1 cup of boiling water and 2 envelopes of gelatin.

Immediately start mixing until the gelatin has dissolved.

Add the condensed milk to the gelatin mixture and stir thoroughly.

Pour the milk mixture over the Jello squares and place, covered, in the fridge until firm. (about 2 hours)

Remove from fridge and cut into large squares for serving.
Notes
*You can use whatever colors/flavors of Jello you'd like. You can also use 4 different colors if Jello, just be sure to choose 4 small boxes and only put in half the water that the box instructions call for.
*The calories shown are based on the Jello being cut into 15 pieces, with 1 serving being 1 portion of Jello. Since different brands of ingredients have different nutritional information, the calories shown are just an estimate. **We are not dietitians and recommend you seek a nutritionist for exact nutritional information.**
Nutrition
Calories:
171
kcal
|
Carbohydrates:
34
g
|
Protein:
3
g
|
Fat:
2
g
|
Saturated Fat:
1
g
|
Cholesterol:
8
mg
|
Sodium:
139
mg
|
Potassium:
98
mg
|
Sugar:
33
g
|
Vitamin A:
70
IU
|
Vitamin C:
0.7
mg
|
Calcium:
75
mg
|
Iron:
0.1
mg