Chicken and Potatoes Foil Packets
Tastes of Lizzy T participates in affiliate advertising programs. We may earn a commission when you make a purchase through links on our site.
Tender and crisp this chicken and potatoes foil packets dinner recipe is a hearty and healthy foil packet dinner idea that is great for grilling, baking in the oven, or cooking over a campfire!
We've jumped on the foil packet meals bandwagon! We recently posted our grilled shrimp foil packet recipe, as well as our corn and chicken foil packet recipe. Today, we're sharing our Italian chicken and potatoes foil packets recipe that is as tasty as our Italian skillet chicken recipe!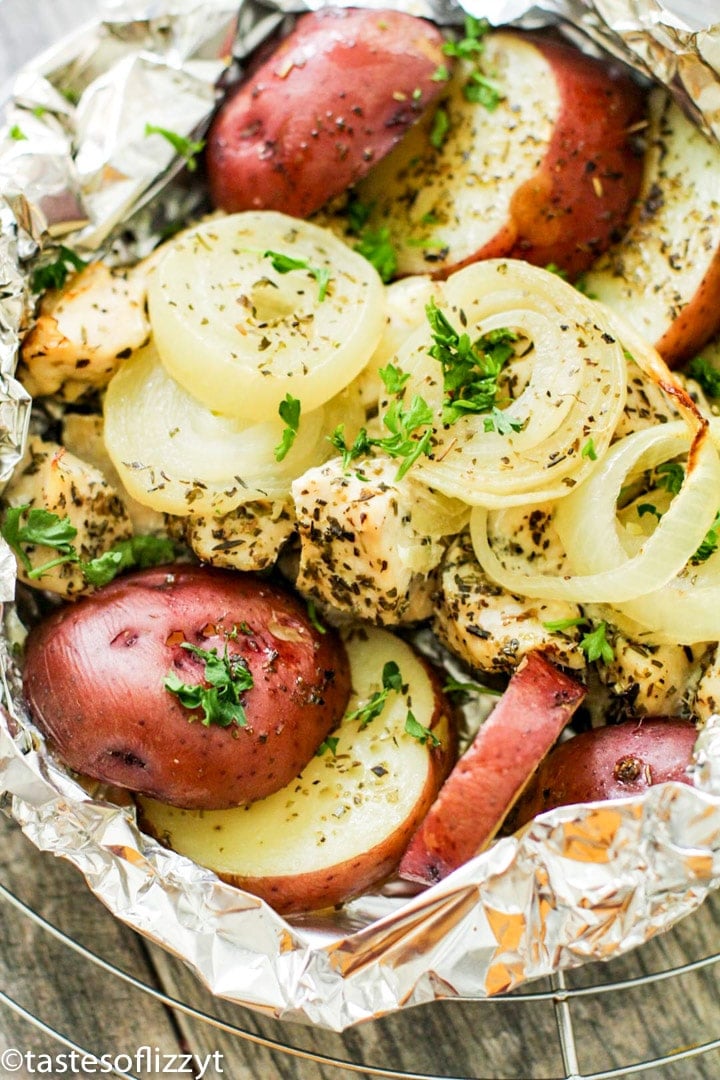 What is a foil packet?
Ever wonder what a foil packet is? You may have seen campers grilling food in aluminum foil pouches and thought, "Hey, that's so cool!", not realizing that you can continue this process at home on the grill or in your oven.
Foil packets are meals cooked in aluminum foil. Highly used by campers where they cook their foil packet meals over a campfire, foil packet meals are easy "one pan" recipes that are convenient for a quick clean up.
Just remember that the foil packet is not a sheet pan, and if it's too filled, it can break or leak.
What can I put into a foil packet?
Foil packets can be customized to your liking. You can go with themes such as Italian, Chinese, or Mexican just by changing seasonings or lightly marinating them in a sauce. Some popular ingredients to use in foil packets are:
shrimp
potatoes
chopped vegetables (especially, peppers and corn)
steak
boneless chicken
salmon/seafood
How To Make Chicken and Potatoes Foil Packets
Quick warning! Do not overfill your foil packets. If needed, spread out this chicken and potato recipe over a few foil packets.
First, season your chicken with Italian seasoning. You can use our homemade Italian seasoning recipe!
Add your chicken to the center of your aluminum foil and add thickly chopped potatoes and thick slices of onions. (You can choose to spray your aluminum foil instead to keep the foil from sticking to your food.)
Drizzle olive oil over all of the ingredients and sprinkle more Italian seasoning and a little salt and pepper over the vegetables.
Cover and seal your chicken foil packets and bake for 25-30 minutes.
What kind of chicken can I use in chicken foil packet recipes?
We are using boneless, skinless chicken breasts for this chicken and potatoes foil packets recipe. You can use boneless chicken thighs or even small wings, if desired.
Chicken thighs are a great option because they tend to not dry out as quickly as chicken breasts.
Can I use canned chicken for chicken foil packet meals?
Yes! You can use canned chicken for this chicken and potatoes foil packet recipe! Adjust your cooking time to only as long as it takes to only cook your potatoes through.
You could even pre-cook your potatoes in the microwave to make them a little softer…then they won't take long on the grill at all.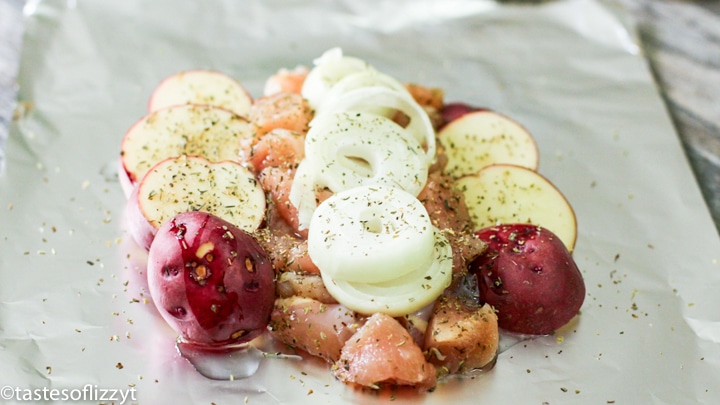 What kind of potatoes should I use for foil packets?
We're using red potatoes for this recipe because they are waxier and hold their shape well even after cooking.
You can use any kind of potato you desire. Be sure to cut the potatoes into ½ to 1 inch chunks so the potatoes can cook quickly in the foil packets.
Should I leave the skin on the potatoes?
This is completely optional. As long as you scrub your potatoes you can leave the skins on if you'd like. ,The potato skin holds nutrients we all want in our diet so don't shy away from leaving them on.
Most of our recipes, like our roasted red potatoes and twice baked potatoes all have their skin on. If you feel like peeling your potatoes, you absolutely can!
How To Fold Foil Packets
Like the first time you fold a burrito, figuring out how to fold a foil packet can be intimidating.
To fold a foil pack you're going to take a long piece of foil and fold it in half (width-wise) so that you have a double layer. Place your chicken, onion, and potatoes in the center of the foil, then fold over one side, fold the edges together and press to seal.
Fold up the remaining 2 edges to make a small packet. Don't pack the foil together too tightly. You want room for the steam to escape.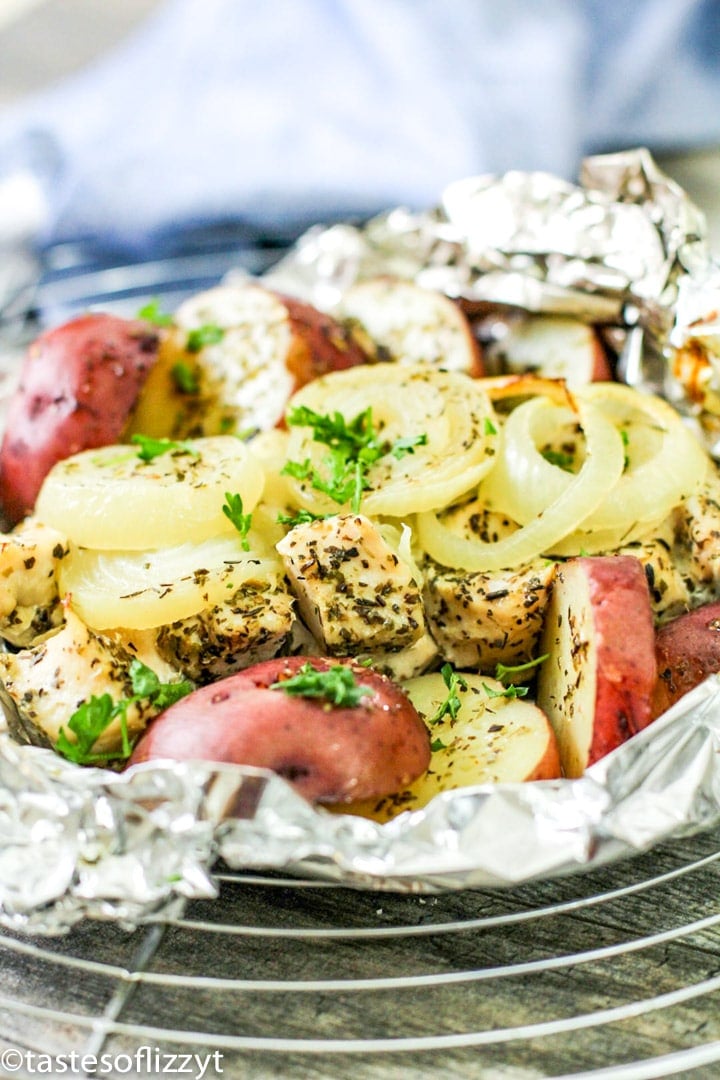 How To Cook Chicken In Foil Packets
When making chicken and potatoes foil packets in the oven, you need to first preheat the oven or grill to 400 degrees Fahrenheit.
After your foil packet is packed and sealed, you need to bake or grill the chicken and potato foil packet for 25-30 minutes.
Note…this timing is for boneless chicken. If you're using bone-in chicken, you'll have to add some additional cooking time to your chicken foil packets.
**Pro Tip: If you're grilling chicken in foil packets, the timing may change depending on the type of grill you are using and how hot it is. I'd suggest 20-25 minutes over a medium to medium high flame.**
Toppings for Foil Packets
For this Italian chicken and potatoes foil packets recipe, you may want to add a dollop of sour cream and a dab of butter to each serving when it's time to eat, it is so good!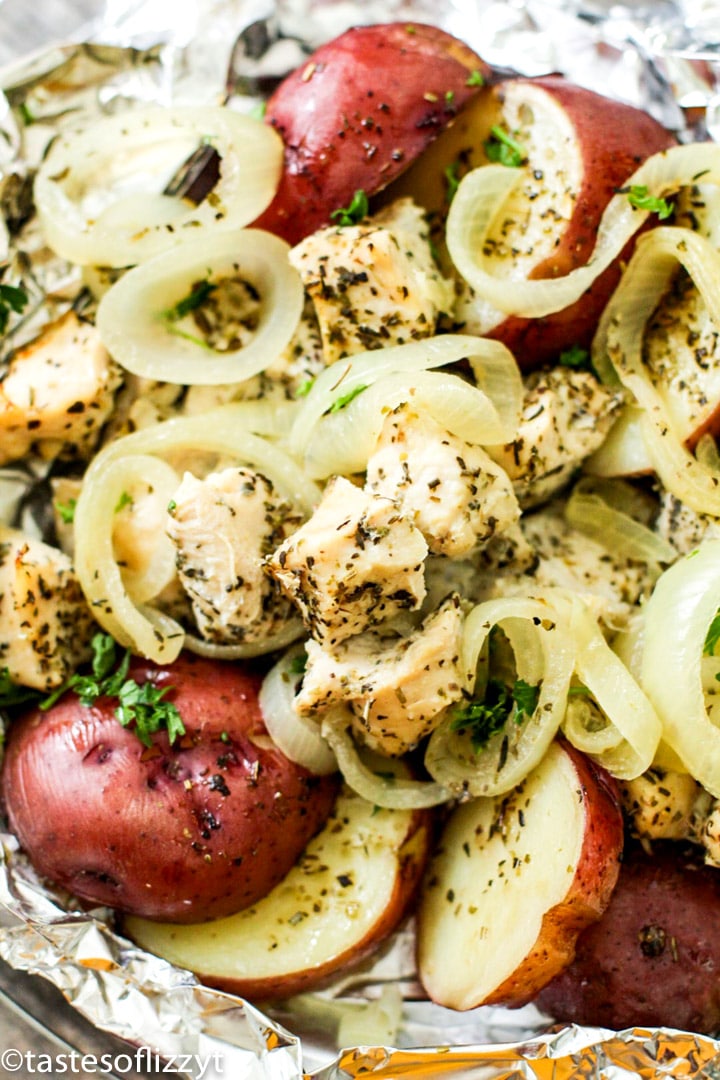 Family Favorite Potato Recipes
Here are some family favorite potato recipes we just know you'll love!
Want quick, easy foil packets and an easier cleanup? Buy Pre-made grilling bags! See them here.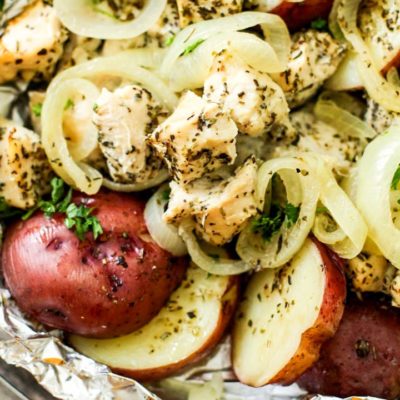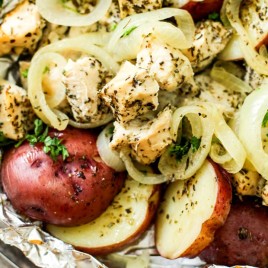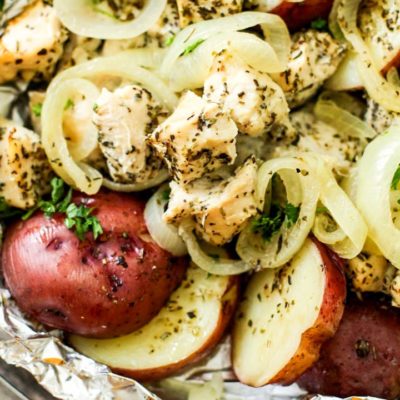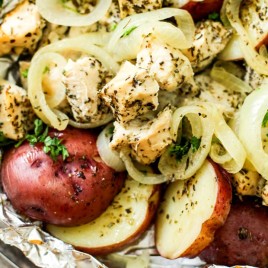 Chicken and Potato Foil Packets
Tender and crisp this chicken and potatoes foil packets dinner recipe is a hearty and healthy foil packet dinner idea that is great for grilling, baking in the oven, or cooking over a campfire!
---
Ingredients
1

chicken breast

(cubed)

2

small red potatoes

(scrubbed and sliced)

1

small onion

(sliced)

1

tablespoon

olive oil

1 1/2

teaspoons

Italian seasoning

(divided)

2

sheets of 12 inch aluminum foil

salt and pepper

(to taste)
Instructions
Preheat oven to 400 degrees Fahrenheit or preheat grill on medium high.

In a bowl, toss chicken breast with 1 teaspoon of Italian seasoning.

Lay out one piece of aluminum foil. Spray the foil with cooking spray.

Place chicken on the center and arrange vegetables on the side of the chicken. Drizzle olive oil over vegetables and sprinkle on remaining Italian seasoning.

Line the remaining aluminum foil over the food and close the ends together by rolling it together 2-3 times.

Poke a hole into a corner and bake/grill for 25-30 minutes, or until potatoes are tender and chicken is cooked through.
Notes
The calories shown are based on this recipe serving 2. Since different brands of ingredients have different nutritional information, the calories shown are just an estimate. **We are not dietitians and recommend you seek a nutritionist for exact nutritional information.**
Nutrition
Calories:
344
kcal
|
Carbohydrates:
35
g
|
Protein:
28
g
|
Fat:
10
g
|
Saturated Fat:
2
g
|
Cholesterol:
72
mg
|
Sodium:
170
mg
|
Potassium:
1406
mg
|
Fiber:
4
g
|
Sugar:
3
g
|
Vitamin A:
60
IU
|
Vitamin C:
19.6
mg
|
Calcium:
51
mg
|
Iron:
2.5
mg