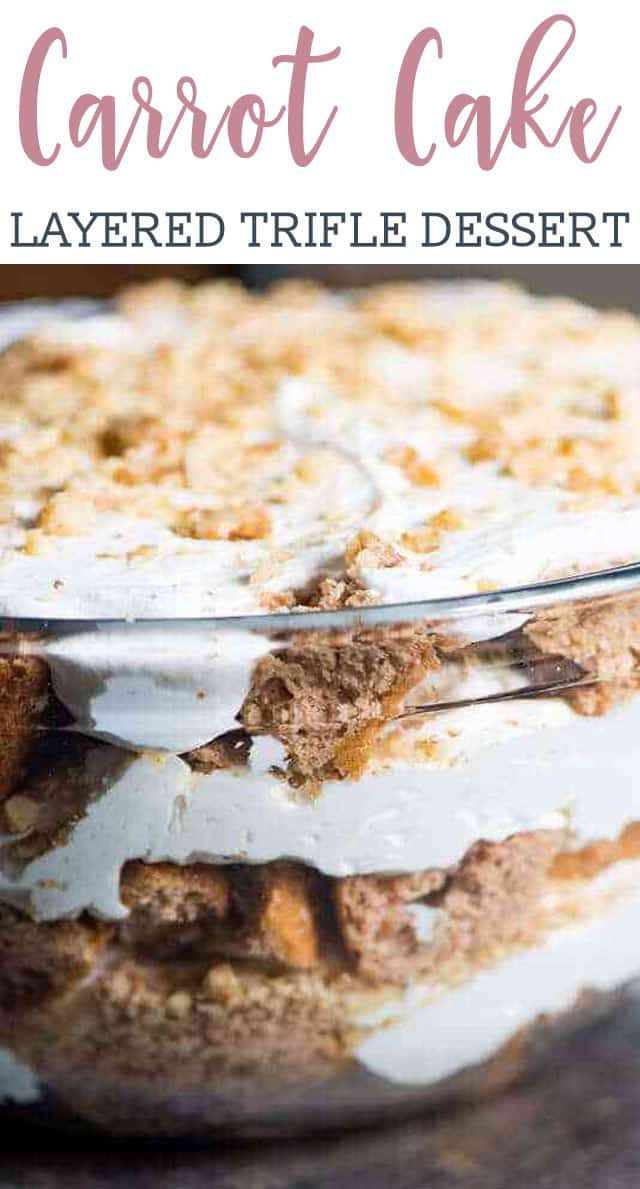 Spruce up a carrot cake mix by layering it with walnuts and a homemade cream cheese mixture. This carrot cake trifle dessert is simple, but amazing!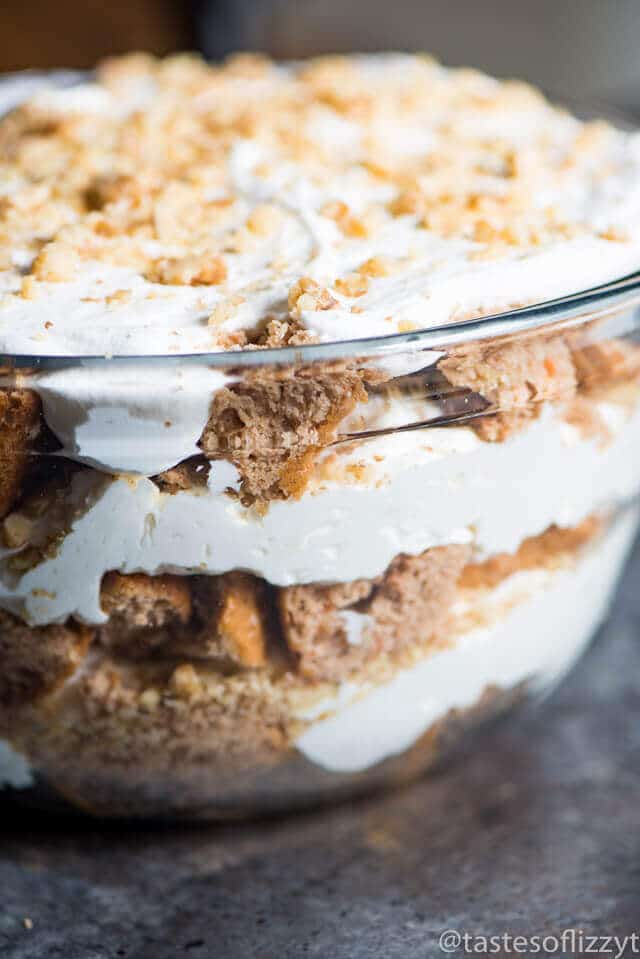 I am all for light, whippy-creamy desserts. I feel like I can eat more of it and not feel so full if a dessert is "fluffy". Although I'm sure if I ate as much as I really wanted, I'd feel very squeamish afterward. I have been known to do this a few times. A good example is the Olive Garden. No matter how hard I try to be good, I always have way too much food in front of me, and everything is so good I end up eating more than I should. Anybody want to admit they've ever been there?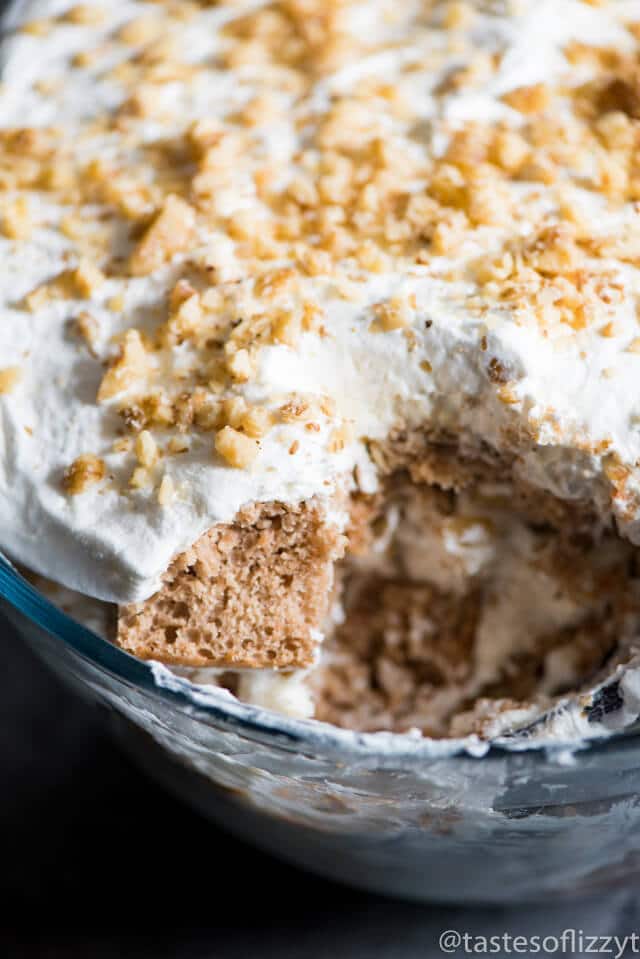 So here I am with another dessert to share with you. Trust me, as long as this blog is here, you'll never be rid of the desserts we create. Are you satisfied? I know I am. This is an absolutely fantastic dessert and I just couldn't wait to share it with you.
I could go on and on about how amazing this Cream Cheese Carrot Cake Trifle is, but I should probably tell you what this dessert is all about. It's another one of those desserts that I was really not sure about. Mom had this grand idea that she told me about and I just listened and smiled, not really knowing what to expect, but trusting that she knows what she's talking about. There's nothing new about that- I always get a little concerned a dessert won't work if it's out of my "comfort zone." What is my comfort zone? Peanut butter and chocolate.
So when mom mentioned a carrot cake trifle, I wasn't exactly excited about it- I mean, carrot cake? Carrots…for dessert? Really?
Then I actually tried the cake part.
…..And my view of what the word "carrot cake" means changed completely. Combine a moist carrot cake with cream cheese, powdered sugar and whipped topping and you've got quite a combination.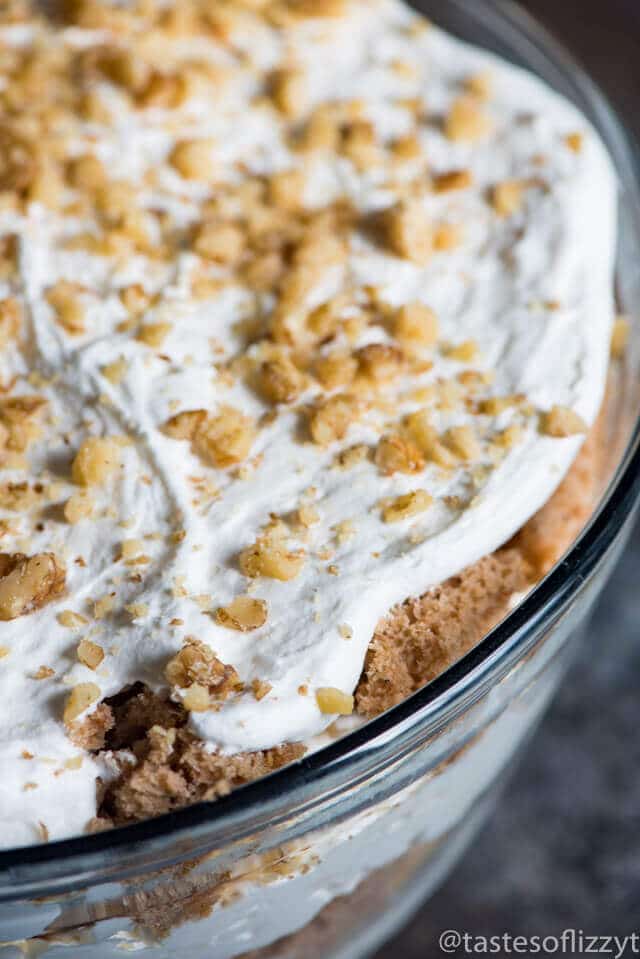 If you've ever eaten a trifle, you'll know it's like cake, but instead of a pretty slice, it's a big glob of cake and creamy stuff on your plate. Messy is lots of fun!
If you don't want to make a huge trifle, then you can do individual desserts in Mason jars. How cute, right? A big glass dish is always good for a party or a get-together. It feeds a crowd!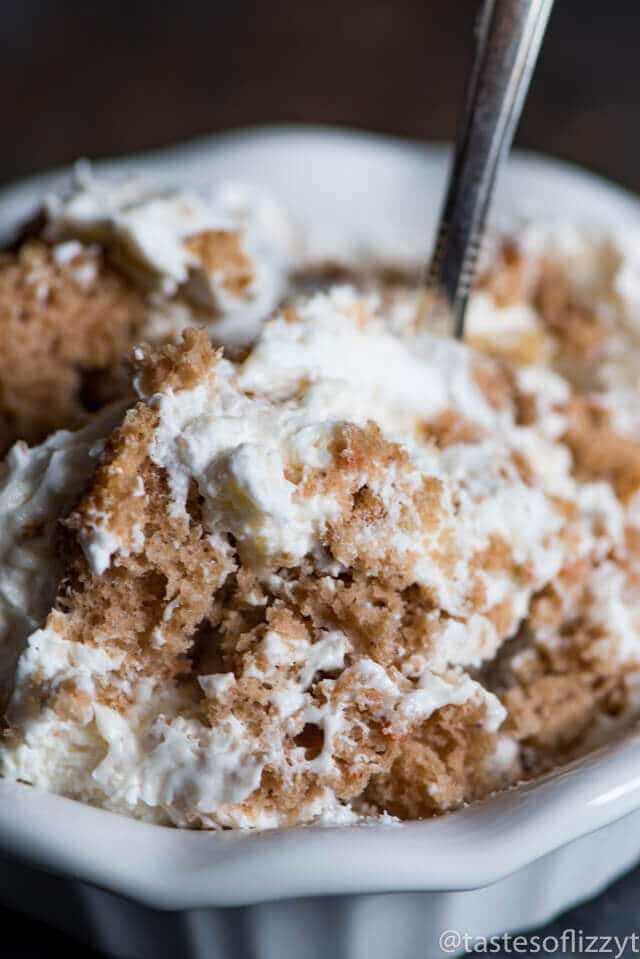 Carrot Cake Trifle
Spruce up a carrot cake mix by layering it with walnuts and a homemade cream cheese mixture. This dessert is simple, but amazing!
Ingredients
1

box

Betty Crocker carrot cake mix

prepared according to package directions into a 9x13 cake

8

ounces

cream cheese

softened

3/4

cup

butter

softened

3 1/2

cups

powdered sugar

1

tablespoon

vanilla

16

ounces

Cool Whip

1

cup

chopped walnuts
Instructions
Prepare the carrot cake and bake according to the package directions for a 9x13 cake. Allow the cake to cool, then cut it into cubes.

Using an electric mixer, mix the butter and cream cheese, scraping down the sides as needed, until the mixture is light and fluffy. This will take about 2-3 minutes. With the mixer on low speed, add the powdered sugar, 1/2 a cup at a time, until it is thoroughly mixed. Add the vanilla and beat the frosting on medium speed for about 2 minutes. Gently fold in the Cool Whip until it is completely mixed in.

In a trifle dish or glass dish, place down a layer of cake, then a layer of the cream cheese mixture. Sprinkle walnuts on top of the cream cheese. Repeat the layers until your trifle dish is full, ending with the walnuts on top. Refrigerate until serving.
Nutrition
Serving:
121
g
|
Calories:
508
kcal
|
Carbohydrates:
59
g
|
Protein:
5
g
|
Fat:
29
g