Tastes of Lizzy T participates in affiliate advertising programs. We may earn a commission when you make a purchase through links on our site.
Amish soft pretzels are a perfect snack for any occasion! Warm, soft, and buttery, these homemade pretzels will be a family favorite from now on.
Have you enjoyed one of those amazing Amish bakery inspired soft pretzels? The ones that you can smell as you near the stand at the mall, airport, or highway rest stop? They're just one of the most delicious snacks around!
Good news: you can absolutely make perfect Amish soft pretzels right in your own kitchen! Gather the kids or your friends together to help and make the whole process a fun experience from start to the tasty, butter dipped finish.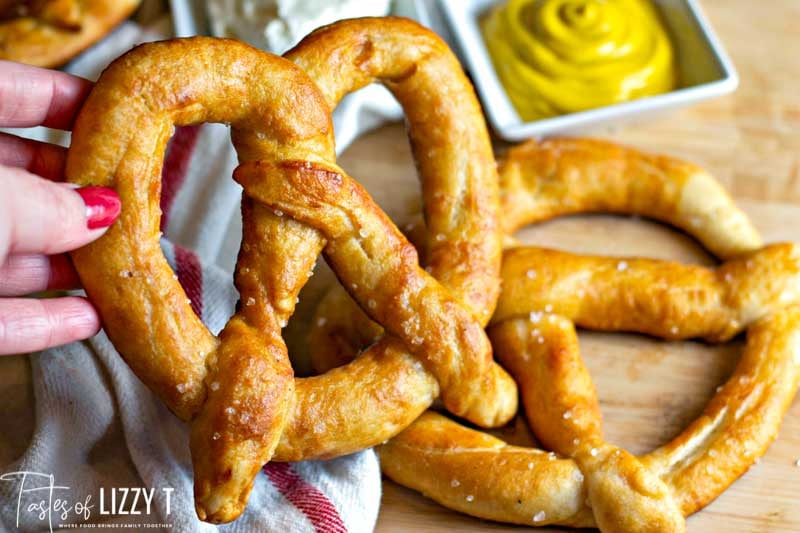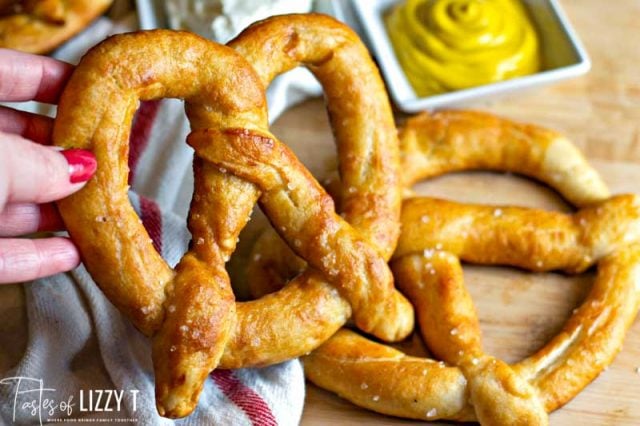 What You'll Need
To make these wonderful homemade pretzels, here is what you will need:
Milk
Fast-acting dry yeast
Sugar (both white and brown)
All-purpose flour
Salt
Butter
Warm water
Baking soda
Coarse salt for sprinkling on the pretzels
All of these ingredients are easy to keep on hand in your refrigerator or pantry for any time a craving for a warm pretzels hits.
Making Amish Soft Pretzels
Begin by warming milk to 110℉. Combine the warm milk, 1 tablespoon of sugar, and the yeast together in a bowl. Set this aside for about 5 minutes until the mixture is frothy.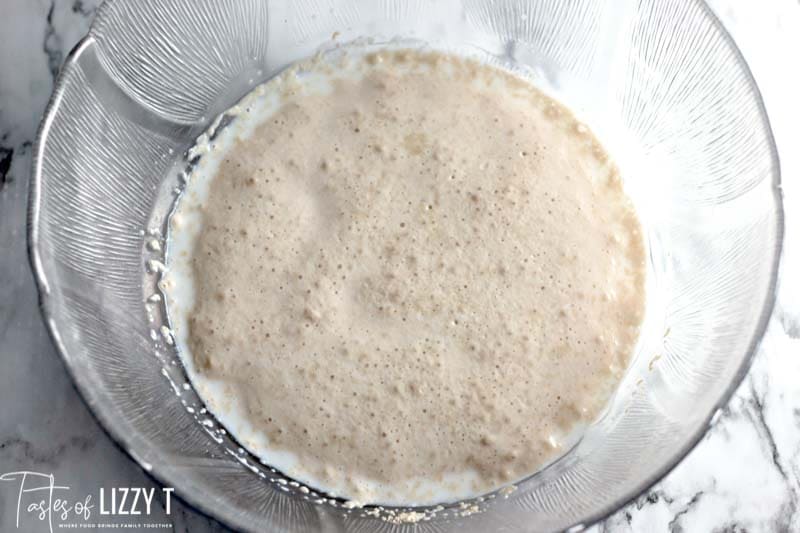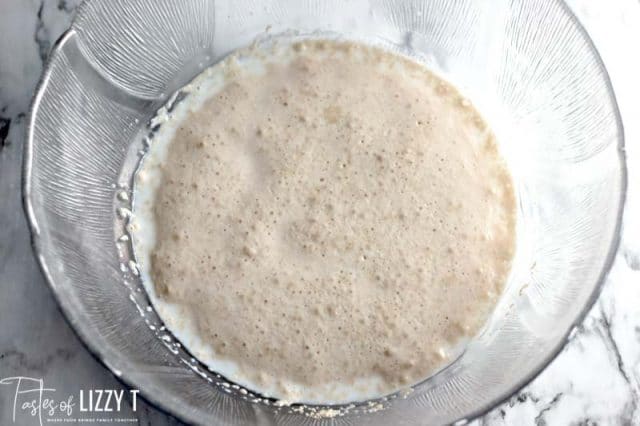 Next, combine 1 cup of the flour, the brown sugar, and the salt in a big bowl. Stir in the yeast mixture, then add the butter and stir well. You'll still see little bits of butter throughout the dough and this is okay; it will blend into the dough during the kneading process.
Now you can mix in the remaining flour into the dough until it forms a soft ball. Turn the dough out onto a floured surface and knead it for 5 minutes. You'll likely need to add up to ½ cup more flour while you knead. The dough is still going to be a little sticky when you're finished kneading.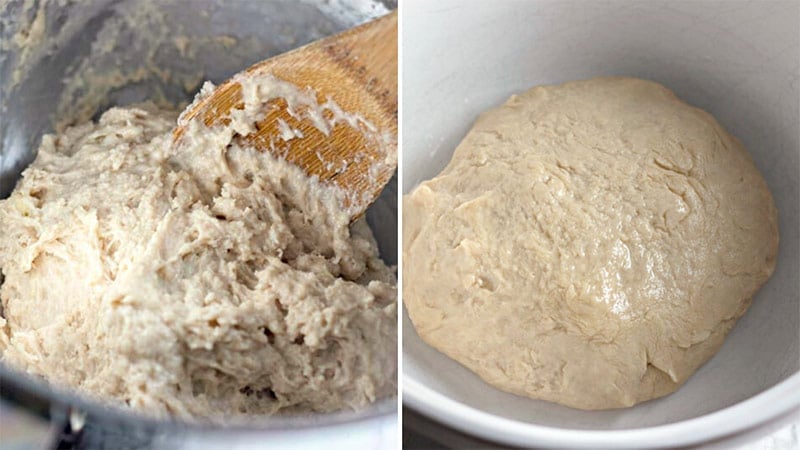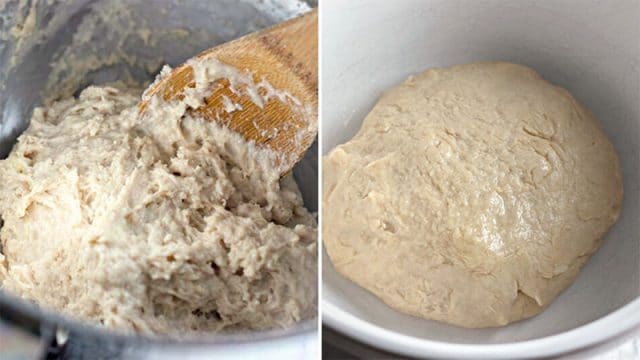 Place your dough in a large bowl that you've oiled generously to make sure the dough doesn't stick as it rises. Cover the bowl with a kitchen towel and set it aside to rise in a warm place until doubled. This usually takes 60-90 minutes, depending on the temperature of your kitchen.
Now, it's time to form pretzels! Divide the dough into six equal pieces. Use your hands to roll each piece out into a long, thin rope. You want the dough rope to be at least 30 inches long, then shape it into a pretzel.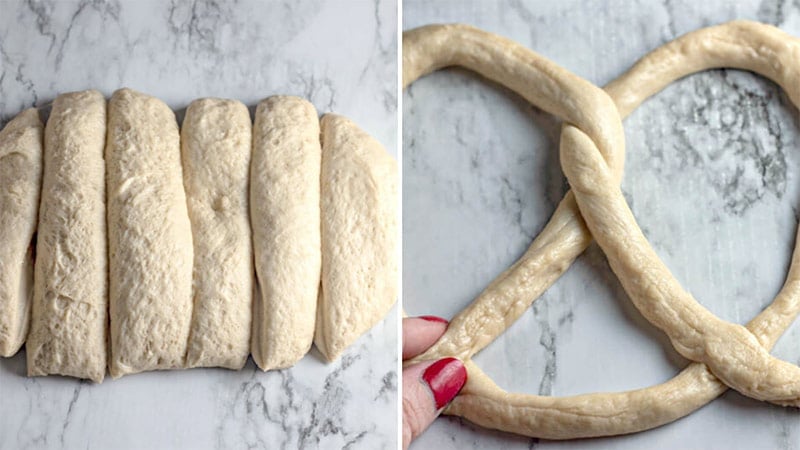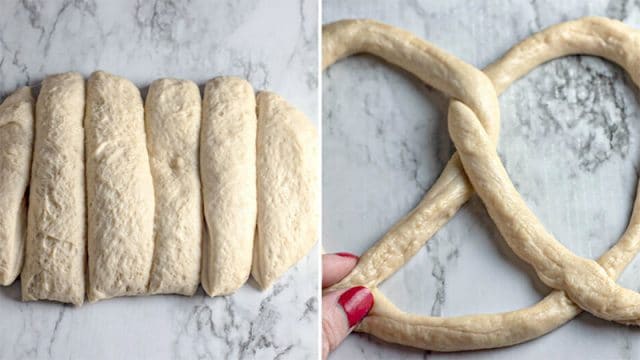 The final step before baking is to dip your pretzels into a mixture of boiling water and baking soda. Use a large slotted spoon to pull the pretzel out. This part of the process ensures a brown, shiny outside and the unique pretzel flavor we all know and love.
Place your pretzels on baking sheets prepared with non-stick cooking spray to keep them from sticking. Give the pretzels a generous sprinkle of coarse salt before baking.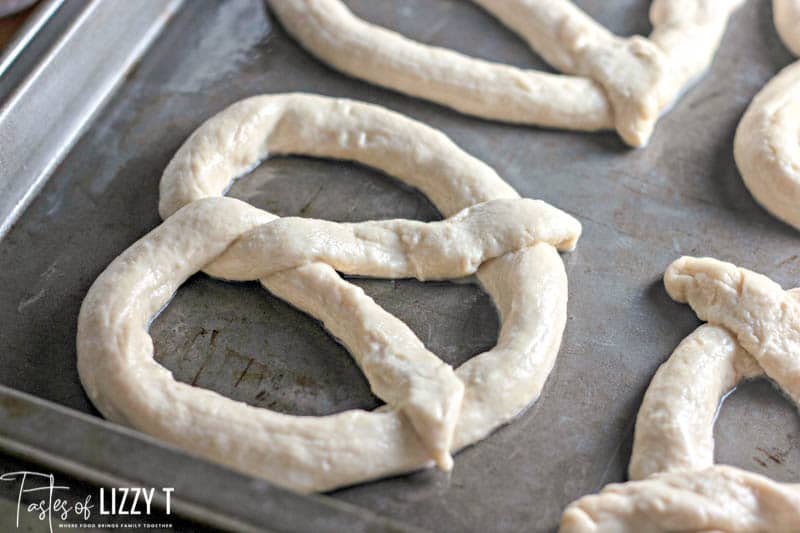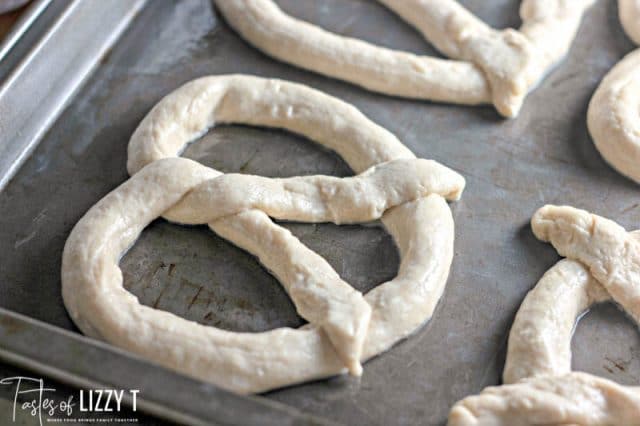 Do watch the pretzels closely while they bake as ovens can vary and impact how quickly the pretzels will be finished. They will get darker on the bottom faster than on the top, so it's a good idea to check the bottom of one of the pretzels after about 8 minutes of baking to be sure they don't burn.
After they are done baking, brush the pretzels with melted butter. Don't hold back on the butter! This part makes them extra delicious. You can also add an extra sprinkle of salt at this time if you prefer.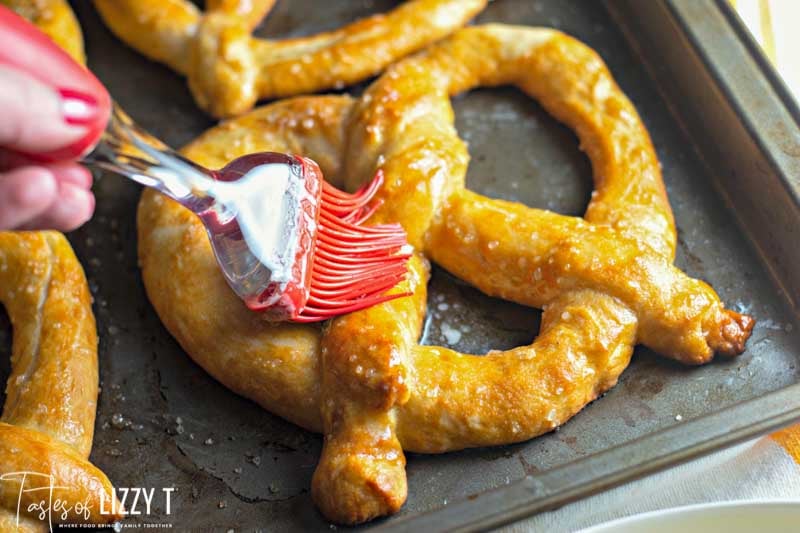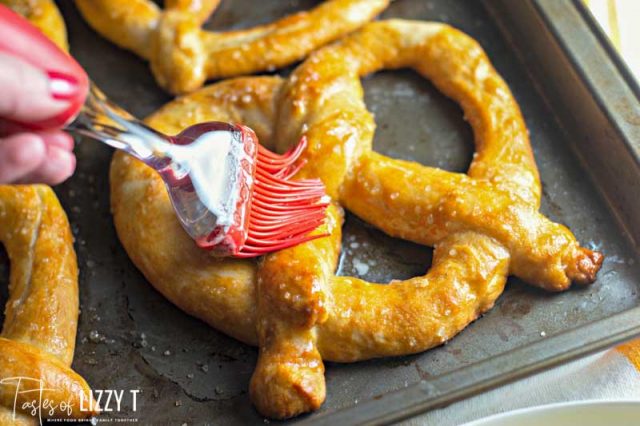 Can I Make Sweet Pretzels?
One favorite among soft pretzel enthusiasts is the oh-so-delicious cinnamon sugar pretzel. If that's your jam, make these pretzels sweet! Here's how to do it:
Skip the coarse salt before baking.
After baking the pretzels, brush them in butter according to the recipe.
Then dip the pretzels in a mixture of granulated sugar and cinnamon.
I suggest mixing 1 cup of sugar with 2 tablespoons of ground cinnamon on a plate, then dipping the freshly butter-basted pretzels into the sweet mixture until well coated.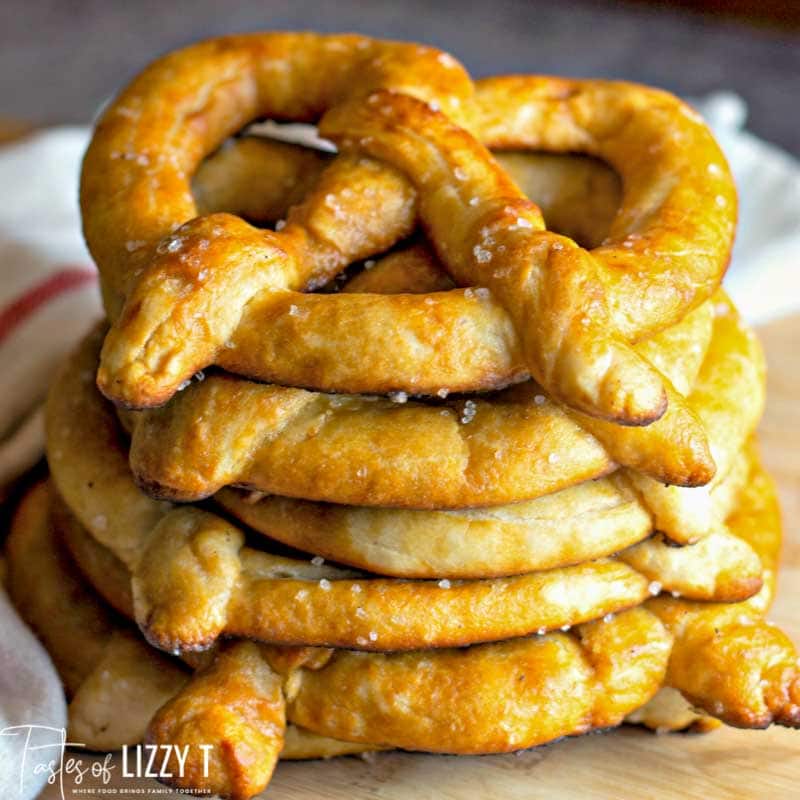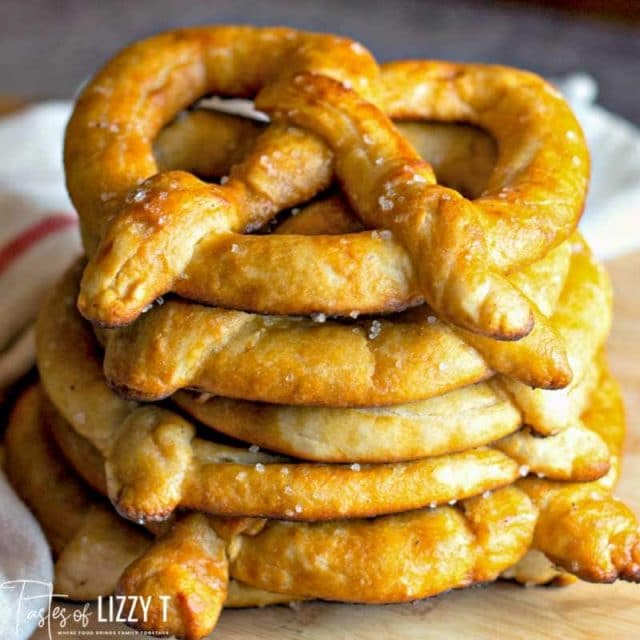 Dipping Sauce Ideas for Amish Soft Pretzels
Some like their soft pretzels plain. Others love them with a delicious dipping sauce. However you like to eat them is the right way!
Here are some wonderful dipping sauce ideas:
Sweetened cream cheese. Mix together some softened cream cheese with powdered sugar until it reaches your desired sweetness.
Frosting. Open a tub of your favorite frosting and use it as a dip for your pretzels.
Mustard. Dip the pretzels in your favorite mustard.
Homemade honey mustard. Mix together mustard and honey until it's your perfect blend of zippy mustard and sweet honey.
Mustard BBQ Sauce. This stuff is irresistible.
Cheese sauce. You can buy pre-made cheese sauce at the grocery store, or make it at home yourself. Either way, cheese sauce is a yummy dip for pretzels!
Salsa. Your favorite salsa can make an awesome pretzel dip!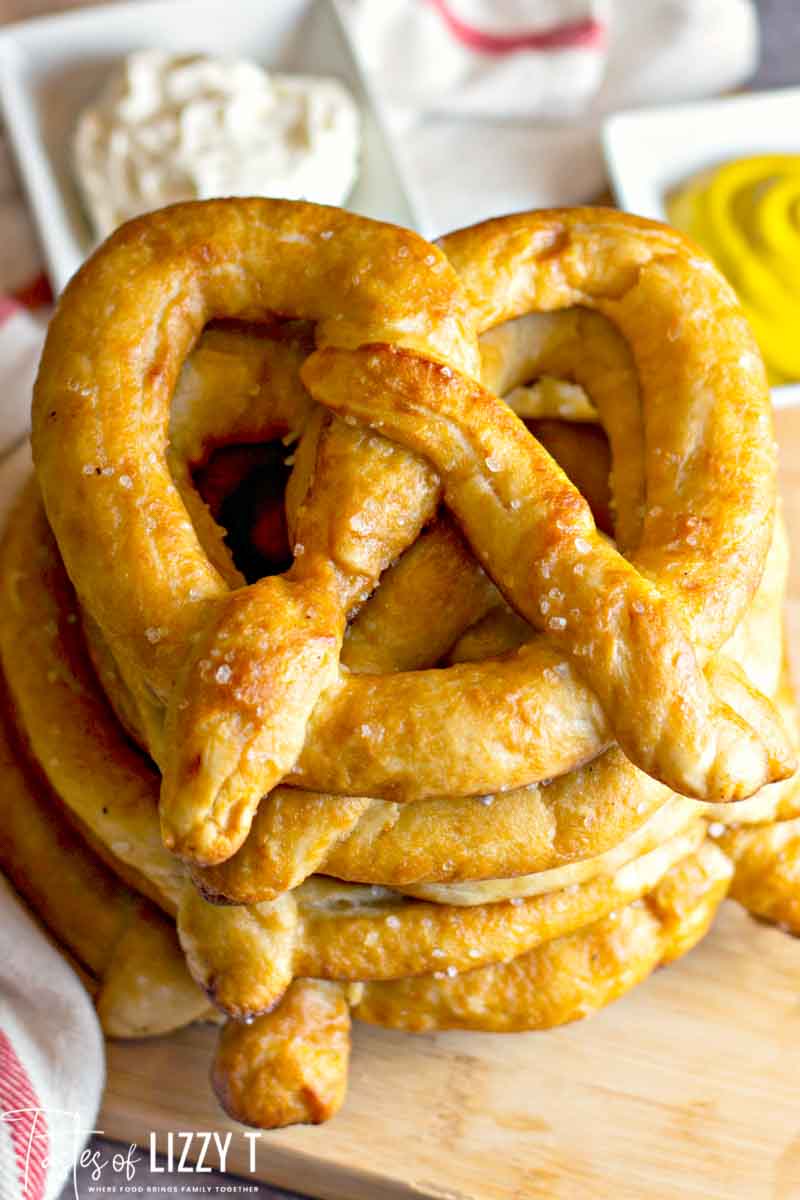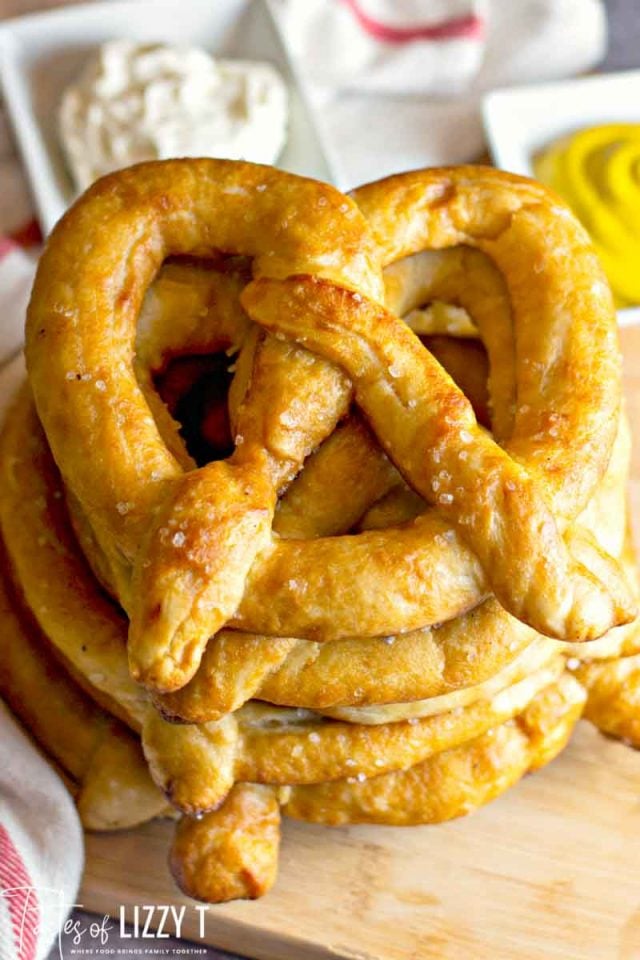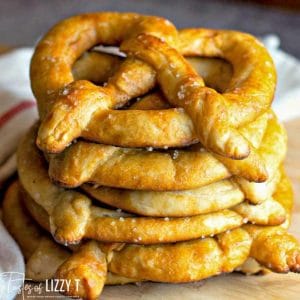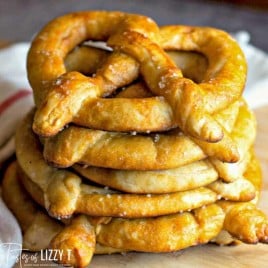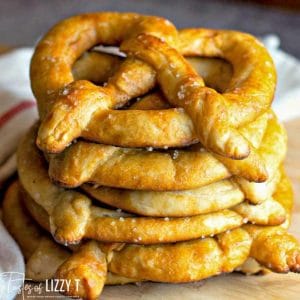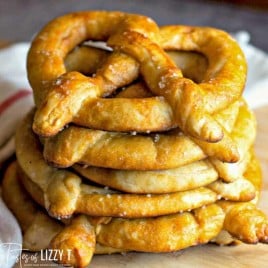 Amish Soft Pretzels
Amish soft pretzels are a perfect snack for any occasion! Warm, soft, and buttery, these homemade pretzels will be a family favorite from now on.
Rise Time
1

hour
30

minutes
---
Ingredients
For the pretzels:
1

cup

milk

(warmed to 110 degrees Fahrenheit)

1

package

fast acting dry yeast

(¼ ounce or 2 ¼ teaspoons)

1

tablespoon

sugar

2 ½

cups

flour

(plus additional for kneading)

2

tablespoons

brown sugar

(packed)

1/2

teaspoon

salt

2

tablespoons

butter

(room temperature)
For dunking:
3

cups

boiling water

1/3

cup

baking soda
For topping:
Coarse salt for topping

½

cup

1 stick butter, melted

Optional for dipping: mustard, sweetened cream cheese, warm cheese sauce
Instructions
In a small bowl, combine the warm milk, yeast, and 1 tablespoon sugar. Set aside and allow the yeast to proof for 5 minutes until the mixture is frothy.

In a large mixing bowl, combine 1 cup of the flour, the brown sugar, and salt. Add the yeast mixture and stir well.

Cut the two tablespoons of softened butter into small chunks and stir in to the pretzel batter (some small bits of butter may not fully mix in, but they will be incorporated during kneading).

Add the remaining 1 ¼ cups flour and mix well.

Turn the dough out onto a floured surface and knead for 5 minutes, adding up to ½ cup more flour if needed, until the dough is soft and less sticky (the dough should still be slightly sticky).

Shape the dough into a ball and place in a greased bowl, turning once to grease the top of the dough ball. Cover the bowl with a clean kitchen towel and place in a warm location to rise until doubled, 60-90 minutes.

Preheat the oven to 450 degrees Fahrenheit.

Prepare a large baking sheet by greasing with non-stick cooking spray or covering with a silicone baking mat.

Punch the dough down and divide it into 6 equal pieces. Use the palm of your hand to roll the dough starting in the center and working your way outward to form a long, thin rope of dough. The rope should be about 30 inches long.

In a medium saucepan, combine the 3 cups water and ⅓ cup baking soda and bring to a boil. Stir well.

Twist one of the dough ropes into the shape of a pretzel. Dip the pretzel into the baking soda mixture (use a large slotted spoon to pull the pretzel out). Then place on the prepared baking sheet and reshape if needed. Repeat with the remaining ropes of dough.

Sprinkle the pretzels with coarse salt, then bake at 450 degrees for 10 minutes until golden brown. Note: The bottoms of the pretzels will get darker faster than the tops. To prevent burning, you may want to check the pretzels after 8 minutes of baking.

Remove the pretzels from the oven. Use tongs to dip the hot pretzels into the ½ cup of melted butter, or use a pastry brush to baste the tops and bottoms of each pretzel with the butter. Sprinkle with additional coarse salt if desired.

Serve the pretzels warm with dipping sauces if desired.
Notes
The calories shown are based on the recipe making 6 large pretzels, with 1 serving being 1 pretzel. Since different brands of ingredients have different nutritional information, the calories shown are just an estimate. **We are not dietitians and recommend you seek a nutritionist for exact nutritional information.**
Nutrition
Calories:
271
kcal
|
Carbohydrates:
48
g
|
Protein:
7
g
|
Fat:
6
g
|
Saturated Fat:
3
g
|
Cholesterol:
14
mg
|
Sodium:
2071
mg
|
Potassium:
109
mg
|
Fiber:
1
g
|
Sugar:
8
g
|
Vitamin A:
183
IU
|
Calcium:
57
mg
|
Iron:
2
mg
Other Favorite Amish Recipes
The Amish community are known for their cooking and baking. Looking for something new to try? These are some of the best!