Tastes of Lizzy T participates in affiliate advertising programs. We may earn a commission when you make a purchase through links on our site.
Lightly coated, pan-fried chicken with a rich and vibrant Marsala wine sauce and sliced mushrooms creates a coveted chicken Marsala recipe that is a must make on pasta night.
Sometimes you just need recipes that contain wine in them to give it a subtle yet robust taste. We love to use a good cooking wine in our Spanish albondigas (meatball) soup and our Italian chicken skillet dinner.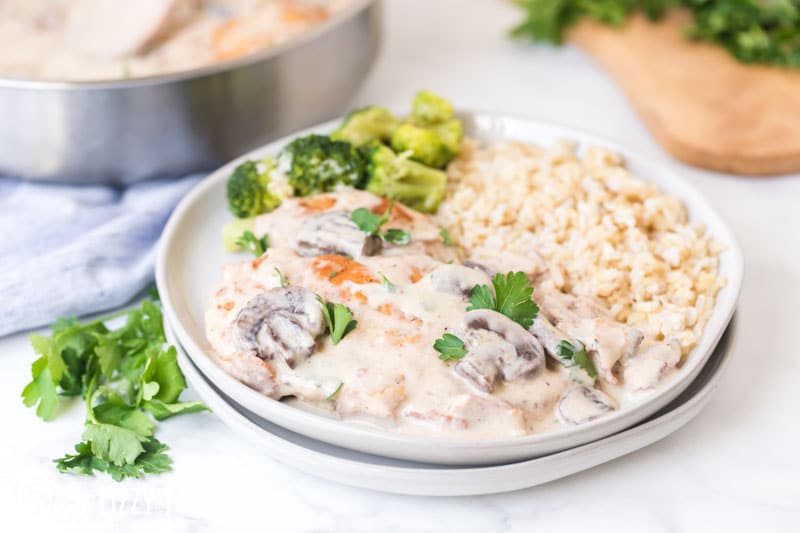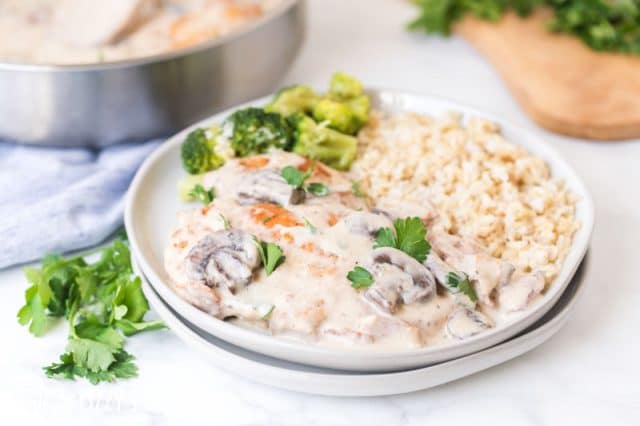 What is chicken Marsala?
Once only found in high quality Italian restaurants, chicken Marsala is an Italian-American pan-fried thin and boneless chicken dish. It simply has sliced mushrooms and a robust Marsala and Sherry wine sauce that is infused with cream, butter, herbs, and spices.
Is chicken Marsala healthy?
Chicken Marsala is a whole food recipe with 27 grams of protein! I have to say, chicken Marsala is higher in carbs and calories. Chicken Marsala in general is a healthy high protein dish that can be consumed in a healthier manner by serving with zoodles or whole grain rice or pasta. You can also choose to use less sauce when serving to save on calories. If you're counting calories, plan for a leaner breakfast and lunch to splurge on chicken Marsala for dinner.
Is chicken Marsala gluten free?
For this chicken Marsala recipe, we are using flour which would not make it gluten-free. You can swap it out with a gluten-free flour or use cornstarch as a substitute for a gluten free chicken Marsala.
Also, if you decide to leave out the flour and cornstarch, you will have a keto chicken Marsala recipe, be sure to serve it with zoodles to keep it keto and gluten-free. Or if you're okay with carbs, serve it over white rice or gluten-free pasta for the whole chicken Marsala experience.
How To Make Chicken Marsala
To make our chicken Marsala recipe you need thin sliced chicken breast. You can choose to buy thicker breasts, slice them horizontally and go old school with pounding it until it's about only ½ an inch thick.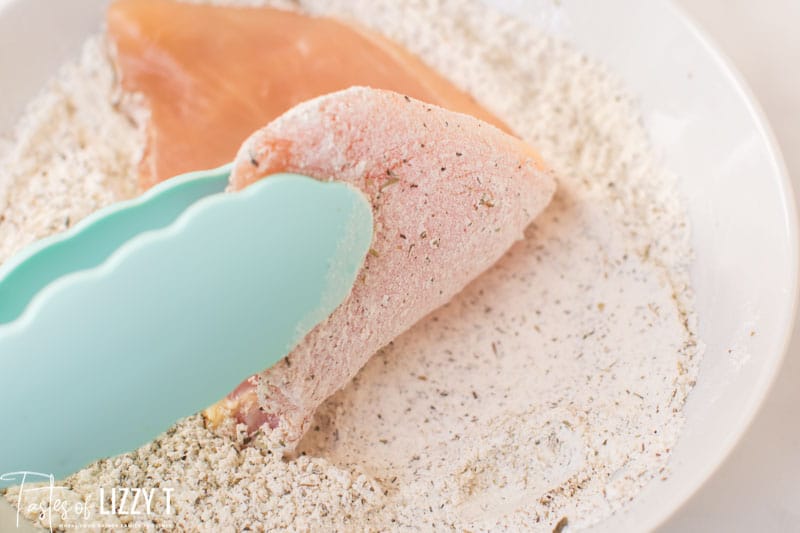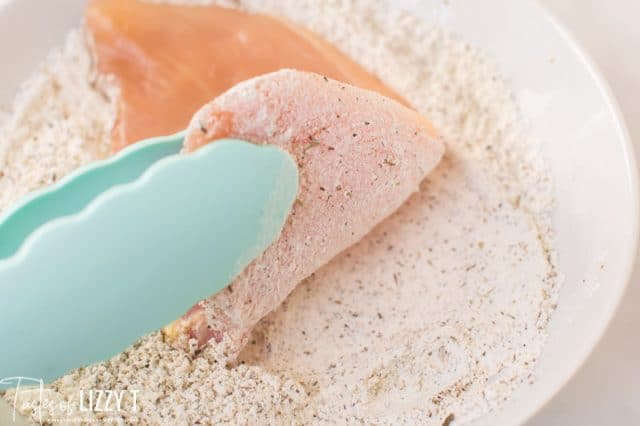 Then you'll add flour, salt, black pepper, and oregano to a bowl. Mix it and then generously coat your thin chicken breasts on all sides with the flour.
You can choose to add your flour mixture to a gallon sized Ziploc bag and individually coat each chicken breast that way for an easy clean up. Be sure to discard any of the flour mixture leftover.
Next, you'll brown your chicken breasts on both sides by placing it into a hot pan with melted butter. You don't want the heat too high, so a medium high flame is best. Sear both sides. Don't worry about cooking it through, the chicken will continue to cook with the Marsala sauce. You want a beautiful golden outside with the tiniest hint of crisp at the edges. Think of the perfect buttered pancake with a golden edge of crispiness. Yes, that is the goal -but not hard, just a little tiny bite that has formed when the flour that has crisped to perfection.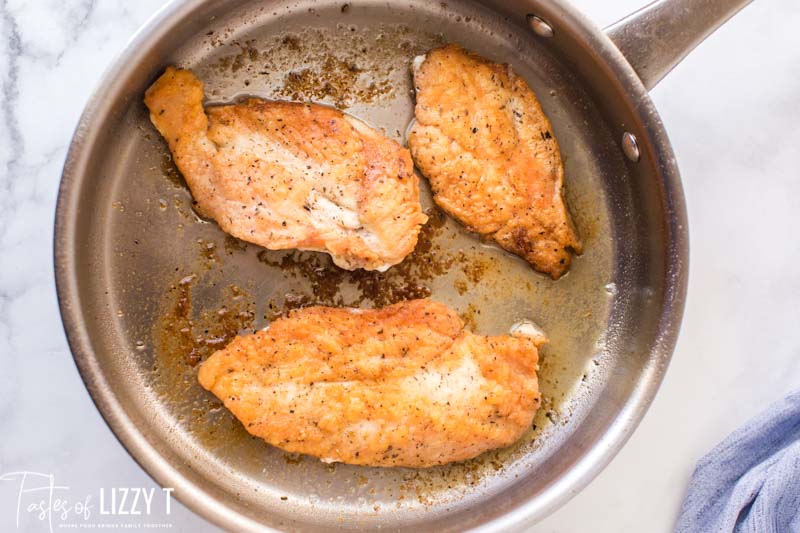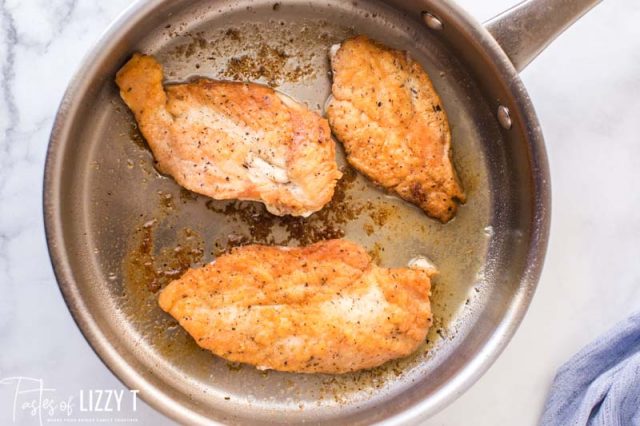 Now that your chicken is perfectly golden on both sides, you will add in your sliced mushrooms, bacon (this is optional, but really…BACON!), garlic, good quality Marsala wine and Sherry wine. Cover and let simmer until the chicken cooks, before you finish making your Marsala chicken recipe.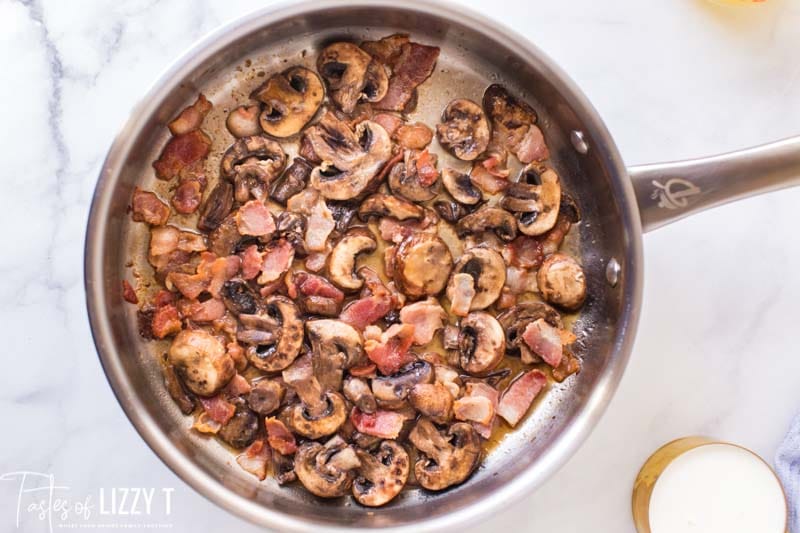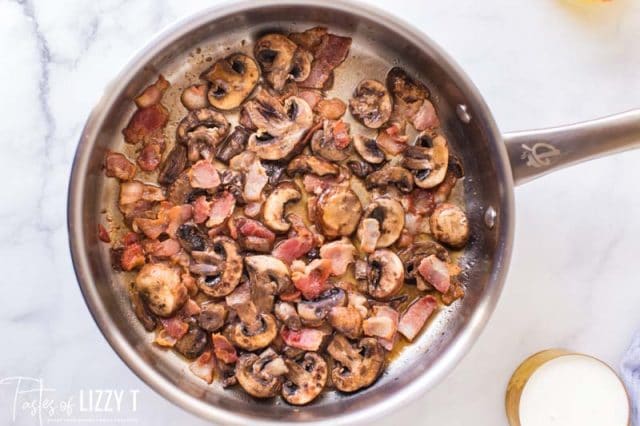 How To Make Chicken Marsala Sauce
Chicken Marsala sauce is a wine based sauce that is made creamy with heavy cream and with subtle hints of garlic, herbs, and spices it truly is a one of a kind Italian-American dish.
Once your chicken has browned and you've added in your garlic, mushrooms, and Marsala and Sherry wine, and the chicken has cooked through you're going to make a cornstarch slurry with heavy cream and cornstarch.
Add your cornstarch and heavy cream (you can add more heavy cream to make it "creamier") to a small bowl and whisk until smooth, ensuring there are no bumps. During the last two minutes of cooking time, you will add in your creamy slurry to thicken your chicken Marsala sauce. Taste and add more heavy cream if you'd like to make it extra creamy. Plus, add salt and pepper if desired. Garnish with fresh parsley!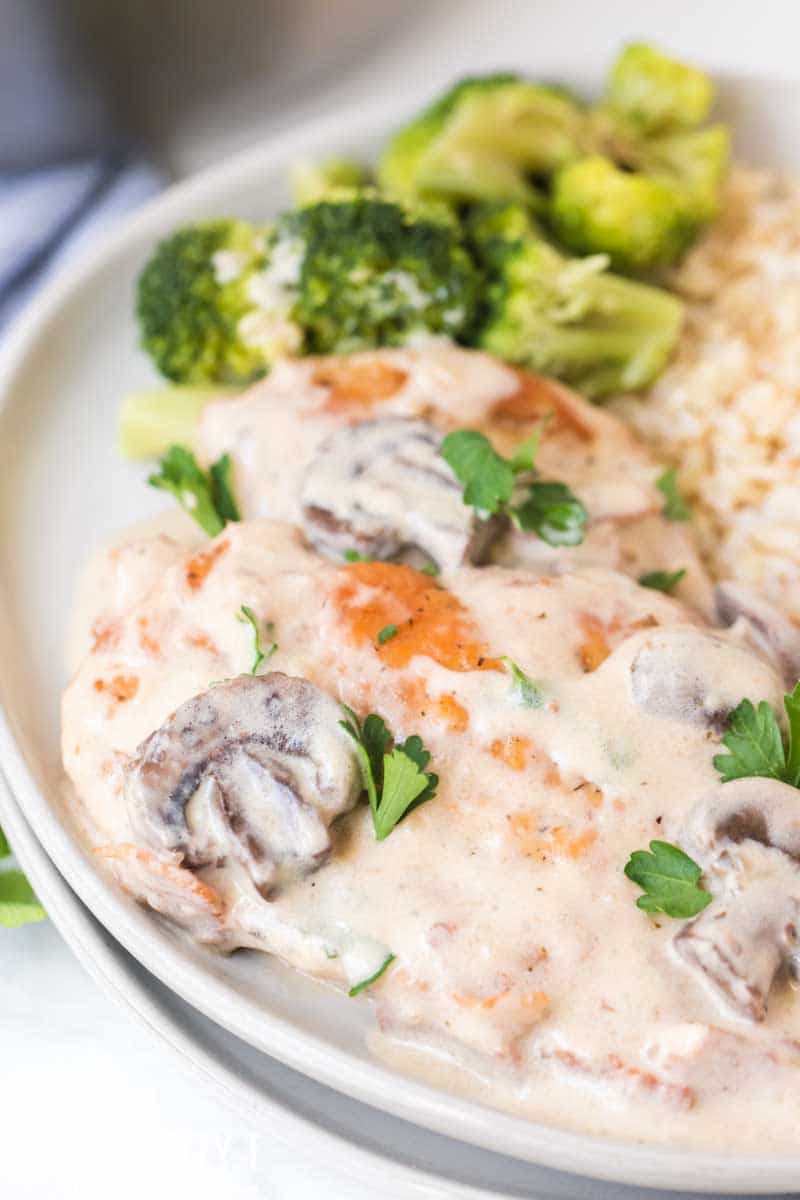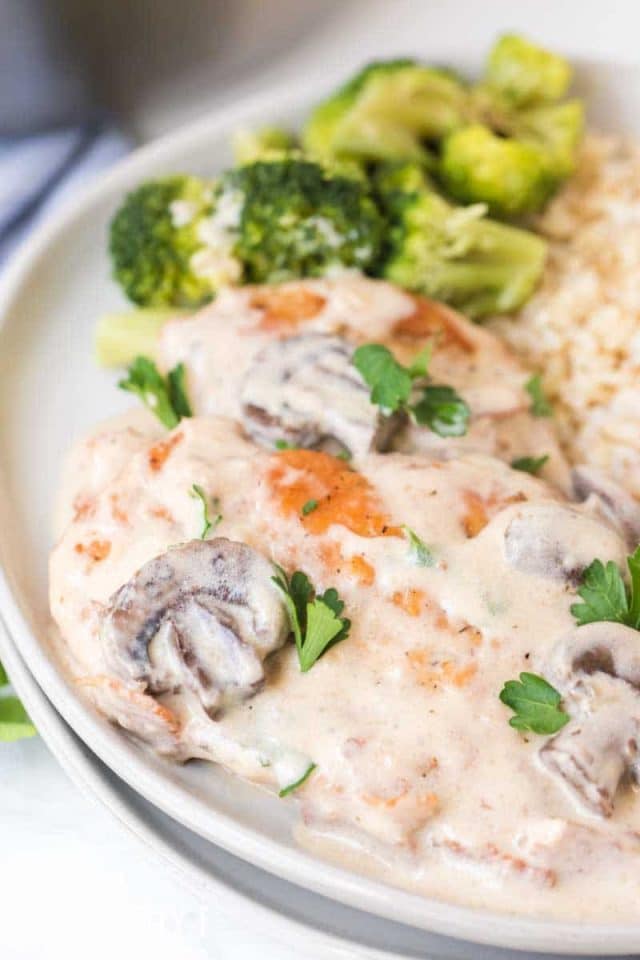 What to Serve with Chicken
Traditionally, chicken Marsala will be served with pasta. You can also serve this chicken Marsala recipe over a bed of white or brown rice, zoodles, and quinoa too!
Side Dishes for Chicken
Here are some amazing side dishes to serve with your chicken Marsala recipe!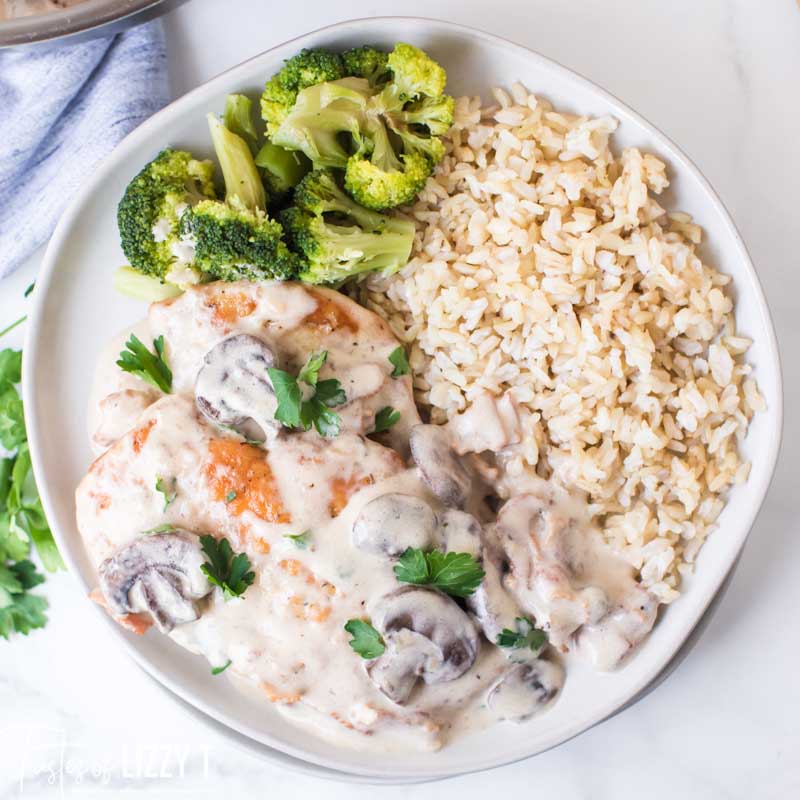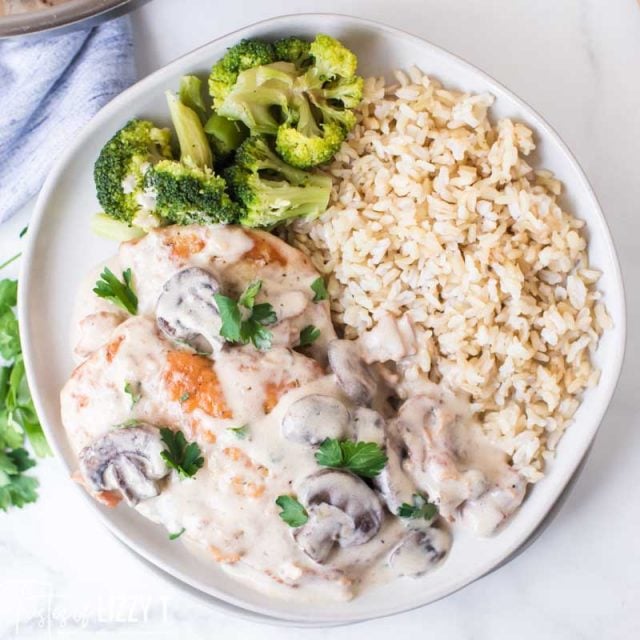 Other Chicken Recipes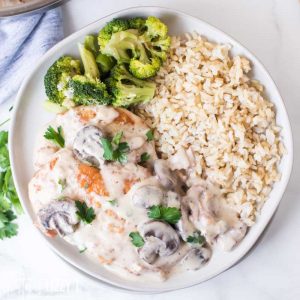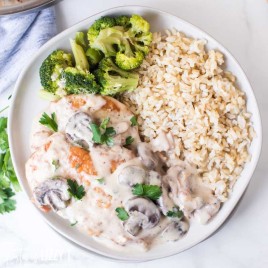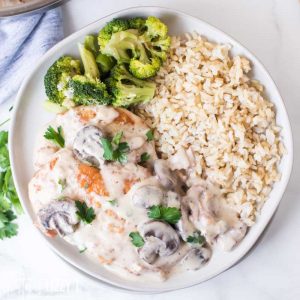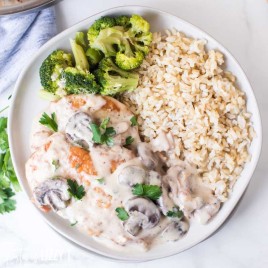 Chicken Marsala Recipe
Lightly coated, pan-fried chicken with a rich and vibrant Marsala wine sauce and sliced mushrooms creates a coveted chicken Marsala recipe that is a must make on pasta night.
---
Ingredients
¼

cup

all-purpose flour

½

teaspoon

salt

¼

teaspoon

ground black pepper

½

teaspoon

dried oregano

1

pound

chicken breasts

(2 breasts halved and pounded 1/2" thick)

2

tablespoons

butter

1

teaspoon

minced garlic

8

ounces

sliced white mushrooms

3

slices

bacon

(cooked and chopped) (Optional!)

1

cup

Marsala wine

(or cooking wine)

½

cup

cooking sherry

1/2

cup

heavy cream

1

tablespoon

cornstarch
Instructions
In a small bowl, combine the flour, salt, pepper and oregano. Mix well.

Coat each chicken breast in flour on all sides.

Heat the butter in a large skillet over medium heat.

Once the butter is hot, add the chicken and brown on each side. (At this point it doesn't need to be cooked fully…just browned in the butter.)

Add the garlic, mushrooms and bacon (if desired) to the pan.

Add the Marsala and sherry.

Cover the skillet, lower the heat so that the mixture is simmering. Simmer for 10 minutes. Turn the chicken once during cooking.

In the last 2 minutes of cooking, combine the heavy cream and cornstarch in a small bowl. Whisk until smooth.

Drizzle the cream into the skillet and stir. It will thicken slightly during the last minute or two of cooking.

The chicken is done when the juices run clear. (It should test 165º Farenheit in the middle.)

Serve over your favorite pasta noodles or rice.
Notes
The calories shown are based on the recipe serving 4. For the calories shown, 1 serving is 1 piece of chicken and ¼ of the mushroom sauce (no pasta included). Since different brands of ingredients have different nutritional information, the calories shown are just an estimate. **We are not dietitians and recommend you seek a nutritionist for exact nutritional information.**
Nutrition
Calories:
521
kcal
|
Carbohydrates:
20
g
|
Protein:
30
g
|
Fat:
26
g
|
Saturated Fat:
13
g
|
Cholesterol:
139
mg
|
Sodium:
603
mg
|
Potassium:
731
mg
|
Fiber:
1
g
|
Sugar:
6
g
|
Vitamin A:
646
IU
|
Vitamin C:
3
mg
|
Calcium:
33
mg
|
Iron:
1
mg