Cinnamon Chip Scones with homemade cinnamon chips! They're soft and cinnamony with a delicious glaze over the top.
Do you love the smell of a bakery? The huge cinnamon, chocolate, or buttery smell just wafting throughout the store? One of favorite places to go has delicious scones, muffins, brownies, and bagels with raspberry cream cheese.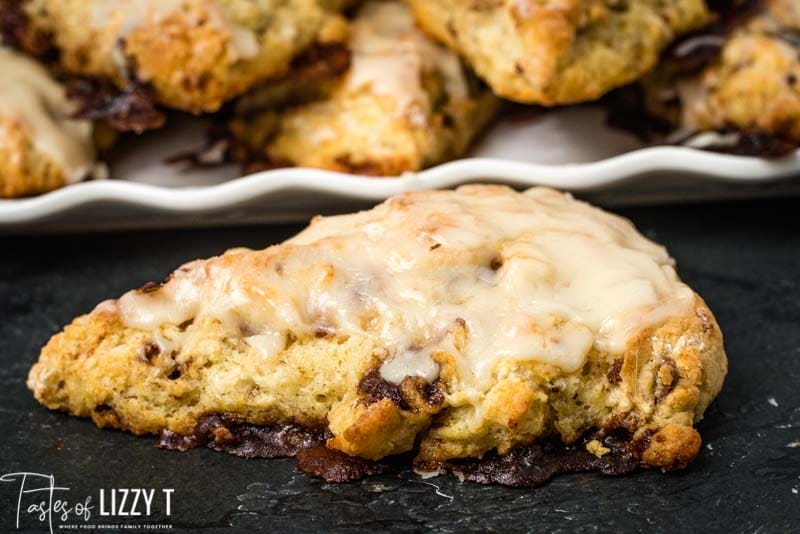 But the best thing to get? Tender, fluffy, cinnamon chip scones with a sweet glaze. They are just right to dip in some rich hot chocolate with a pile of whipped cream on top.
Why we love this scone recipe:
The Panera copycat cinnamon chip scones recipe I'm about to share with you is what I would call a perfect scone. This is why:
They are incredibly moist, light and fluffy. Dry scones? Not in our house.
They are ready in under 30 minutes. No rising, no kneading and only 12 minutes in the oven.
They are packed with bombs of cinnamon flavor. Homemade cinnamon chips? You bet. They are the only way to go.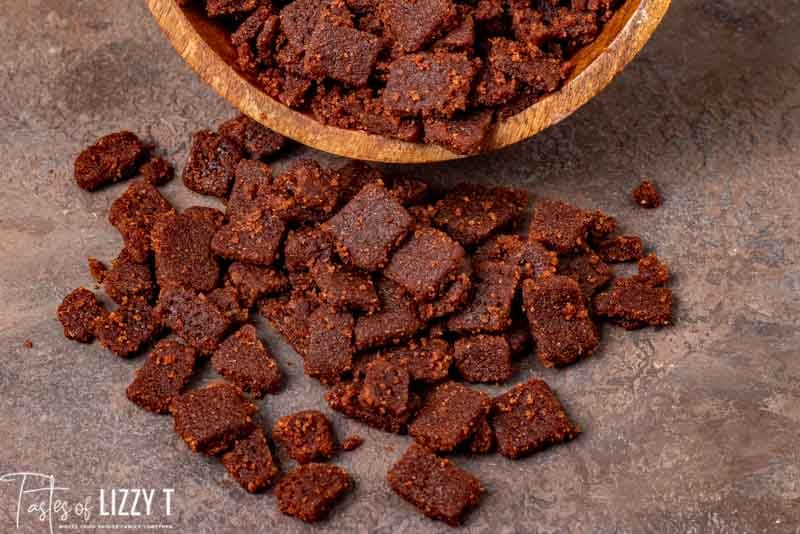 First, the Cinnamon Chips…
You might have seen store bought cinnamon chips, but friends, they are not the same as homemade. Although they are easy and quick to use, they won't melt into your scones. And they definitely won't taste like Panera Cinnamon Crunch Scones.
We recommend making up a batch of our homemade cinnamon chips. You can freeze them and add them to muffins, pancakes, cakes, scones and more.
How to Make Scones
Making scones is pretty straight forward, but there are a few key things you can do to make the process easier.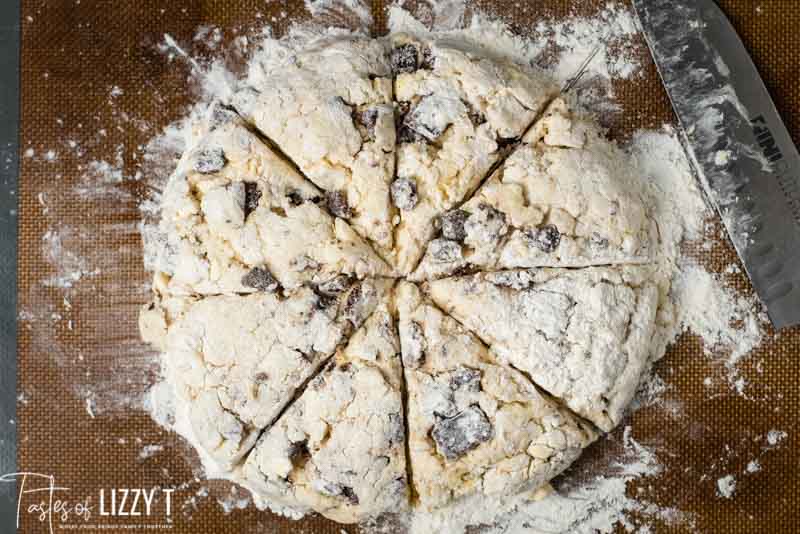 Cut the butter into the flour in little pieces using a pastry cutter. Since you want your butter to be as cold as it can get, this helps get the butter blended in more, but it's ok if it doesn't mix completely. Little chunks of butter are just fine. Tip: Use a cheese grater to grate the butter into small pieces if you don't have a pastry cutter.
Keep all of the ingredients and and even the bowl cold. Here's what we did. We put the bowl in the fridge about 5 minutes before we started to make the scones, and as we were preparing the scones, we put the bowl back in the fridge (with ingredients inside) anytime we weren't using it. The cold butter makes the scones rise higher.
When you're blending the ingredients together, don't overmix. In fact, only mix your ingredients until they are blended just enough. Your scones will be nice and fluffy the less you mix it. No stand mixer for this recipe!
We use a high heat on our scone recipe. Set the oven to 425º Fahrenheit. This allows for a quick rise on the scones so that they are tall and fluffy.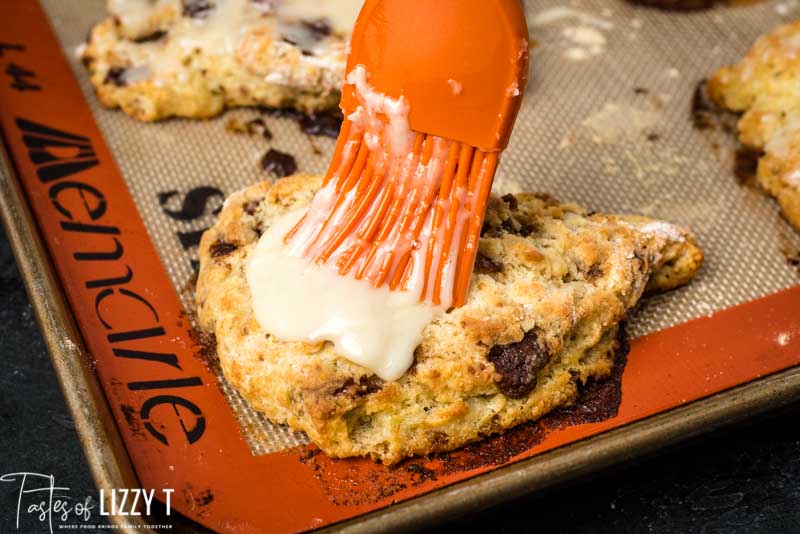 Easy Glaze for Scones
This scone recipe itself isn't super sweet, so a glaze tops it perfectly. All you'll need is powdered sugar, butter, vanilla and milk. Vanilla adds flavor and butter adds richness. Don't skip it!
A hint for the glaze: If you leave it uncovered it get crusty on top, so mix it up right before glazing the bread, or place a piece of plastic wrap tight against the top of the glaze so it doesn't crust over.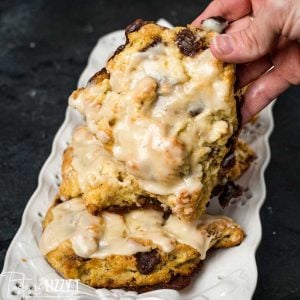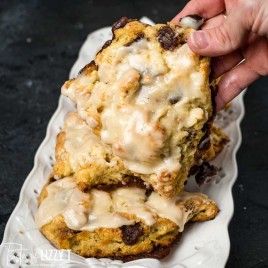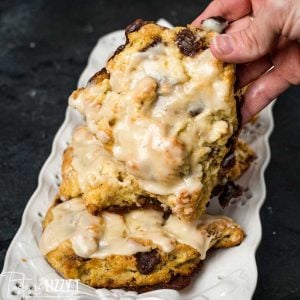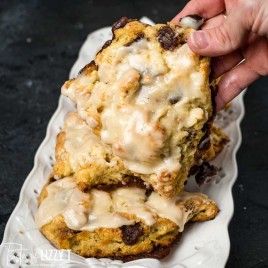 Cinnamon Chip Scones
Cinnamon Chip Scones with homemade cinnamon chips! They're soft and cinnamony with a delicious glaze over the top.
---
Ingredients
2 1/4

cups

all purpose flour

(plus ¼ cup for flouring the counter)

1

rounded teaspoon

baking soda

2

rounded teaspoons

cream of tartar

2

tablespoons

granulated sugar

dash

salt

1/2

cup

cold salted butter

(plus an additional 1 tablespoon)

1

large

beaten egg

3/4

cup

buttermilk

1

cup

cinnamon chips
Glaze:
1

cup

powdered sugar

3

tablespoons

melted butter

1/2

teaspoon

vanilla

1-2

tablespoons

milk

if needed to thin glaze
Instructions
Refrigerate a metal bowl for 5 minutes to get it cold.

Preheat the oven to 425 degrees.

In the refrigerated bowl, add the flour, baking soda, cream of tartar, sugar and salt. Cut the cold butter into small cubes and add to the flour mixture. Using a pastry cutter, cut the butter in with the flour mixture until the butter is mostly mixed in. It is okay if there are small pieces of butter.

Make a well in the flour, in the center of the bowl. Add the egg and buttermilk to the well. Using a wooden spoon, mix the wet ingredients into the dry ingredients. Mix just until blended, being careful not to overmix. Fold in the cinnamon chips.

Put about ¼ cup of flour on the cupboard. Turn the dough out onto the floured counter. Turn it over so the floured side is up. Make a disk that is about 1 ¼ inches thick. Use a knife to cut the disk into 8 triangles, as if you were cutting a pie. Place the scones on a greased cookie sheet, or a nonstick baking mat.

Bake immediately for 12 minutes. Allow the scones to cool for 3-5 minutes and prepare the glaze.

In a small bowl, melt the 3 tablespoons of butter. Add in the powdered sugar and vanilla. Mix well. If needed, add 1-2 tablespoons of milk in order to easily spoon the glaze over the scones.

Glaze the top of the scones. The glaze will run over the sides of the warm scones.
Notes
The calories shown are based on the recipe making 8 scones, with 1 serving being 1 scone. Since different brands of ingredients have different nutritional information, the calories shown are just an estimate. **We are not dietitians and recommend you seek a nutritionist for exact nutritional information.**
Nutrition
Serving:
125
g
|
Calories:
469
kcal
|
Carbohydrates:
58
g
|
Protein:
7
g
|
Fat:
23
g
Other Scone Recipes