Cranberry Shortbread Cookies
Tastes of Lizzy T participates in affiliate advertising programs. We may earn a commission when you make a purchase through links on our site.
Cranberry shortbread cookies are buttery, soft, and they melt in your mouth! Hands down, one of the best Christmas cookies to make and share.
Baking season is here, and we absolutely love to make all kinds of cookies! Crinkle cookies, thumbprint cookies, sandwich cookies, and chocolate chip cookies are just some of the cookie recipes we have.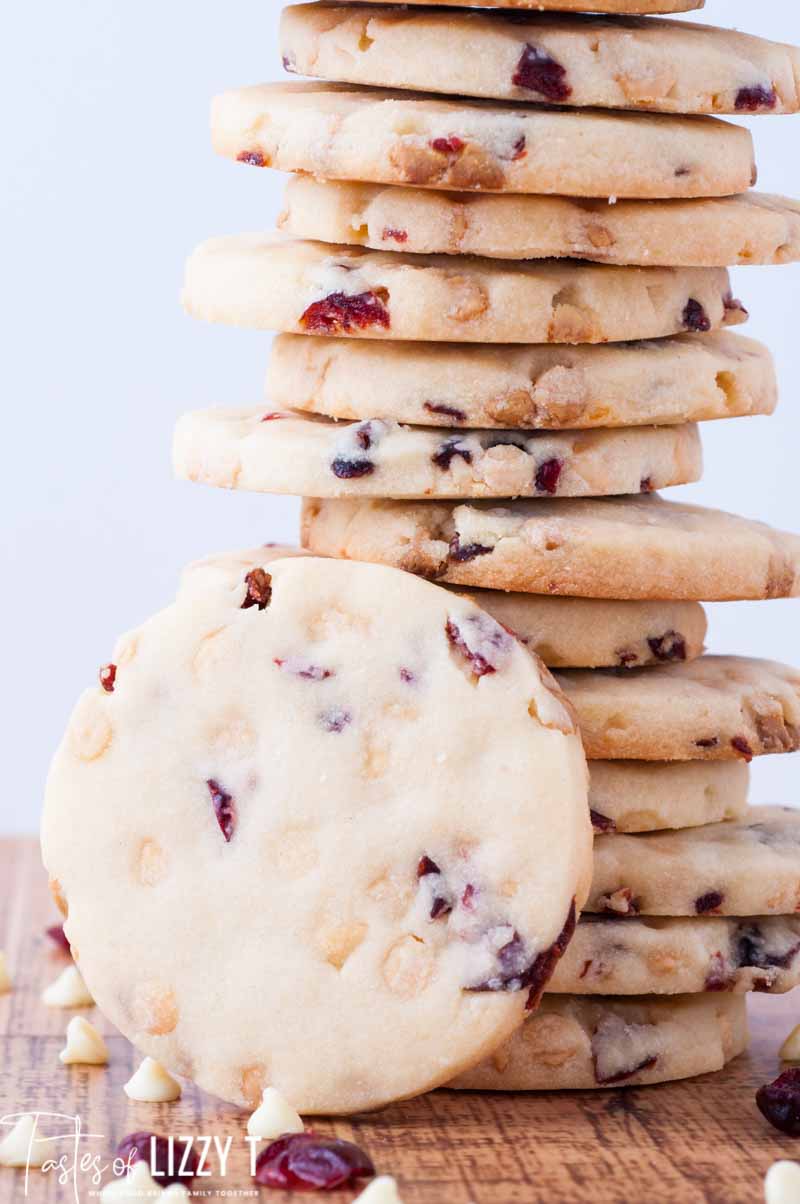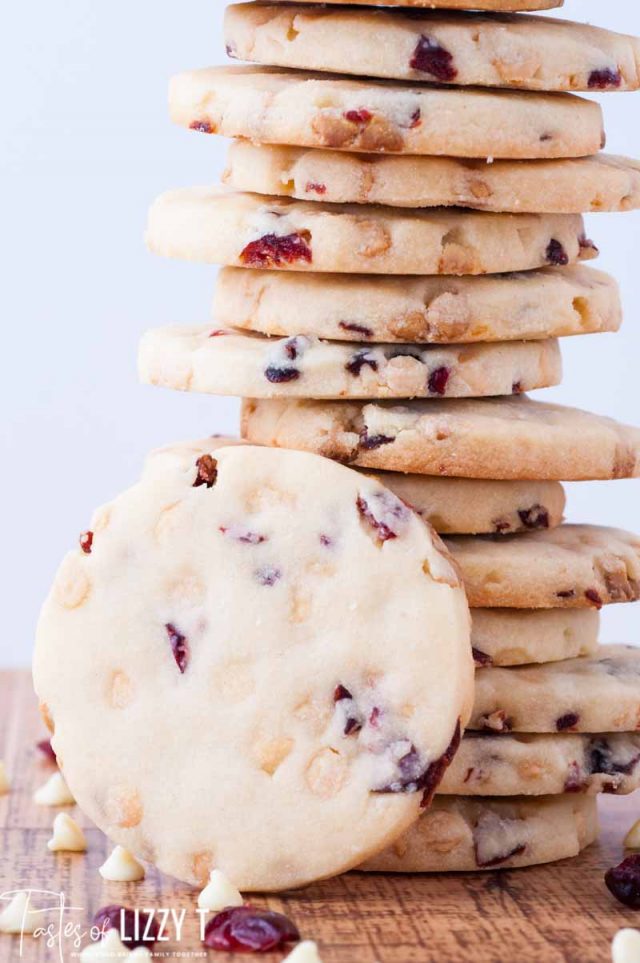 What are shortbread cookies?
Shortbread cookies are soft and airy made with a whole lot of butter! Originally a British treat (also known as a "biscuit" overseas), the US has taken a liking for these holiday cookies.
Compared to traditional sugar or chocolate chip cookies, shortbread cookies use less ingredients, and incorporates cornstarch.
Do I have to chill shortbread cookies?
The key to keeping shortbread cookies from spreading is to chill the shortbread cookie dough to bring the butter back to a solid state.
Ingredients Used In Shortbread Cookies
softened salted butter
powdered sugar
vanilla extract (almond extract works too)
all-purpose flour
cornstarch
dried cranberries
white chocolate chips
Why do shortbread cookies use cornstarch?
Using cornstarch to make shortbread cookies allows the cookies to have less gluten, which helps keep the cookie soft and light in texture, instead of so dense from the added gluten. (Plus, it's a cheaper alternative to cake flour!)
Can I use fresh cranberries for my shortbread cookie?
Fresh cranberries are not ideal to use in shortbread cookies. The liquid to dry ingredients ratio must be precise to ensure the best shortbread cookies.
Dried cranberries are a must for cranberry shortbread cookies.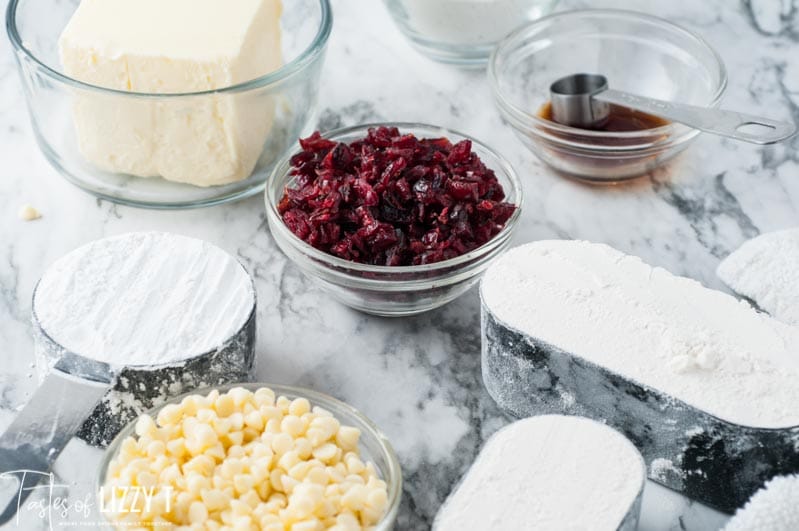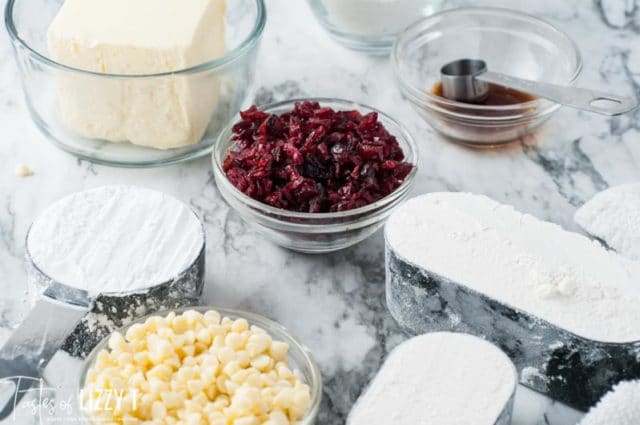 How To Make Cranberry Shortbread Cookies
In a large bowl, mix the butter until light and creamy. This should take abut 4-5 minutes.
Remember, softened butter is the key! Do not melt butter in the microwave either.
Quick Tip: Warm a tall glass cup with water in the microwave for about a minute. Empty cup and flip upside down to cover an upright stick of butter.
Leave alone for a few minutes. This helps soften the butter, repeat as necessary.
Once the butter is creamed, add in the vanilla extract and the powdered sugar. Mix until combined.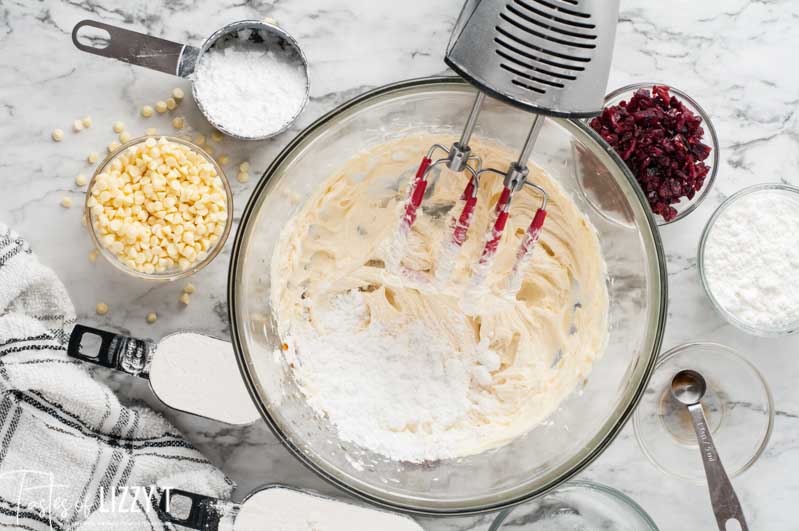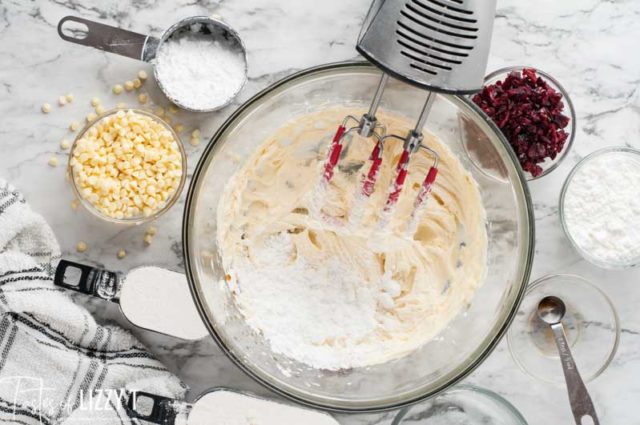 Next, pour in the flour and cornstarch mixture (a little at a time), fold the dry ingredients into the butter mixture with a mixing spoon or spatula.
DO NOT OVER MIX! Over mixing cookie dough results in tough, hard cookies because the gluten is over activated.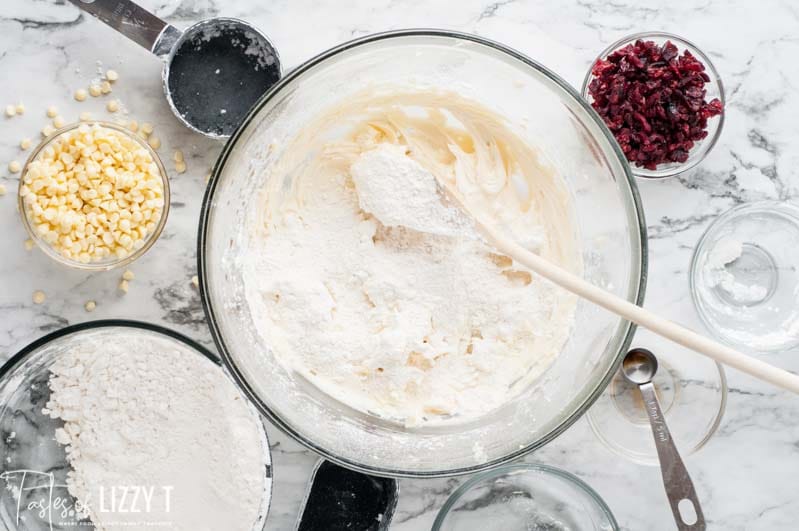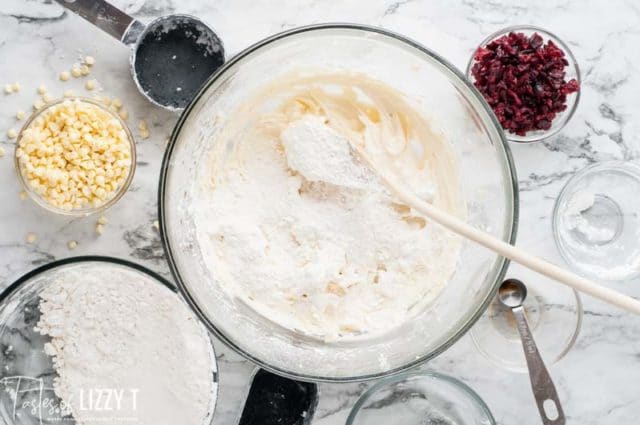 Fold in the finely chopped white chocolate chips and finely chopped dried cranberries to make the cranberry shortbread cookie dough.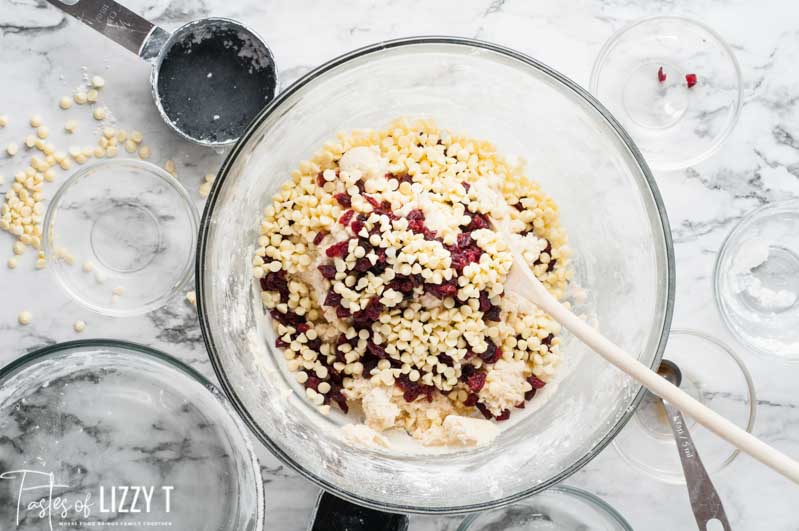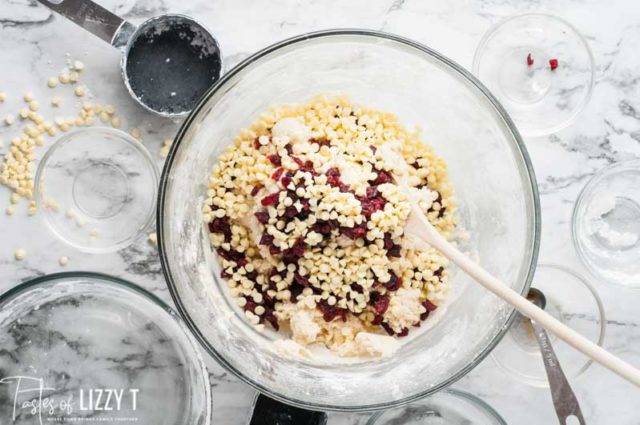 Next, with your clean hands, gently form a ball with the shortbread cookie dough.
Refrigerate cranberry shortbread cookie dough for a minimum of 30 minutes, and ideally for an hour or two.
Once the cookie dough has chilled, place on a floured surface to roll until it's a quarter inch thick.
If your cookie dough is thicker than a quarter inch, the chances of your cookies not being super soft goes up, since it will take longer to cook the center of a thicker cookie.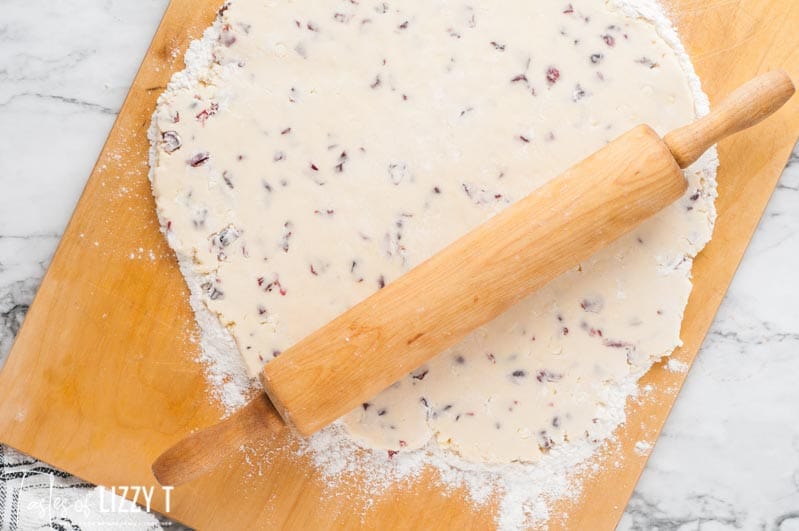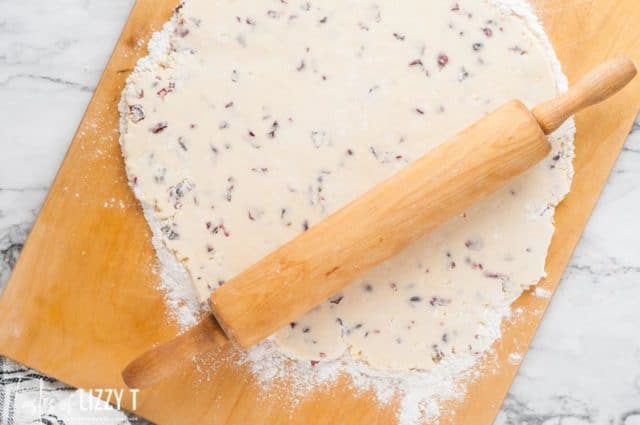 Cut out circles with a 2 ½ inch circle cookie cutter, and place onto a parchment paper lined metal baking sheet pan.
Metal keeps an even cooking temperature and heats up quickly, which ensures you do not have damp cookies.
You can use fun and festive cookie cutters, just keep them around 2 ½ inches so that they bake evenly.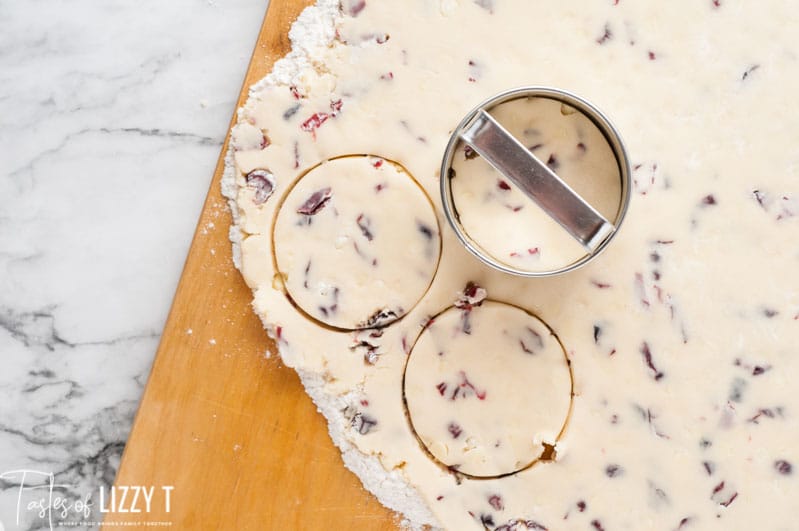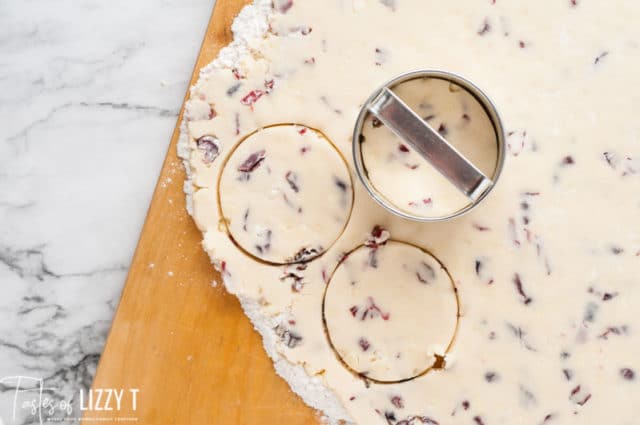 Using parchment sheets makes for an easy cleanup and ensures the cookies release easily. (Although, they should since shortbread cookies are a high butter content cookie.)
After the cookies are rolled and cut, we refrigerate them for about 30 minutes before baking. This helps the cookies retain their shape.
Place into a preheated oven for ONLY 18-20 minutes or until the edges JUST start turning slightly golden.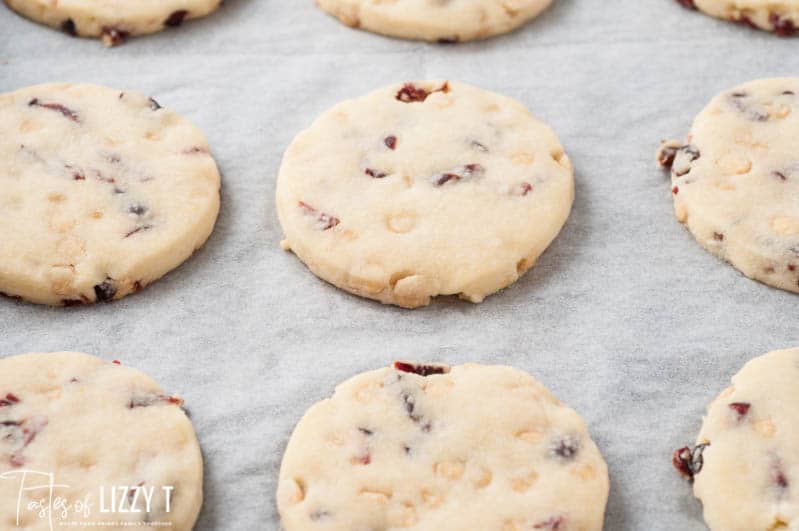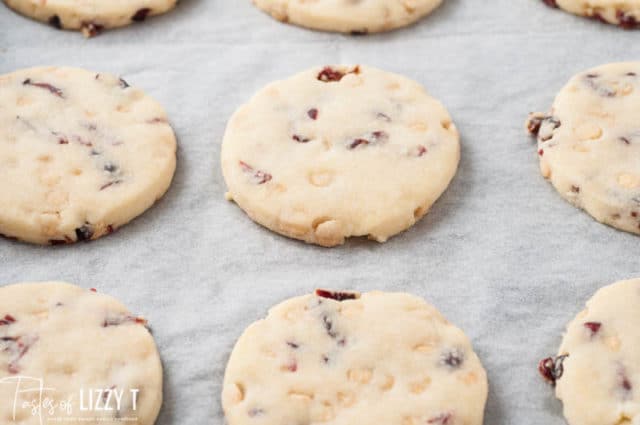 The trick to super soft shortbread cookies is to remove the cookies from the oven about a minute or two before they're completely baked through.
Remove and place the sheet pan over the stove. Let the cookies rest for five minutes. While resting the cranberry shortbread cookies can continue cooking with the heat of the pan.
After five minutes, transfer to a cookie rack to cool completely.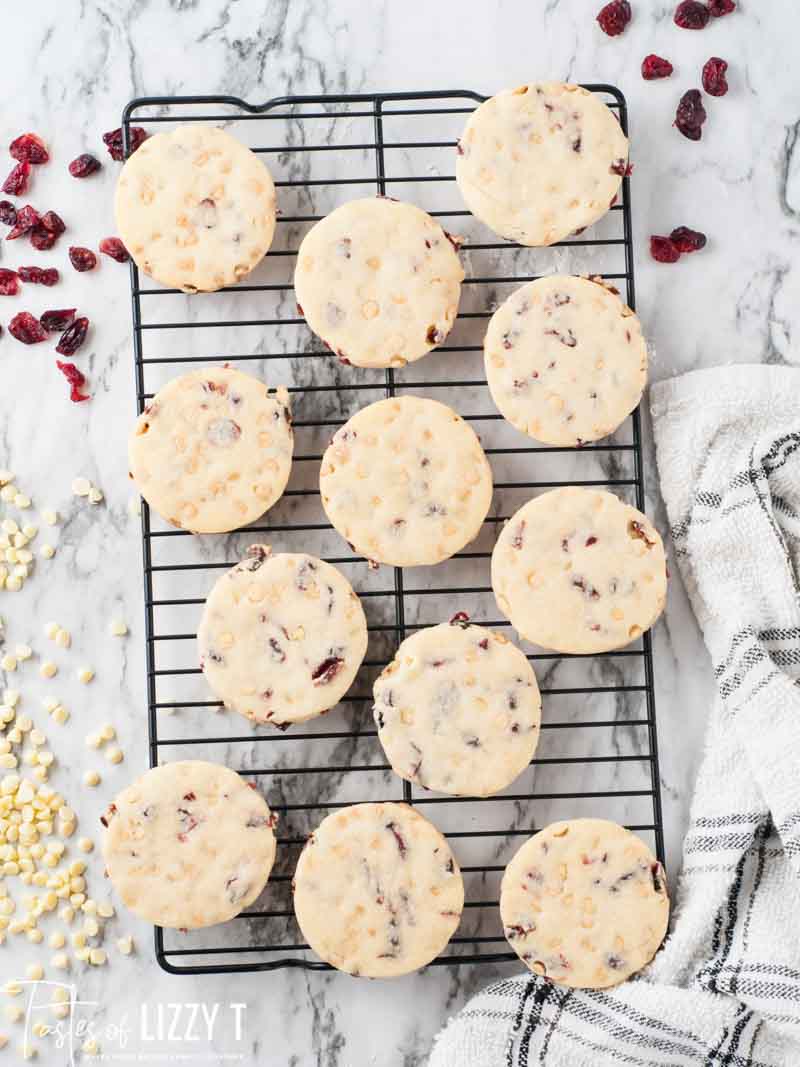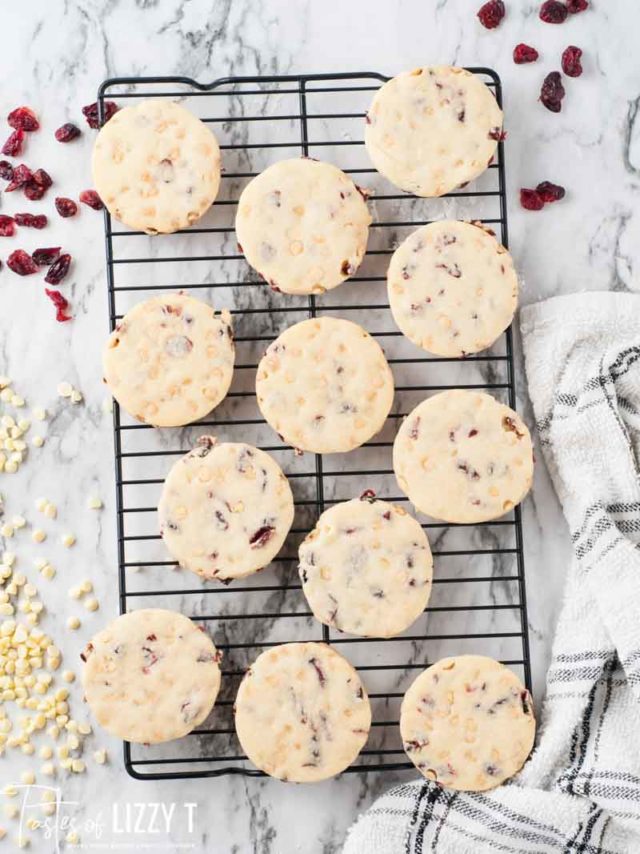 What if my shortbread cookie dough is too crumbly?
To fix crumbly shortbread cookie dough, add in a few drops of water or wet your hands with a little softened butter. Do this sparingly and with caution, you do not want to over-wet or over mix your cookie dough.
How long with cranberry shortbread cookies last?
Thankfully the shelf life of shortbread cookies is long!
As long as these cranberry shortbread cookies are stored in an airtight container, it should last up to 4 weeks in a cool dry place. (Do not pack them in tightly, give them space to breathe.)
Can you freeze shortbread cookies?
Freezing shortbread cookies is completely fine to do!
To freeze shortbread cookie dough, roll the cookie dough into a ball, and place into a freezer safe Ziploc bag.
The cookie dough will last in the freezer up to three months.
To freeze baked shortbread cookie dough, first make sure that the baked cookies are completely cooled.
To use the frozen shortbread cookie dough, place the cookie dough into a bowl and let it completely defrost and come to room temperature before rolling.
Quick tip: Hold the defrosted dough in your hands for a minute or two so your body heat can transfer into the cookie dough to hopefully soften the center more.
Then you can stack 3-4 cookies with a small piece of parchment or freezing paper between the cookies. Flash freeze these cookie bundles, and then place them into a freezer friendly air tight container or bag.
Baked shortbread cookies freeze well for 3-4 weeks.
To reheat frozen baked shortbread cookies, let the cookies completely thaw and come to room temperature before breaking apart the stacks and serving.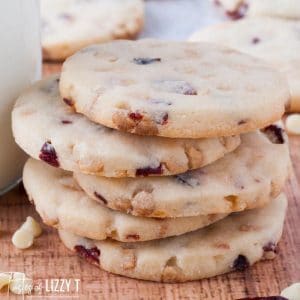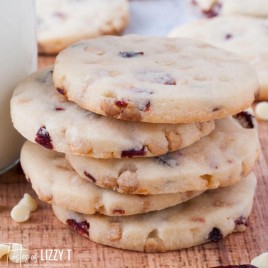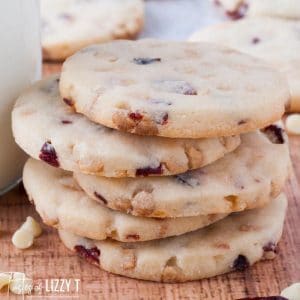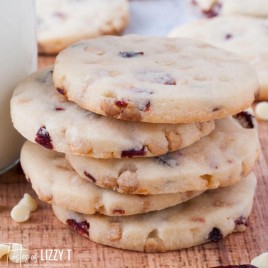 Cranberry Shortbread Cookies
Cranberry shortbread cookies are buttery, soft, and they melt in your mouth! Hands down, one of the best Christmas cookies to make and share.
---
Ingredients
1

cup

salted butter

(softened, but not melted)

½

cup

powdered sugar

2

teaspoons

vanilla extract

1 ½

cups

all-purpose flour

½

cup

corn starch

½

cup

finely chopped dried cranberries

½

cup

white chocolate chips
Instructions
Line 2 baking sheets with parchment paper. Set aside.

Preheat oven to 325 F.

In a large bowl use an electric mixer to cream the butter until light and creamy.

Mix in the vanilla.

Gradually add the icing sugar to the butter mixture beating well.

In a medium bowl mix together the flour and cornstarch.

Gradually stir the flour/cornstarch mix into the creamed mixture until just incorporated.

Fold in the cranberries and white chocolate. Mix just enough to evenly combine.

Use your hands to form the dough into a ball.

On a floured surface roll the dough to ¼ inch thick.

Use a 2 ½ inch round cutter to cut out cookies and place on prepared pans.

**Chill the dough for about 30 minutes before baking.**

Bake for about 18-20 minutes, until just set and very lightly browned on the edges.

Allow to cool on the pans for 5 minutes before removing cookies to wire rack to cool completely.
Notes
The calories shown are based on the recipe making 28 cookies, with 1 serving being 1 cookie. Since different brands of ingredients have different nutritional information, the calories shown are just an estimate. **We are not dietitians and recommend you seek a nutritionist for exact nutritional information.**
Nutrition
Calories:
124
kcal
|
Carbohydrates:
13
g
|
Protein:
1
g
|
Fat:
8
g
|
Saturated Fat:
5
g
|
Cholesterol:
18
mg
|
Sodium:
61
mg
|
Potassium:
18
mg
|
Fiber:
1
g
|
Sugar:
5
g
|
Vitamin A:
203
IU
|
Calcium:
9
mg
|
Iron:
1
mg
Holiday Cookie Recipes To Give Away
Give the gift of cookies to co-workers and neighbors this year with these great cookie recipe ideas: