Gluten Free Breakfast Casserole
This Gluten Free Breakfast Casserole with bacon, cheese, eggs and potatoes is made quickly using frozen potatoes and hard-boiled eggs.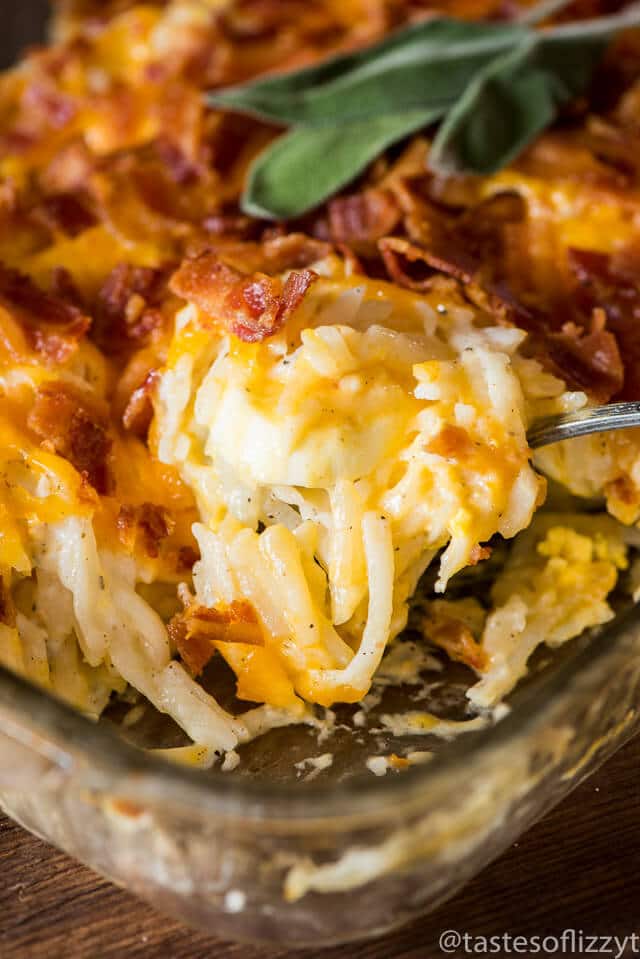 I'm going to make you drool today. And it isn't going to be with dripping chocolate.
Every now and then we do eat something other than cookies, donuts and cake.
And when we do, it's often stuffed with potatoes, cheese or bacon.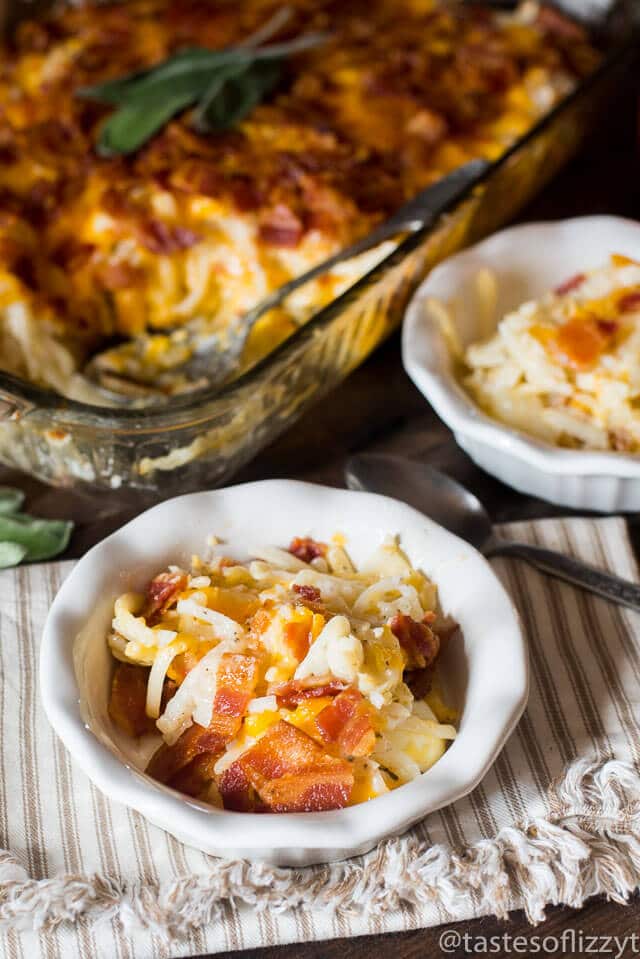 Last month I made a Egg & Potato Casserole for OhioEggs.com. I took that recipe and turned it into a gluten free breakfast casserole that we not only ate for breakfast, but for lunch and dinner as well.
White sauce with seasonings, potatoes, cheese, hard-boiled eggs and bacon.
Let's talk about these layers!
White Sauce: I made a simple white sauce with butter, tapioca flour, milk and seasonings. Don't need gluten free? Use all-purpose flour. Need dairy free? Use cashew milk. I seasoned this sauce with some of my favorite breakfast sausage seasonings. So easy.
Potatoes: I took the lazy quick route and used store-bought frozen shredded potatoes (a 30-ounce bag). You can shred your own if you'd like. If you are using fresh potatoes, I'd make about 4-5 cups.
Cheese: Shred your own cheese. If you've been around me at all, you'll know I recommend this 100% of the time! (OK…sometimes you need a shortcut and must buy shredded. It's totally fine. 🙂 )
Hard-Boiled Eggs: Have you ever had a brunch casserole with hardboiled eggs? This casserole recipe comes from my favorite Amish cookbook. I had made it years ago, and it just happened to pop into my mind  a few weeks ago when hard-boiling some eggs. With Easter just around the corner, this recipe is perfect. It would be a great way to use up those decorated Easter eggs!
Bacon: Cook some bacon (the oven method is my favorite way to cook bacon), chop it and top the casserole with the bacon bits. My favorite brand of bacon? Hormel Natural Choice Uncured Bacon. In the original version of this recipe, I had a buttery, cracker-crumb topping. To make this go-round gluten free, I decided to switch that topping to a bacon topping. Because bacon is just as good (if not better) than buttery crackers.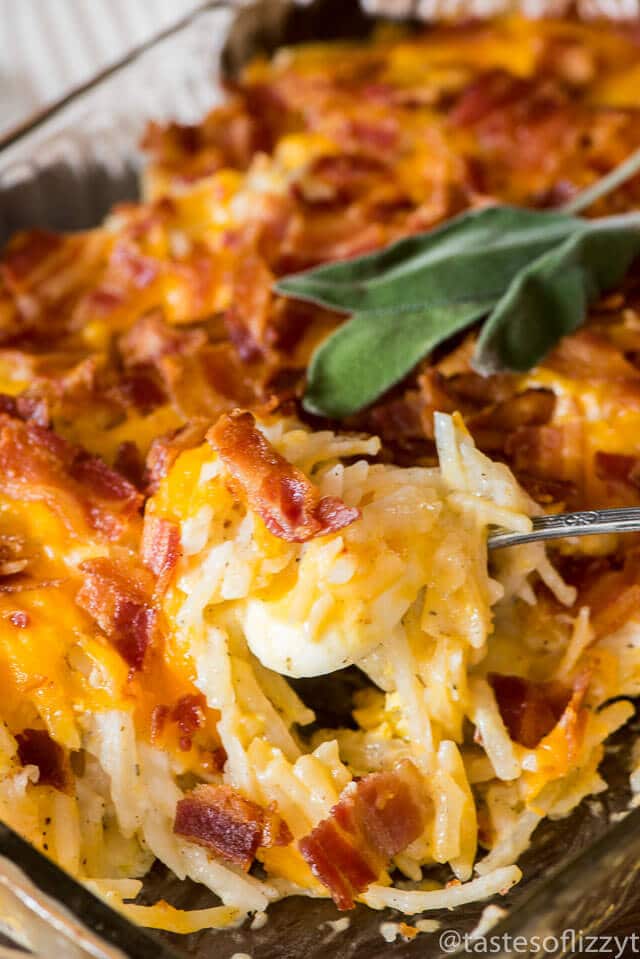 We've made this casserole several times in the past few weeks and I just bought the ingredients again today to make it again this weekend.
So…did I make you drool? Because I may be drooling after telling you about it.
I think you're going to love it!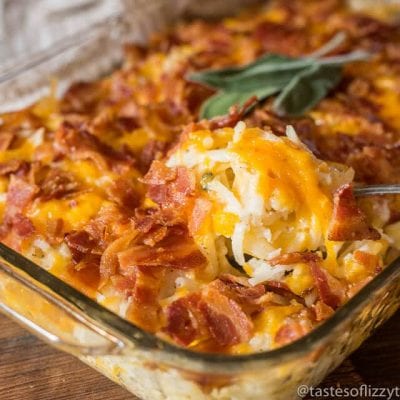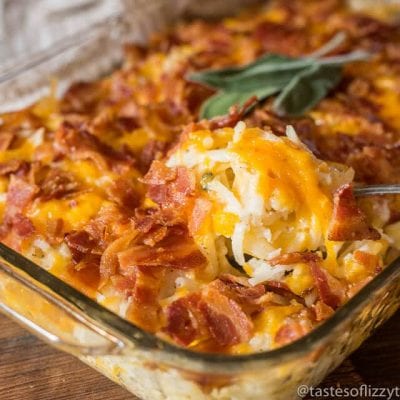 Gluten Free Breakfast Casserole
This Gluten Free Breakfast Casserole with bacon, cheese, eggs and potatoes is made quickly using frozen potatoes and hard-boiled eggs.
---
Ingredients
White Sauce:
2

tablespoons

butter

2

tablespoons

tapioca flour

or all-purpose flour

2

cups

milk

2% or higher

½

teaspoon

salt

½

teaspoon

pepper

1/2

teaspoon

ginger

1

teaspoon

sage

Dash of paprika
Other Ingredients:
30

ounces

(about 7 cupfrozen shredded hash brown potatoes

6

large

hard-boiled eggs

peeled

2

cups

shredded cheddar cheese

12

ounces

bacon

cooked and crumbled
Instructions
Pour the frozen shredded potatoes into a large bowl.

To make the white sauce, melt the butter in a saucepan over medium-low heat. Once the butter is melted, add the tapioca flour and whisk until clumps are gone.

With the saucepan over medium heat, add 1 cup of milk and whisk until smooth.

Add the remaining milk and heat until slightly thickened, whisking often so the milk does not scorch. With tapioca flour, this only took 3-4 minutes. (If you use all-purpose flour, it will take longer.)

Remove from the heat and stir in salt, pepper, ginger, sage and paprika. Pour the white sauce over the shredded potatoes, mix and set aside.

Heat the oven to 375 degrees.

Spray a 9x13 baking pan with cooking spray.

Pour and spread half of the shredded potatoes on bottom of the baking pan.

Slice each hardboiled egg lengthwise, making 4 slices for each egg, equaling 24 slices.

Lay the egg slices down flat, covering the potatoes.

Pour and spread the remaining potato mixture over the eggs.

Sprinkle the cheese overtop the potatoes.

Then sprinkle the cooked & crumbled bacon over the cheese.

Bake at 375 for 30 minutes.
Nutrition
Serving:
222
g
|
Calories:
424
kcal
|
Carbohydrates:
18
g
|
Protein:
25
g
|
Fat:
28
g