Use up fresh garden rhubarb in this soft and moist rhubarb bread. Buttery crumble gives this quick bread recipe a delicious sweet surprise!
You all love our quick bread recipes as much as we do and for that we say THANK YOU! From chocolate cherry bread to lemon poppy seed bread to cranberry orange glazed bread…we something for everyone.
Today we're bringing you a summery bread with garden fresh rhubarb.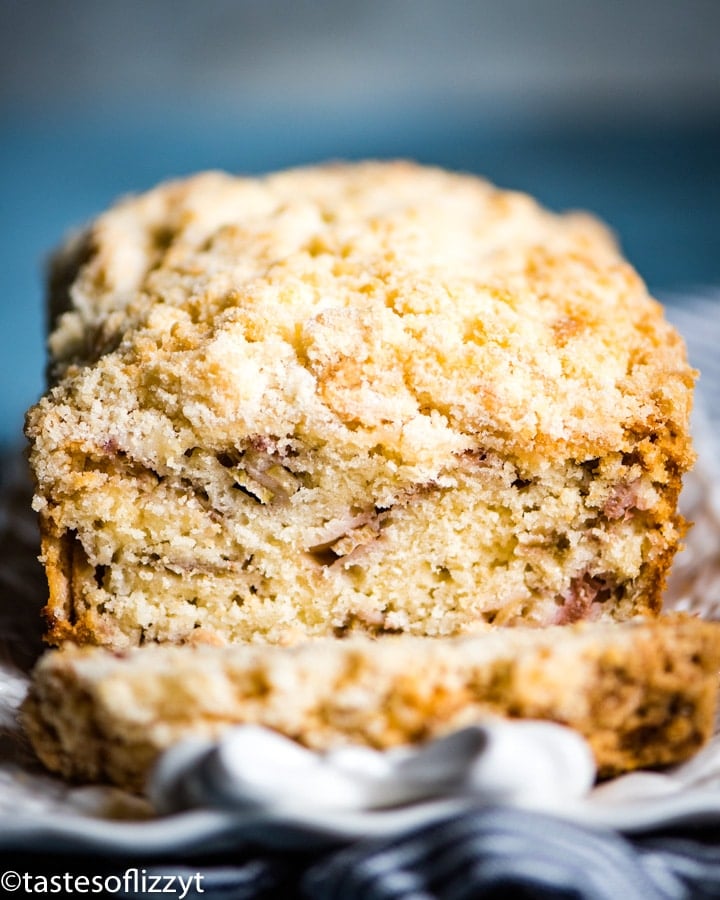 Is rhubarb a fruit or a vegetable?
This is a common question! Rhubarb is actually a vegetable, but because it is often used in desserts, people often assume it is a fruit.
Can rhubarb make you sick?
You may have heard that rhubarb makes people sick. It's true that the leaves on rhubarb have oxalic acid that in LARGE amounts can make you not feel well. However, if you don't eat the leaves and wash the vegetable well, you'll be just fine.
Do I have to peel rhubarb?
Nope! We don't take the time to peel rhubarb. Although it doesn't have a "peel" like other fruits do, it does have strings similar to celery. You don't have to remove the strings before baking (although you can if you want to).
How to Make Rhubarb Bread
For this quick bread recipe, we used our easy sweet bread batter. It's soft, fluffy and perfect paired with fruits (and in this case, vegetable!).
Here are a few tips:
Mix the wet ingredients together in one bowl and mix the dry ingredients in another.
Then add the dry ingredients to the wet ingredients and mix just until barely combined. It's important not to overmix quick breads and muffins. If you overmix, the bread can become tough instead of tender.
Add the sliced rhubarb. We put in a whopping 2 full cups of thinly sliced rhubarb. We recommend slicing the rhubarb thin so it fully softens in the bread.
Make the buttery crumble and sprinkle it on top of the bread before you bake it.
This bread will take about a full hour to bake. Insert a toothpick in the center and it should come out clean. You can also just touch the top. If it feels firm and slightly bounces back, you know the bread is done.
Allow the bread to cool in the pan for about 10 minutes, then loosen the edges and have it cool completely on a wire rack.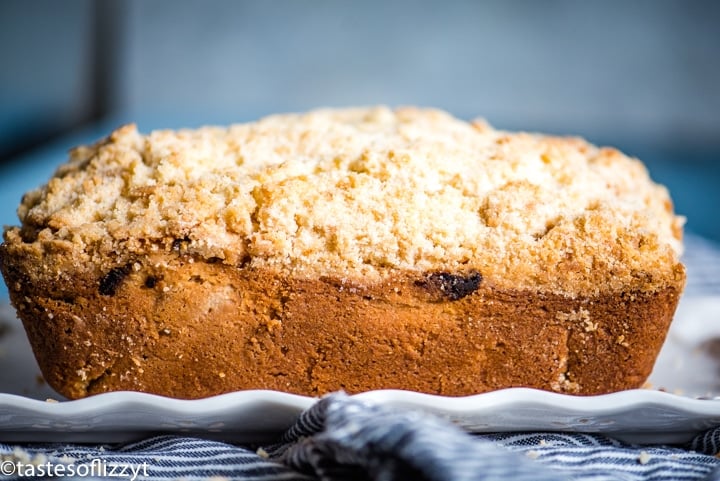 Can you use frozen rhubarb in bread?
If you have rhubarb in the freezer, you can use it with great success in this bread. Simply let the rhubarb defrost completely. Strain off any extra liquid.
Then add the drained rhubarb to the bread as described.
Can I leave the crumble topping off the bread?
Yes! You can leave the crumble off which is a great way to save calories. However, much of the sweetness from the bread comes from the topping. We think the bread has the best flavor with the crumb topping.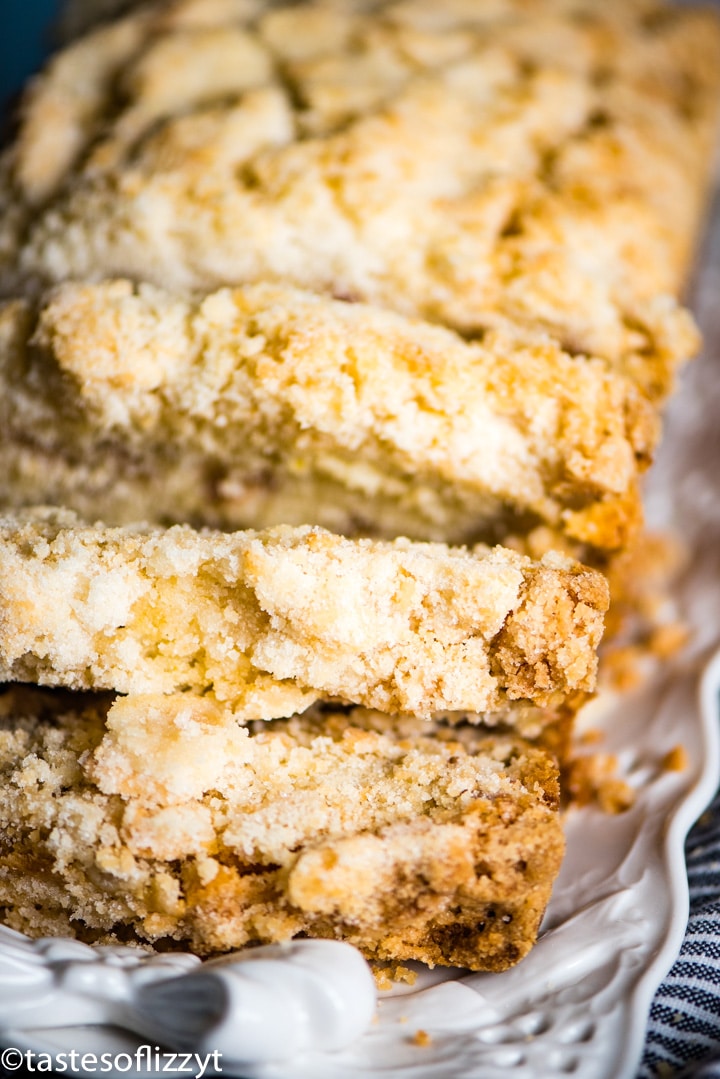 Can I freeze rhubarb bread?
Yes! This bread freezes well. Wrap it in plastic wrap, then wrap it again in foil or place it in a storage container or a bag. Freeze for up to 2 months.
When you are ready to defrost the bread, simply remove it from the freezer and allow it to come to room temperature before unwrapping the bread. Once the bread is fully defrosted, then unwrap and serve.
How to Store Sweet Bread
This bread is best when stored at room temperature. It will keep at room temperature for 2 to 3 days. It will keep in the refrigerator for 3-4 days.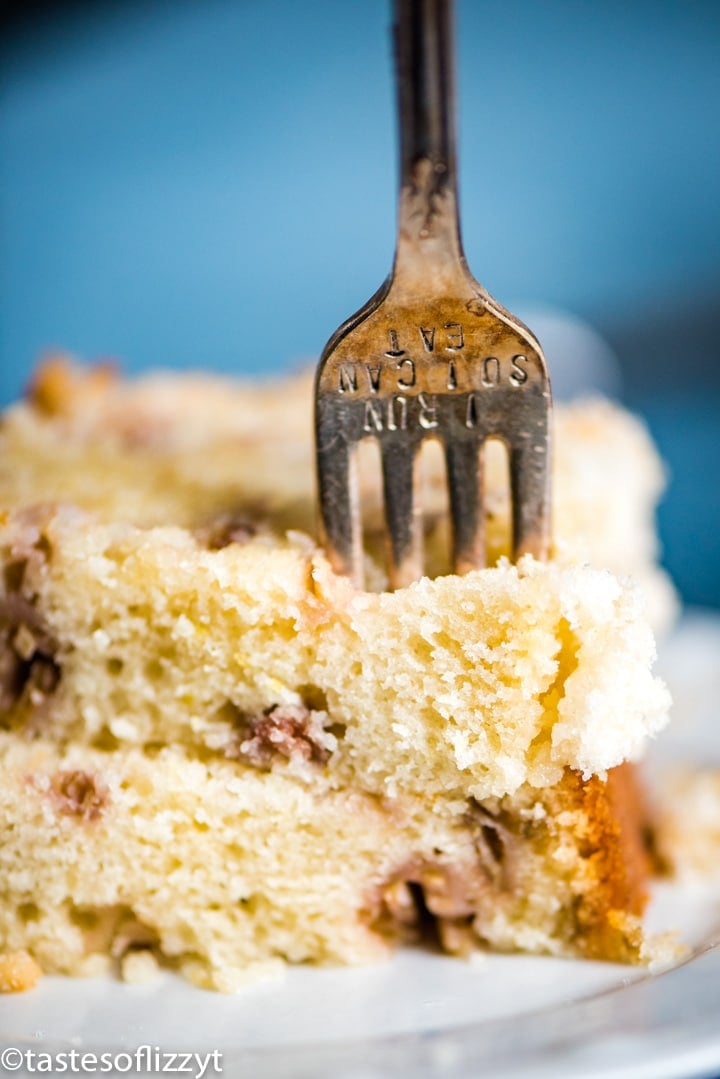 Best Rhubarb Recipes
Best Quick Bread Recipes
Tools You Need:
Loaf Pan: The size I like is 9×5, but you can use 8×4 also.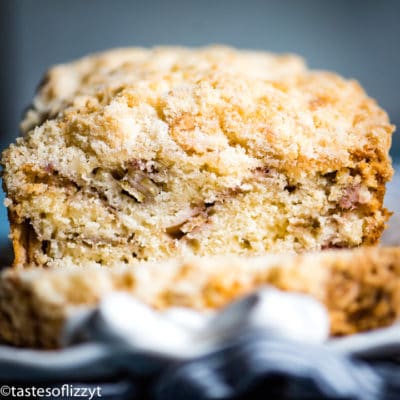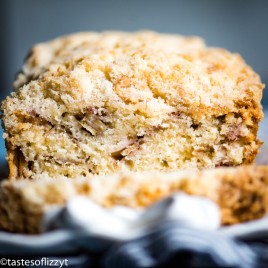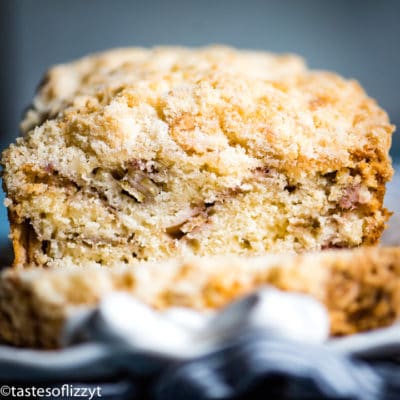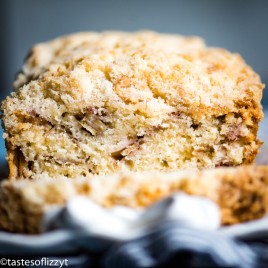 Rhubarb Bread
Use up fresh garden rhubarb in this soft and moist rhubarb bread. Buttery crumble gives this quick bread recipe a delicious sweet surprise!
Total Time
1

hour
10

minutes
---
Ingredients
For the Bread:
3/4

cup

granulated sugar

1/2

cup

milk

1/2

cup

oil

1

large

egg

2

teaspoons

vanilla extract

2

cups

all-purpose flour

2

teaspoons

baking powder

1/4

teaspoon

salt

2

cups

thinly sliced rhubarb
For the Crumble:
1/2

cup

granulated sugar

1/2

cup

all-purpose flour

3

tablespoons

salted butter

(softened)
Instructions
Preheat the oven to 350 degrees.

In a medium bowl, stir together the sugar, milk, oil, egg and vanilla. In a separate bowl, combine the flour, baking powder and salt. Add the dry ingredients to the wet ingredients and stir until just combined.

Fold the rhubarb gently into the batter.

Pour the bread batter into a greased and floured 9"x5" bread pan.

Make the crumble by mixing together the flour, sugar and butter in a small bowl. This mixture will be crumbly.

Spread the crumbs on top of the bread batter in the pan.

Bake at 350 degrees for 55-60 minutes. A toothpick inserted in the center of the bread should come out clean. Allow the bread to cool for 10 minutes, then remove the bread to a wire rack to cool completely.

Store at room temperature in an airtight container.
Nutrition
Calories:
363
kcal
|
Carbohydrates:
51
g
|
Protein:
5
g
|
Fat:
16
g
|
Saturated Fat:
3
g
|
Cholesterol:
31
mg
|
Sodium:
104
mg
|
Potassium:
208
mg
|
Fiber:
1
g
|
Sugar:
26
g
|
Vitamin A:
180
IU
|
Vitamin C:
2
mg
|
Calcium:
77
mg
|
Iron:
1.7
mg