Bakery Style Sugar Cookies
Tastes of Lizzy T participates in affiliate advertising programs. We may earn a commission when you make a purchase through links on our site.
Hints on how to get the thickest, softest, bakery style sugar cookies. It's the best sugar cookie recipe around! If you love sugar cookies, see all of our recipes here.
You're about to meet the best little sugar cookie your hands will ever hold. They hold true to the same characteristics of our bakery-style chocolate chip cookies: thick, lightly crisp around the edges, but oh, so soft and chewy in the middle.
Our sugar cookies might look like an average cookie, but today we're sharing a few hints with you on how to make the best sugar cookie. A sugar cookie that is anything but average.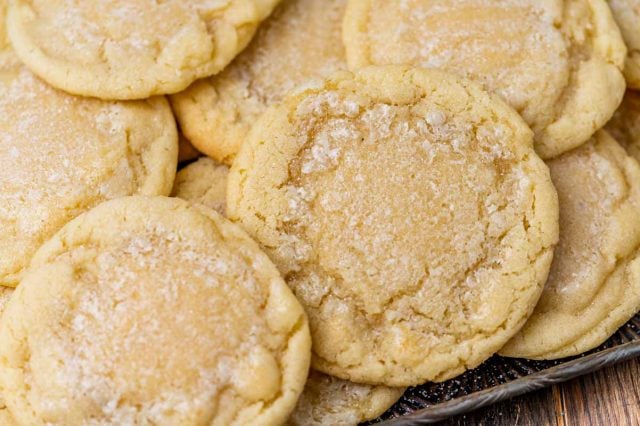 Why you'll love this bakery style sugar cookie recipe:
Based off this chewy sugar cookie recipe and adapted it just a tad to give it unbelievable taste and texture. Yes, the recipe itself is extremely important, but the technique and ingredients are what you want to pay close attention to here.
A unique extract used that will have everyone asking and wondering what the flavor is.
Buttery and rich, these cookies stay soft for days.
Freeze the dough or freeze the baked cookies. Either works!
Two Key Ingredients
To start, you'll make a sugar cookie dough just like you would any other cookie dough. Add the ingredients into a stand mixer and mix them well. There are a couple of key ingredients that you'll want to note.
What gives these Bakery Style Sugar Cookies such a uniquely fresh taste is LorAnn's Princess Cake & Cookie Bakery Emulsion. You can find this emulsion on Amazon, or in your local Hobby Lobby and sometimes even Walmart. It is described as "light and nutty" with "citrus and vanilla undertones". Since most everyone uses vanilla in cookie recipes, this water-based emulsion gives a different taste that everyone loves. I am always asked what kind of flavoring I use in these cookies and today I'm giving away that secret.
Our second ingredient secret is European-style butter. It is churned with sweet cream and has a higher milk fat content which creates cookies that are unbelievably thick and rich.
You'll notice that the emulsion has a hint of citrus. I also add in a touch of lemon juice. Don't worry…the cookies are not going to be overpowering with lemon flavor. It's just a subtle, bright, fresh flavor.
How to Make Bakery Style Sugar Cookies
The basic sugar cookie dough is easy, but there are a 4 tips when mixing the dough:
Use room temperature butter to mix the dough. Notice it's not "softened" butter, because I don't want you to melt the butter at all. Melting the butter will change the texture of the cookies. Set the butter out on the counter about 1 hour before you make the cookies and you'll be set.
Mix with an electric mixer and paddle attachment. This will ensure all the butter and sugar (plus the other ingredients) get creamed well.
Scrape the sides and bottom of the bowl during mixing. This is important to make sure all of the ingredients get mixed properly. Sometimes dry crumbs land on the bottom of the bowl and you'll want to be sure to mix those in.
Refrigerate the dough. I know, I know. It's not fun to wait for dough to chill, but for the thickest cookies possible, you'll want to take the time to do this.

Let me quickly walk you through the technique of making the cookies. You'll see that our method is similar to our other bakery style cookies.
Scoop the dough with a large ice cream scoop (ours is 1 1/2″ in diameter) and place the dough balls on a non stick baking sheet. You can also line a baking sheet with parchment or a silicone baking mat.
Press them lightly with a glass that has been dipped in sugar.
Pop these pans of cookies into the fridge for at least an hour.
Brush the tops of the cookies with a bit of homemade buttermilk, made simply with heavy cream and vinegar. Don't skip this step. This little trick makes the top of your cookies just perfect.
Sprinkle more sugar on top. Use colored sprinkles if you'd like. Perfect for showing holiday spirit!
Bake the cookies at 375ºF for 9-10 minutes. Don't over bake them. Taking the cookies out just before they turn brown ensures that the cookies will be soft and chewy for days. If you can resist eating them, that is!
If you follow all of these steps closely, you'll end up with cookies that will rival the best of bakery cookies.
Q: We've shared some things that make the perfect sugar cookie for us. What is your ideal sugar cookie?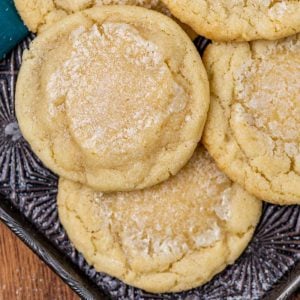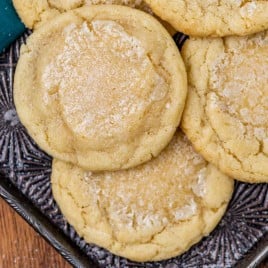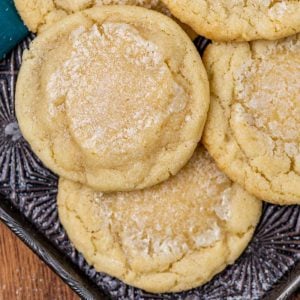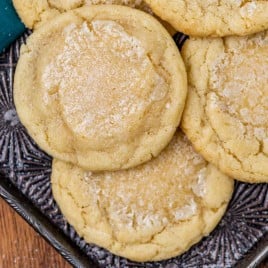 Bakery Style Sugar Cookies
Hints on how to get the thickest, softest, bakery style sugar cookies. It's the best sugar cookie recipe around!
---
Ingredients
2 3/4

cups

all purpose flour

358 grams

1

teaspoon

baking soda

6 grams

1/2

teaspoon

baking powder

2 grams

1/2

teaspoon

salt

4 grams

1

cup

European style salted butter

8 ounces, room temperature

1 1/2

cups

white granulated sugar

300 grams

1

large

egg

3/4

teaspoon

LorAnn Princess Cake & Cookie Bakery Emulsion

1/2

tablespoon

lemon juice

7 grams

1/4

cup

heavy cream

3/4

teaspoon

white vinegar

Extra sugar for sprinkling on top
Instructions
In a small bowl, stir together flour, baking soda, baking powder and salt. Set aside.

In a large mixing bowl, cream together butter and sugar until smooth. Beat in the egg, Princess emulsion and juice. Gradually blend in dry ingredients.

Scoop the dough into about 18 1-1/2" inch balls (about 53 grams each) and place on an ungreased cookie sheet. Slightly flatten the top of each cookie with the bottom of a glass that has been dipped in sugar.

Refrigerate the cookies for at least 1 hour.

In a small bowl, combine the heavy cream and vinegar. This mixture will get very thick and curdle. Use a pastry brush to brush this mixture on top of the cookies.

Sprinkle the top of the cookies with extra granulated sugar or sprinkles.

Bake at 375 degrees for 10 minutes, removing the cookies just before the edges get brown.

Allow the cookies to cool for 5 minutes, then move them to a flat surface to cool.

Store in an airtight container.
Notes
The calories shown are based on the recipe making 18 cookies, with 1 serving being 1 cookie. Since different brands of ingredients have different nutritional information, the calories shown are just an estimate. **We are not dietitians and recommend you seek a nutritionist for exact nutritional information. The information in the nutrition box are calculated through a program and there is room for error. If you need an accurate count, I recommend running the ingredients through your favorite nutrition calculator.**
Nutrition
Calories:
240
kcal
|
Carbohydrates:
31
g
|
Protein:
2
g
|
Fat:
11
g
|
Saturated Fat:
7
g
|
Cholesterol:
41
mg
|
Sodium:
156
mg
|
Potassium:
40
mg
|
Sugar:
16
g
|
Vitamin A:
380
IU
|
Vitamin C:
0.2
mg
|
Calcium:
14
mg
|
Iron:
0.9
mg
Other Sugar Cookie Recipes
I've never met a sugar cookie I didn't like. Fluffy and light, thick and rich…all are necessary and good. Here are a few new recipes for you to try.