These hot chocolate brownies start with the simplicity of a cake mix, but the homemade hot cocoa buttercream make them stand out! You may also love our homemade hot cooca!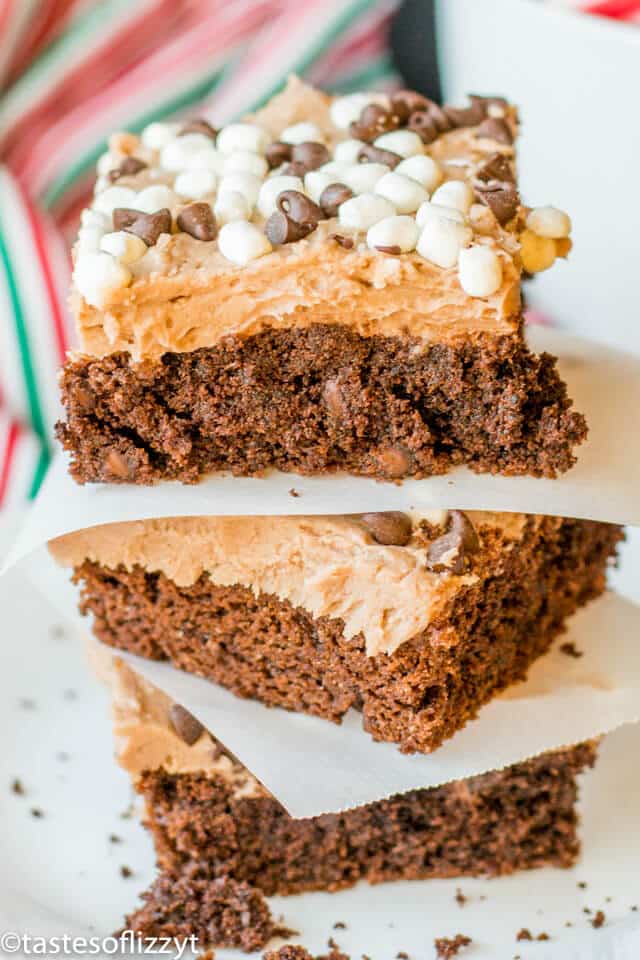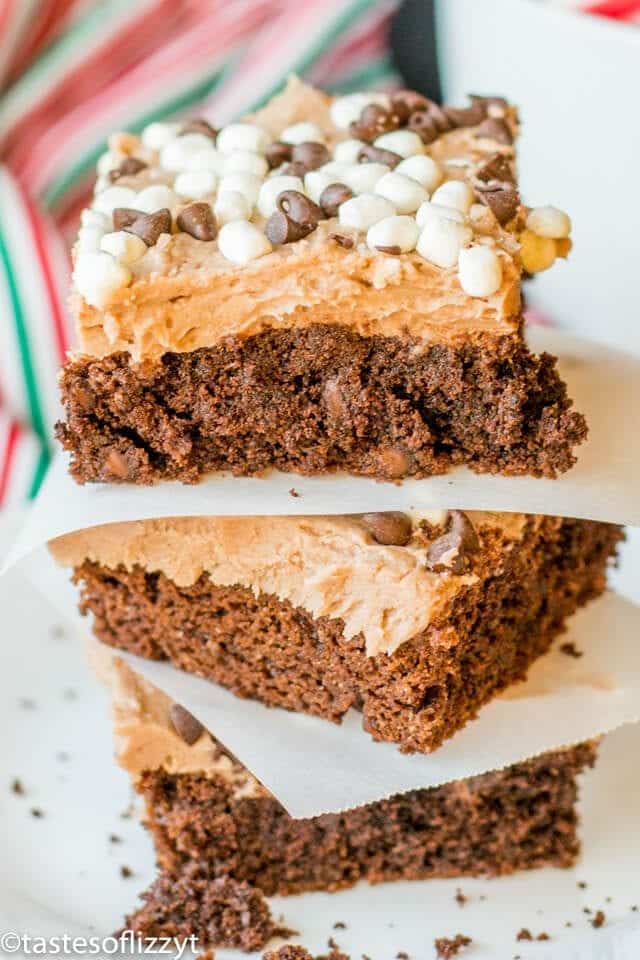 Hot Chocolate Brownies
What are some of your favorite snow stories? I remember one time our dog, Josie, came in with clumps of snow as big as baseballs stuck all over her legs and paws. It took a while for it to melt, and she was not happy in the meantime. We took so many pictures- the poor dog was probably humiliated!
Have you ever come out from playing in the snow, peeled layers of coats off and warmed up with a mug of hot cocoa? I love coming in from shoveling the driveway with my brother and sitting at the table, sipping hot chocolate with melted marshmallows and peppermint sticks.
Mmmm. 
These Hot Chocolate Brownies would be perfect with a cup of hot cocoa.  That's a lot of chocolate!  But can you really ever have too much chocolate?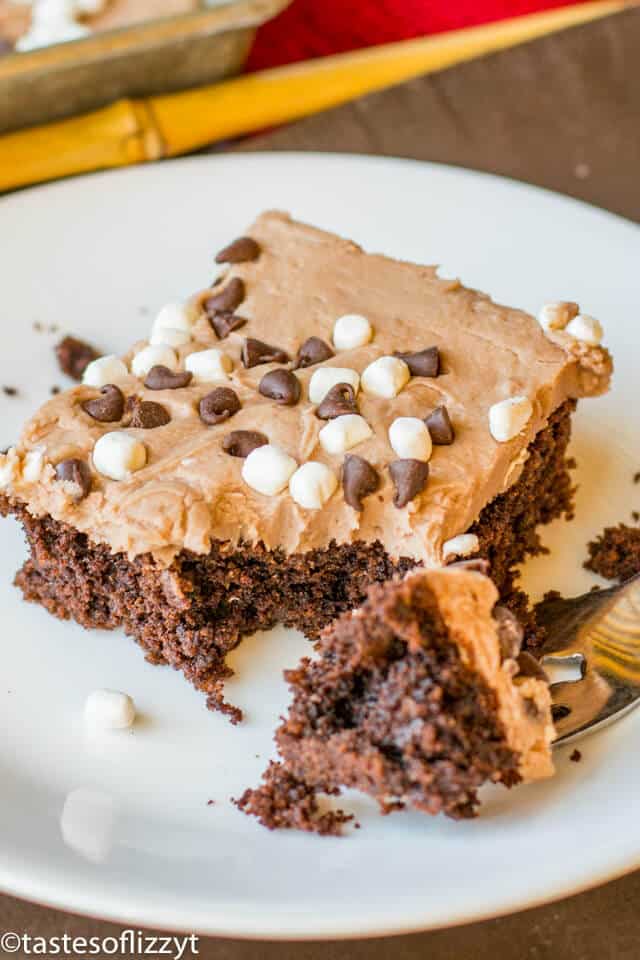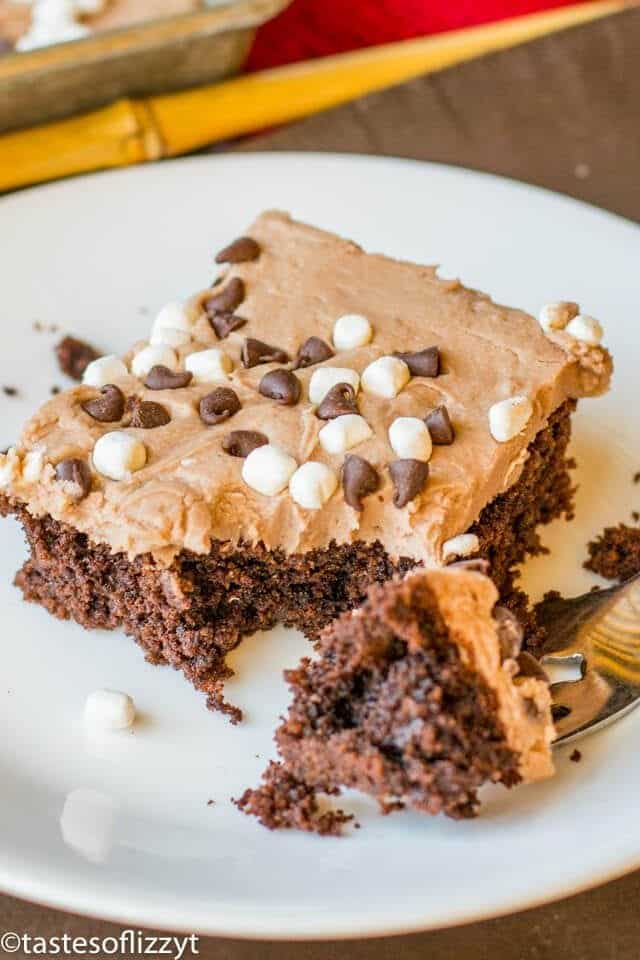 Cake Mix Brownies
These Hot Chocolate Brownies are not the normal Fudgy Brownies we use most of the time. As good as those are, we decided to switch it up a bit this time. These bars are a special variation of a chocolate chip cookie bar we found here. It starts with a simple cake mix, and you add in a pudding mix, mini chocolate chips, oil, egg and instant coffee. These bars end up very chocolatey, but oh, so soft.
Hot Cocoa Buttercream
The simple homemade hot cocoa buttercream brings it all together. Simply add some powdered hot cocoa mix to traditional buttercream. It tastes a lot like hot chocolate, and if you sprinkle mini chocolate chips and marshmallow bits on top, it's almost like the real thing.
We set them out for friends at our small group and I didn't get to eat one- they were gone!
OTHER BROWNIE RECIPES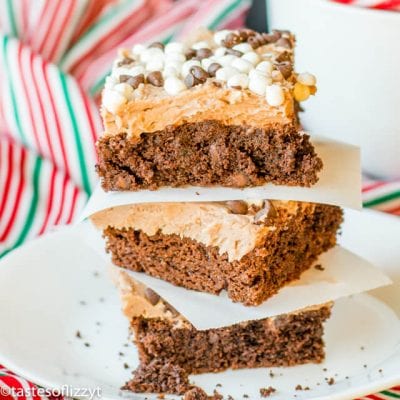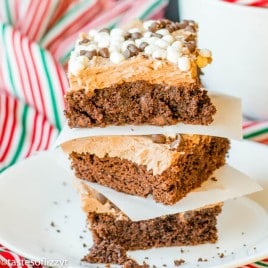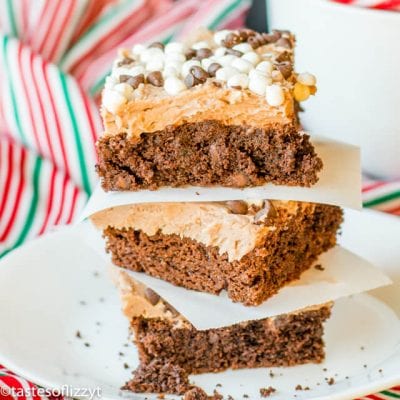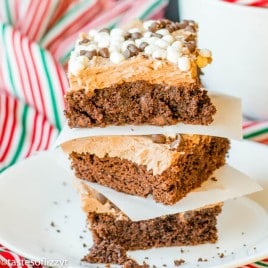 Hot Chocolate Brownies
These chocolate bars start with the simplicity of a cake mix, but the homemade hot cocoa buttercream make them stand out!
---
Ingredients
1/4

cup

hot water

3

tablespoons

instant coffee granules

15.25

ounces

chocolate cake mix

3.4

ounces

instant chocolate pudding

(small box)

3/4

cup

vegetable oil

2

large

eggs

1

cup

mini chocolate chips
Hot Cocoa Buttercream:
1

cup

butter

(softened)

3 1/2

cups

powdered sugar

1/4

cup

powdered hot cocoa mix

1/2

teaspoon

salt

2

teaspoons

vanilla

4

tablespoons

heavy cream or milk

1/2

cup

marshmallow bits

1/4

cup

mini chocolate chips
Instructions
Combine the hot water and coffee granules. Combine all of the ingredients, including the coffee, in a large bowl. The batter will be very thick. Spread the batter into a greased 9x13 baking pan. Bake at 350 degrees for 20 minutes. We like to undercook our bars just a bit so they are gooey. If you'd like to, you can bake them another 5 minutes little longer to have a firmer bar.

For the buttercream, cream the butter in a stand mixer for about 3 minutes. Add the powdered sugar, hot cocoa mix, salt, vanilla and heavy cream. Beat on medium speed for 3 minutes, or until fluffy.

Sprinkle the marshmallow bits and mini chocolate chips over the top of the buttercream. Gently press down on top of the marshmallows and chips to press them into the buttercream.
Notes
The calories shown are based on the recipe being cut into 20 pieces and all of the frosting used, with 1 serving being 1 frosted brownie. Since different brands of ingredients have different nutritional information, the calories shown are just an estimate.
Nutrition
Calories:
434
kcal
|
Carbohydrates:
52
g
|
Protein:
2
g
|
Fat:
25
g
|
Saturated Fat:
15
g
|
Cholesterol:
48
mg
|
Sodium:
417
mg
|
Potassium:
121
mg
|
Fiber:
1
g
|
Sugar:
41
g
|
Vitamin A:
380
IU
|
Vitamin C:
0.1
mg
|
Calcium:
56
mg
|
Iron:
1.3
mg