Tastes of Lizzy T participates in affiliate advertising programs. We may earn a commission when you make a purchase through links on our site.
Maple grilled peaches are taking over summer vacation and is the perfect twist to top off your desserts or just serve with a side of cold ice cream!
There's something to say about grilled fruit. Grilled fruit recipes have a way of transforming recipes like an ordinary salad into a work of art, like with our grilled peach and bacon salad.
Grilled fruit is also an amazing way to top your favorite desserts like ice cream or pies or even to serve with breakfast recipes. Top your cottage cheese pancakes or your oatmeal pancakes with this awesome two ingredient maple grilled peaches recipe.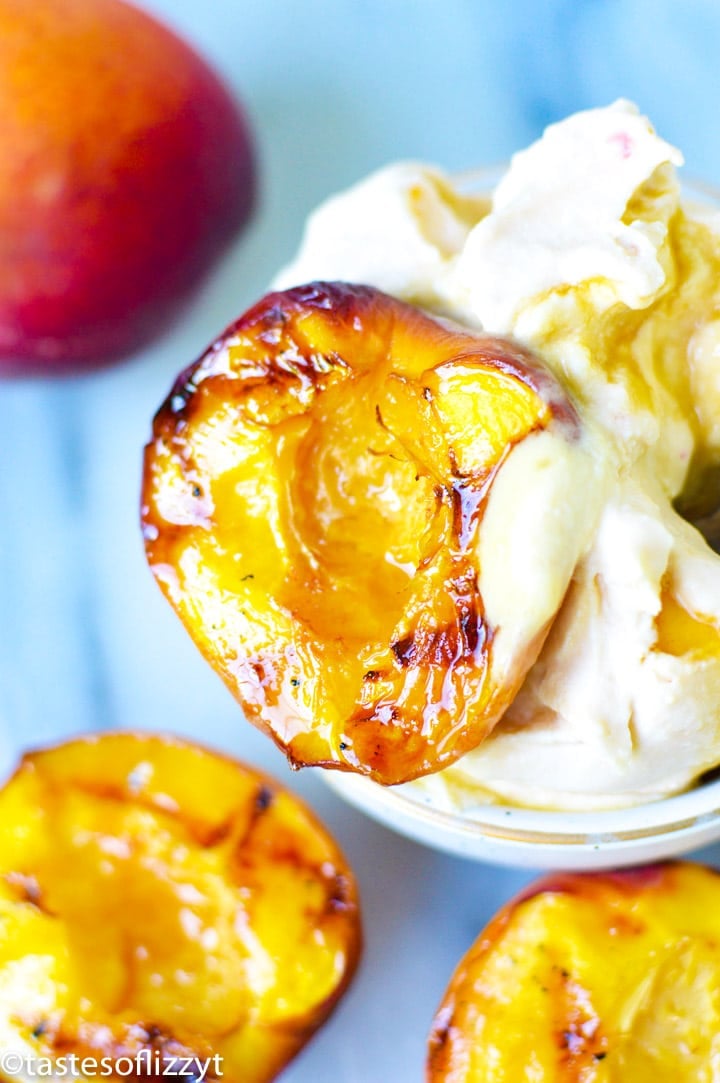 When are peaches in season?
Like all great fruits, peaches are in season in the summer months, from June to August. Which makes it the best fruit for grilling and a summer fruit staple.
If you're wondering, "What does a peach taste like?", the answer is that peaches are sweet and juicy.  Considered a soft stone fruit, peaches have a soft and fuzzy like skin that is edible.
The center of a peach has a pit, just like plums do. Discard the pit, and the rest of the peach is completely edible.
How do I know when a peach is ripe for eating?
To gauge the ripeness of a peach, you're looking for a yellow bottom. Like watermelons that go from a green bottom to a yellow bottom when it's time to eat, the same can be said for peaches. Remember to eat the peaches before they become too soft and develop brown spots all over.
For grilling peaches, you want a firm, but ripe peach.
What are the health benefits of peaches?
High Vitamin C– One medium peach has 9.9 mg of vitamin c, which is about 19% of the daily recommended dose.
High Potassium– With 293 mg of potassium in a single peach, peaches are a great way to add potassium to your diet.
Fiber– Fiber is great for your digestive tract, and fiber helps keep you feeling fuller -for longer!
Now, remember, fruit in general is a naturally sweet ingredient. Peaches are just like grapes, apples, watermelon, and plums. Juicy, tasty, and higher in carbs and sugars. But… they're natural which makes peaches paleo and vegan friendly!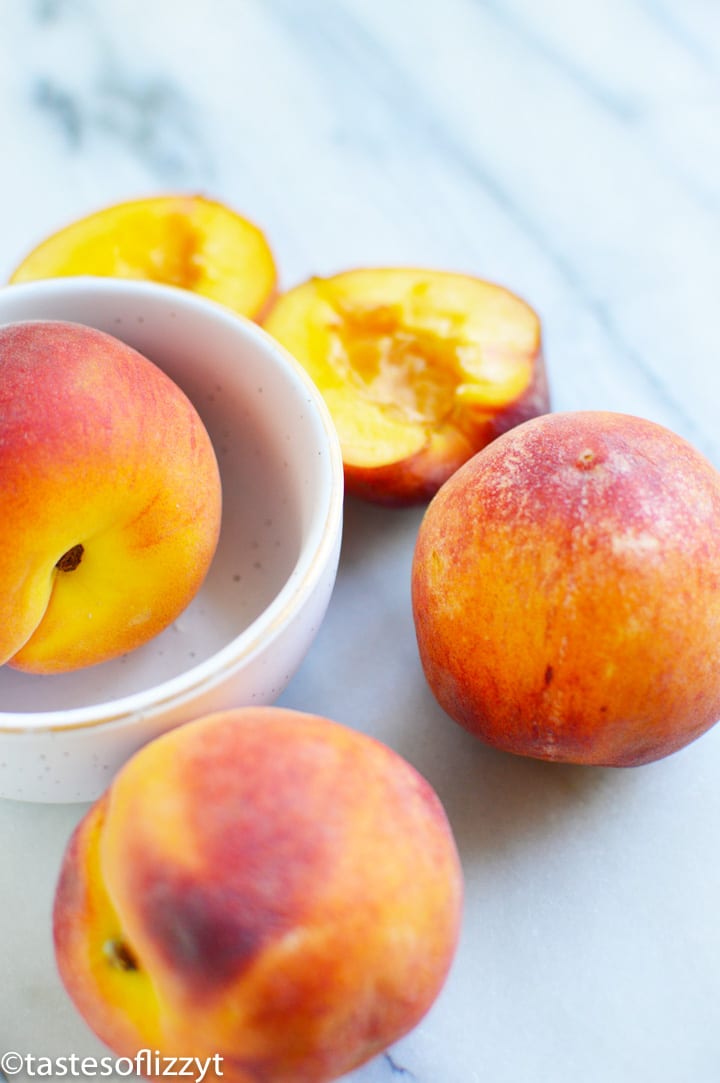 For grilled peaches, the sweetener used with it varies from recipe to recipe. Some people like to pair peaches with honey or peaches with brown sugar.
We've decided to make our grilled peaches with maple syrup. There's just something about the light tasting sweetness that comes from maple syrup that pairs so well with the smokey fresh taste of grilled peaches.
What kind of maple syrup should I use for grilled peaches?
Whichever you have on hand! In the past there were four grades of syrup. Now they're all grade A, but separated by color/name. The lighter the color, the lighter the level of sweetness. The darker the color, the sweeter the maple syrup.
Maple Syrup Grades:
Grade A Golden & Delicate Maple Syrup– Known as "fancy", it's the lightest and most common syrup you'll find. What makes the syrup lighter is when it is harvested from a tree. Usually this is early in the season. Grade A maple syrup is perfect for fruits and parfaits, when you want things to taste light and airy. Try it on our Maple Roasted Pineapple recipe!
Grade A Medium Amber Maple Syrup– This is the most sought after syrup for pancakes and baking rich desserts. Enjoy our Maple Nut Pie, that uses this Amber maple syrup!
Grade A Dark Amber Maple Syrup– A little goes a long way with this very strong maple syrup. Perfect for the person who really loves the strong aromatic taste of maple syrup and wants it to stand out. This syrup pairs well with a classic homemade pancake recipe!
Grade A Very Dark & Strong Flavor– This is what maple candy dreams are made of! This maple syrup is extremely thick and almost black, a great substitute for molasses.
We recommend using 100% pure maple syrup for this recipe.
Is Maple Syrup Healthy?
Maple syrup is a natural sweetener. It is a better choice over sugar, but like sugar, should be used in moderation.
Yes, maple syrup is a natural sweetener that has been used since early civilization. It is considered paleo and vegan, but is not keto friendly.

How To Make Grilled Peaches
For this two ingredients grilled peach recipe, we're going to start out by cutting the peach in half, removing the pit, and brushing all sides with maple syrup.
Then you're going to place your peaches, cut side down over a preheated (medium heat) grill. Close the grill, and let the peaches grill for two to three minutes, checking on it every 30-45 seconds so that it does not burn.
Once you've grilled your peaches, it's time to remove them from the heat, place it on a plate and immediately drizzle some more syrup over your maple syrup grilled peaches!

What to serve with grilled peaches
Like stated above, grilled peaches are amazing with just about any summer meal. Add it to your breakfast parfait or breakfast recipe, make a grilled peach salsa to top your fish tacos with, or slice your grilled peaches and lay grilled salmon over it for an amazing dinner!
Our favorite, is to add grilled peaches to desserts! Naturally, a side of vanilla bean ice cream or this healthy peach ice cream keeps this as a fuss-free quick and easy dessert idea.
Here are some specific recipe ideas to serve with grilled peaches:

Do you have a large amount of peaches on your counters begging to be made before going bad? If so, check out these peach recipes we love!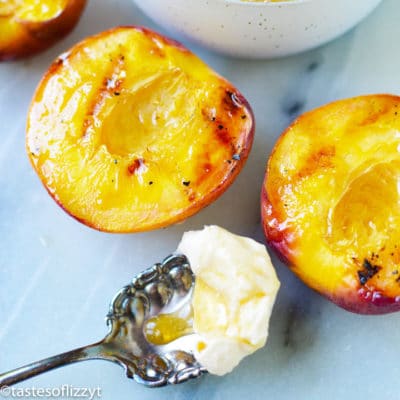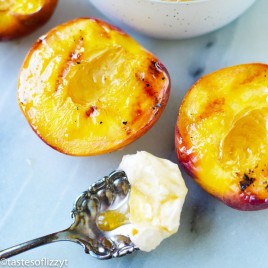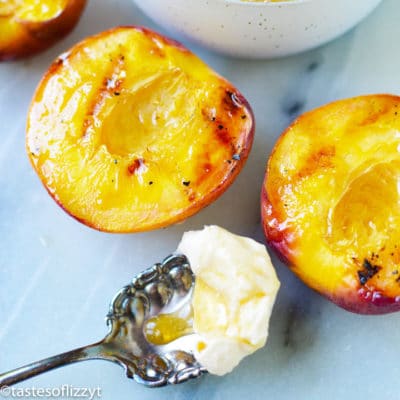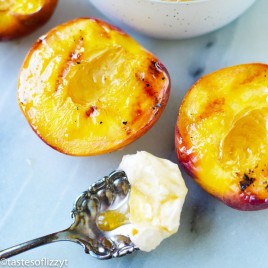 Maple Grilled Peaches
Grilled peaches are taking over summer vacation and is the perfect twist to top off your desserts or just serve with a side of cold ice cream!
---
Ingredients
4

fresh peaches

1/4

cup

maple syrup
Instructions
Heat your grill to medium, about 400 degrees.

Slice your fresh peaches in half. Discard the pit.

Brush the peaches with pure maple syrup.

When the grill is hot, place the peaches on, cut side down. Close the lid to the grill and cook for about 2 minutes at a time, making sure to check often so they do not burn. If you would like, you can brush on more maple syrup. 

When done, remove and set on a plate to cool for a few minutes before serving warm.
Notes
The calories shown are based on the recipe using 4 peaches, with 1 serving being 1 grilled peach with maple syrup. Since different brands of ingredients have different nutritional information, the calories shown are just an estimate. **We are not dietitians and recommend you seek a nutritionist for exact nutritional information.**
Nutrition
Calories:
113
kcal
|
Carbohydrates:
28
g
|
Protein:
1
g
|
Fat:
1
g
|
Saturated Fat:
1
g
|
Sodium:
2
mg
|
Potassium:
330
mg
|
Fiber:
2
g
|
Sugar:
25
g
|
Vitamin A:
490
IU
|
Vitamin C:
9.9
mg
|
Calcium:
31
mg
|
Iron:
0.4
mg