Pork chop potato bake is a simple healthy dinner idea for the whole family. A 4-ingredient garlic mustard sauce makes the pork chops extra juicy and flavorful. One of the best pork chop recipes for an easy, healthy meal!
It was on one of those crazy busy days that we made up this version of an easy pork chop recipe. Actually these days, when is the schedule not busy? With dance, track, appointments and meetings, I'm in need of quick, healthy dinners on the regular.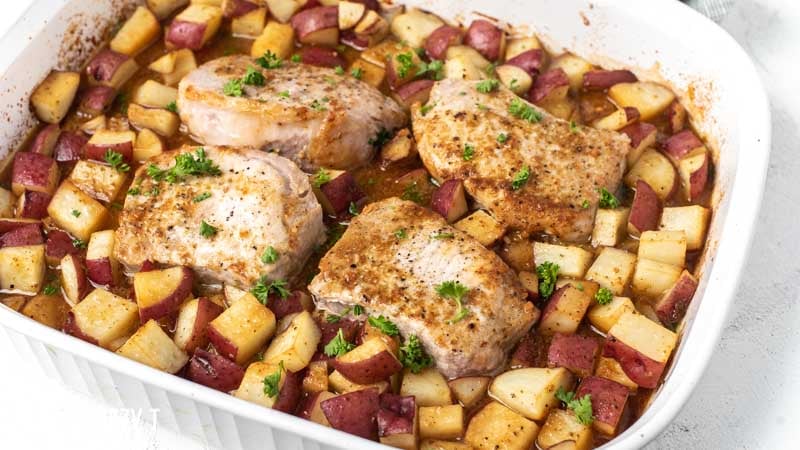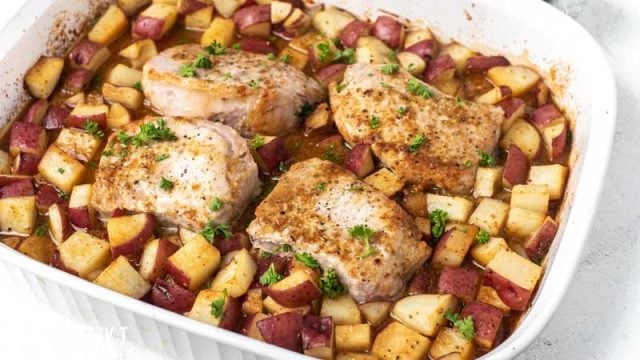 Thanks to the Ohio Pork Council for sponsoring this post and allowing us to share this pork tenderloin recipe.
Pork Chop Potato Bake is one of my favorite meals because even though it is easy to make, the quality of this dish is definitely a 5-star in our house. I'm not joking when I tell you that the hardest part of this pork chop and potato recipe is cutting the potatoes. And even then, you'll only need 4 larger red potatoes so it won't take long.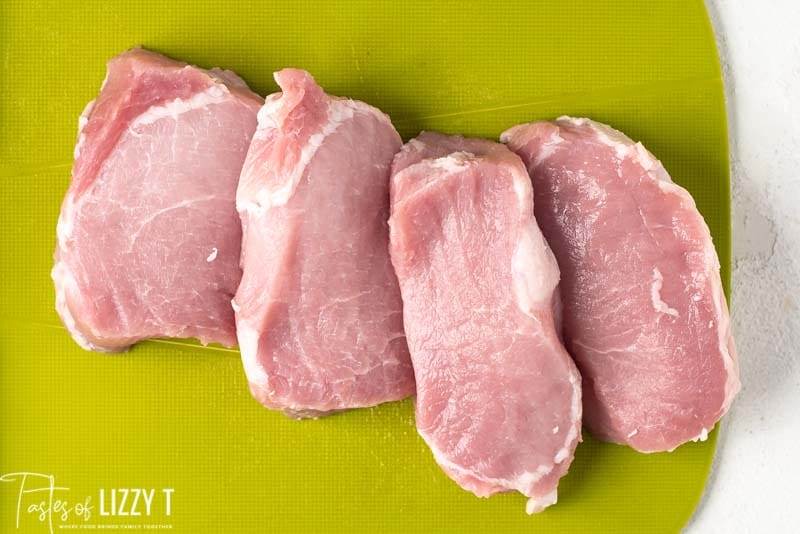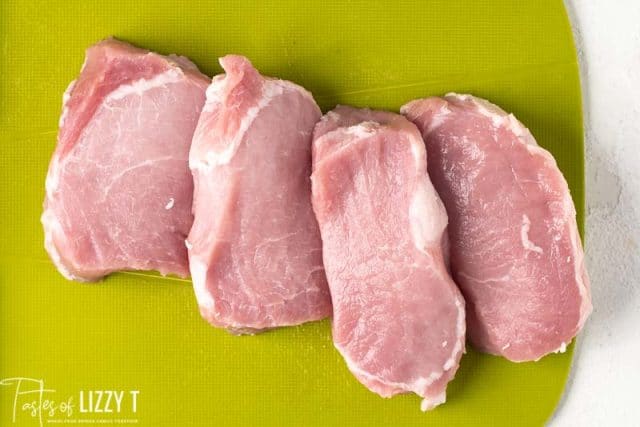 Cut Pork Chops from Pork Loin
One of our tips for baked pork chops and potatoes is to cut your own pork chops from a whole boneless pork loin. Why take the time to cut your own? There are two reasons:
Cutting your own pork chops is usually cheaper. Buy a pork loin when it is on sale, then cut the chops and freeze until you need them.
You can control how thick the pork chops are. For this recipe you'll want thick chops, about 1 1/2″ thick. This is so that the pork chops don't overcook while the potatoes are roasting.
Trim off any fat from the pork loin before you cut it into chops.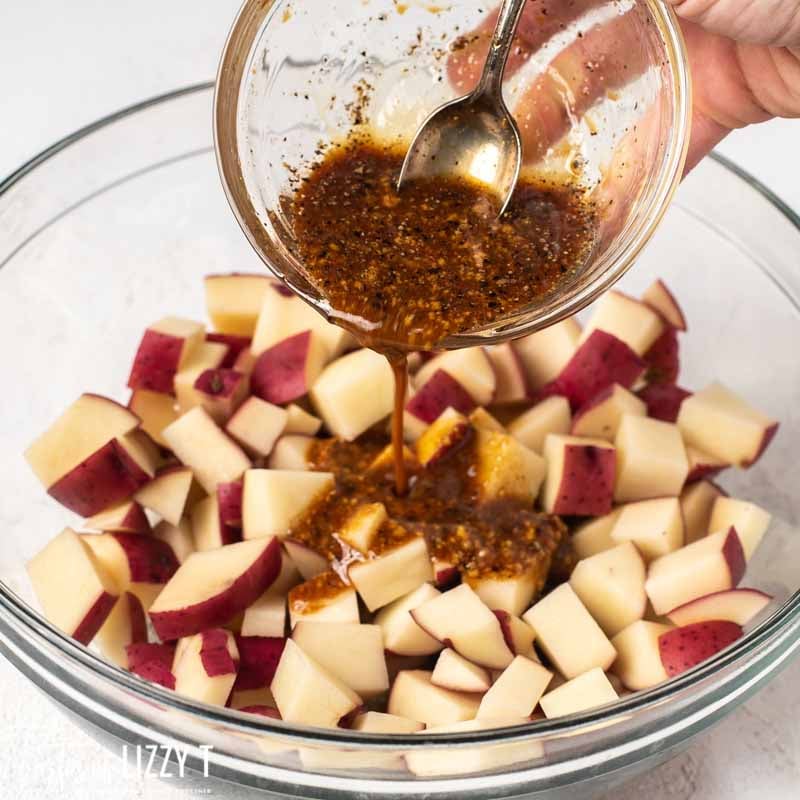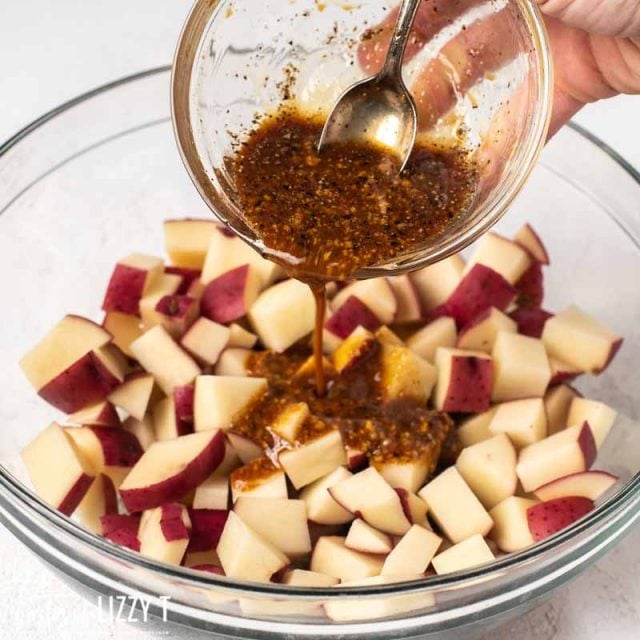 Healthy Sauce for Pork Chop Bake
This recipe fits into Whole30 eating plans. The marinade doesn't have any added sugar. You'll just want to be sure to use coconut aminos instead of soy sauce. Whole30 pork chops make an easy recipe to get you through your 30 days!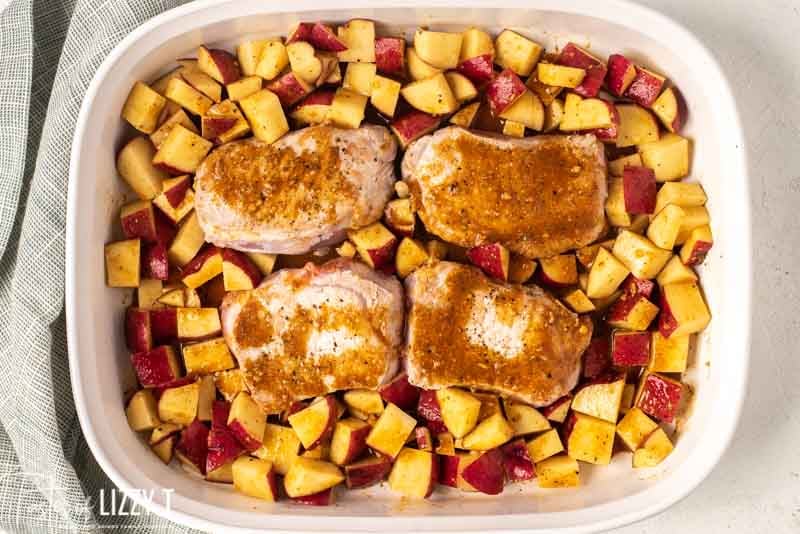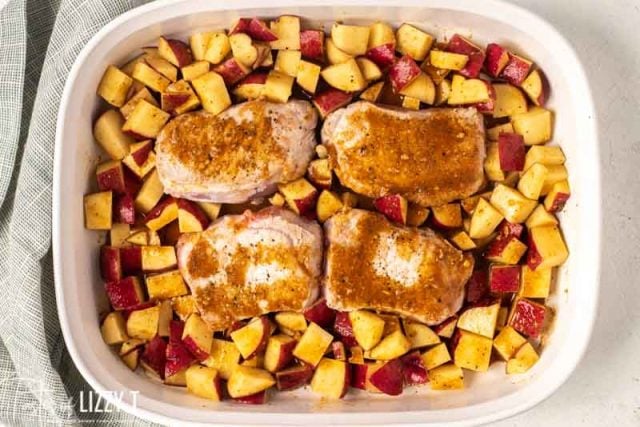 How to Cook Pork Chop Potato Bake
There are a few hints to help your pork chop dinner turn out perfectly.
Cut the red potatoes small into about 3/4″ size cubes.. If they're a bit larger, they're going to take longer to cook. And the longer it cooks, the drier your pork gets.
Cut the pork chops thick. If your pork are thin, they will cook quickly and the potatoes won't be done when the pork is. Our pork chops were about 1 1/2- 1 3/4″ thick.
Sear the pork chops. It's an extra step, but lightly browning the pork chops in hot oil will add a deeper flavor dimension to this dish. You don't need to cook them through…it will only take 1-2 minutes per side and the chops will be lightly browned.
Use a large baking pan. This will help the pork chops and potato cook evenly. If they are too crowded, they'll take longer to bake.
Broil at the end of the baking time to get the potatoes a little more brown if you'd like.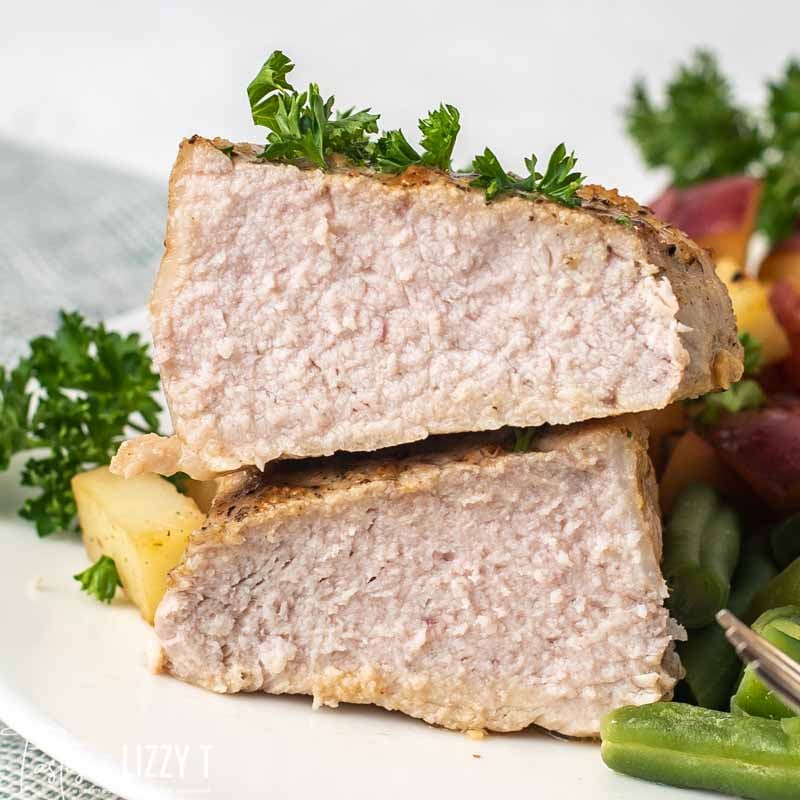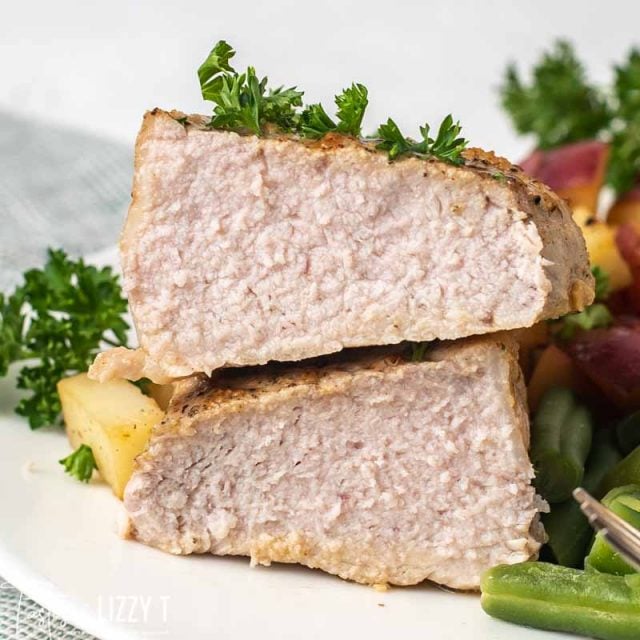 Cooking Temperatures for Pork
The key to delicious, tender, juicy pork is not to overcook it.  According to the USDA, pork should be cooked to at least 145º Fahrenheit. It is safe to eat if there is a blush of pink inside. Test the pork chops with an internal probe thermometer.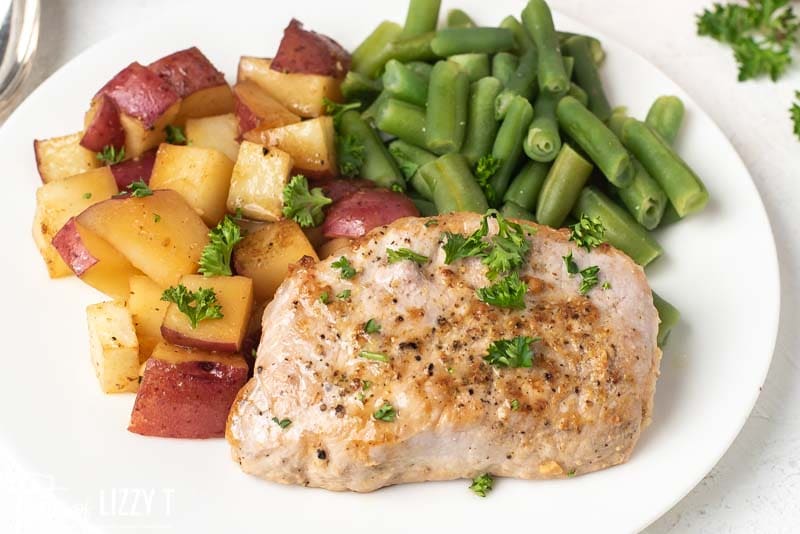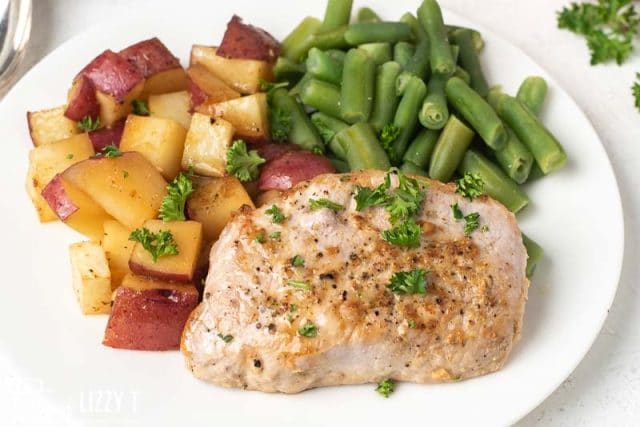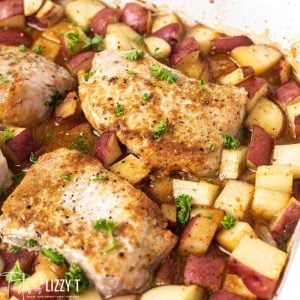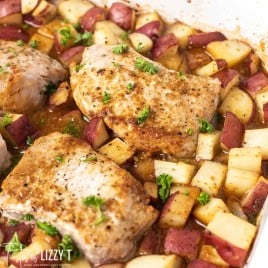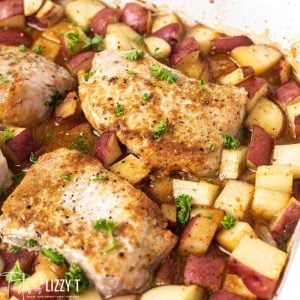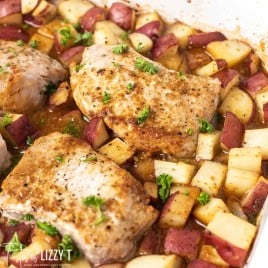 Pork Chop Potato Bake
A simple garlic mustard sauce makes this potato pork chop bake a simple Whole30 dinner idea for the whole family.
---
Ingredients
3

tablespoons

olive oil

4

thick cut boneless pork chops

(about 2 pounds total)

4

medium

red potatoes

washed and cut into 3/4" cubes
For the sauce:
3

tablespoons

olive oil

1/4

cup

coconut aminos

(or soy sauce)

1/2

teaspoon

minced garlic

2

tablespoons

spicy brown mustard

1/2

teaspoon

salt

(or to taste)

1/2

teaspoon

pepper

(or to taste)

fresh parsley for garnishing

(optional)
Instructions
Preheat oven to 350 degrees.

Heat 3 tablespoons oil in a skillet over medium heat.

Once the oil is hot, place the pork chops in the skillet and sear (lightly browon each side. (This will take just 1-2 minutes on each side if the oil is hot.)

Spray a large (10×15) baking pan with cooking spray.

Arrange the pork chops on the bottom of the baking pan.

Place the washed and cubed potatoes in a large bowl.

In a small bowl, combine the oil, coconut aminos, garlic, mustard, salt and pepper for the sauce.

Pour this sauce over the potatoes and toss to coat.

Arrange the seasoned potatoes around the pork chops, making sure they are mostly sitting on the bottom of the pan and not on top of the pork chops. They will cook more evenly if they are arranged around the pork chops.

Bake for 30 minutes, or until the pork tests at least 145º Fahrenheit in the thickest part. The potatoes should also be tender.

Sprinkle with parsley if desired.
Nutrition
Serving:
239
g
|
Calories:
707
kcal
|
Carbohydrates:
38
g
|
Protein:
53
g
|
Fat:
37
g
|
Saturated Fat:
9
g
|
Cholesterol:
152
mg
|
Sodium:
863
mg
|
Potassium:
1825
mg
|
Fiber:
4
g
|
Sugar:
3
g
|
Vitamin A:
15
IU
|
Vitamin C:
18
mg
|
Calcium:
42
mg
|
Iron:
3
mg
Here are more easy pork dinner recipes: