Reese's Peanut Butter Cake is a moist chocolate cake with peanut butter frosting and buttercream frosting! Perfect for the Reese's lover in your life!
I have been excited about getting this whole blog thing started, but I'll just say, it's a lot of work! Hopefully I will get the hang of editing pictures, typing recipes, publishing recipes, taking pictures of food, making it look good, and of course, eating it! After all, how can you describe something if you've never tasted it?
We had the idea of this amazing Reese's Peanut Butter Cake a month ago for a friend's birthday cake. Peanut butter, chocolate, cake,(I couldn't pass up any of those!). I'm a cake person, and NOT an icing fan. People tell me I'm crazy because of that. But I have found a couple of icings I really like. This cake has all of my favorite stuff in it resulting in my dream cake.
We made it for my grandma's birthday, and boy, did she love it! The cake is based off of a recipe from Sally's Baking Addiction. It's definitely a keeper!
You're going to first put flour, sugar, cocoa, baking powder, baking soda and salt together in a bowl.
In a stand mixer, mix the buttermilk, oil, eggs and vanilla.  Then pour the dry ingredients in the mixer slowly with the wet ingredients. Add in the coffee last and mix well.
Pour the batter into two  greased and floured pans. The batter will be thin, but that's fine!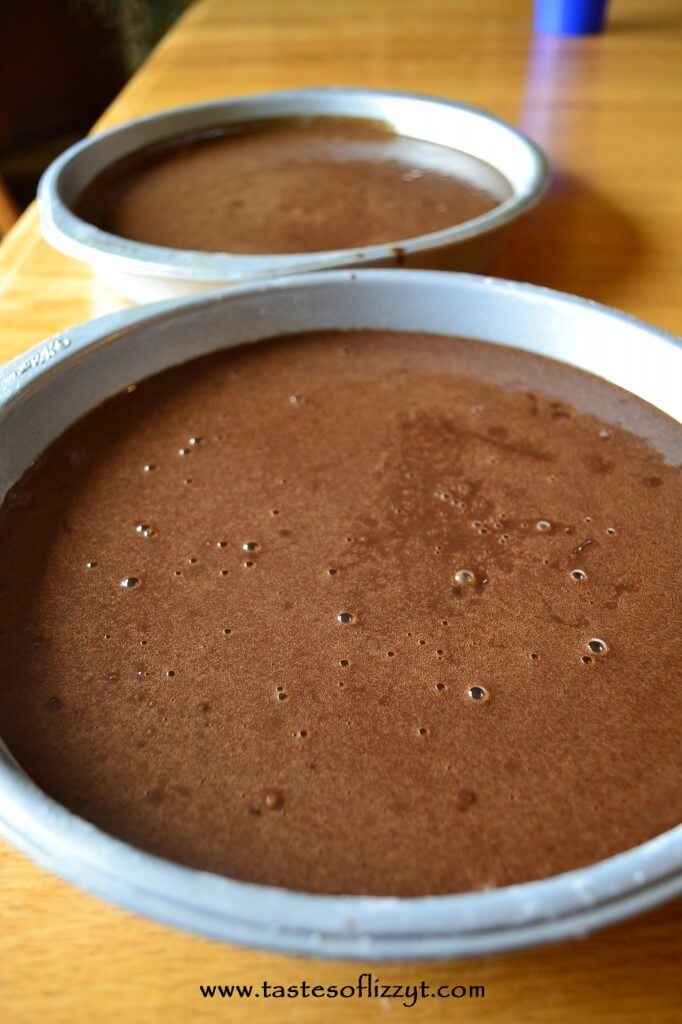 Bake for about 25 minutes or until a toothpick inserted in the center comes out clean. Loosen the edges of the cake with a knife, then turn the cakes out on parchment paper to cool.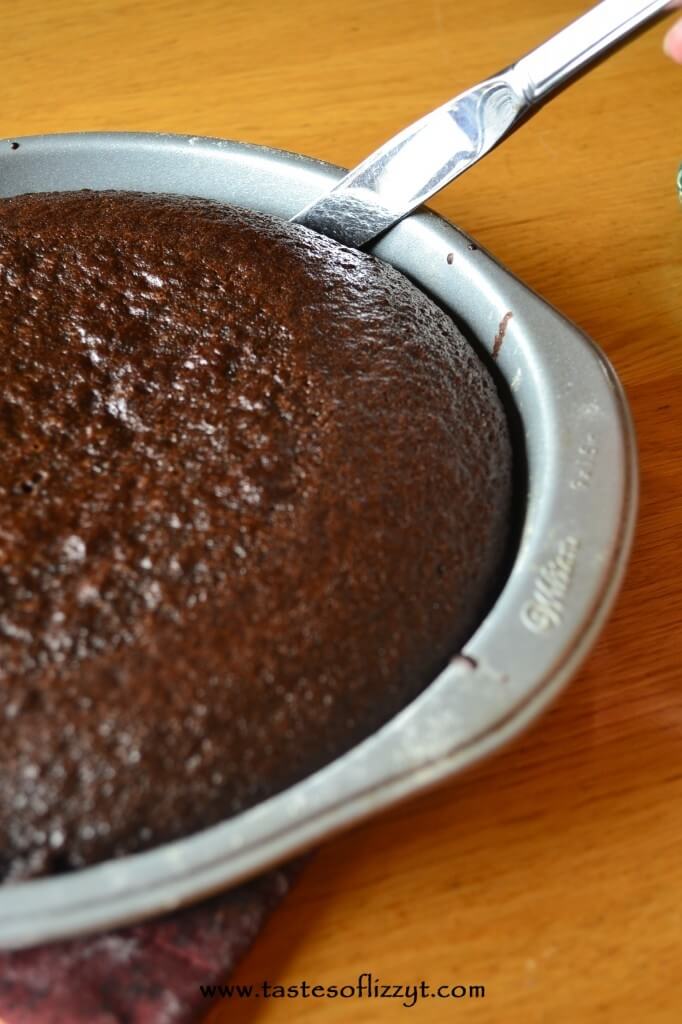 While the cakes are cooling, mix up the Peanut Butter Frosting and the Chocolate Buttercream Frosting (ingredients shown below).  Be sure to mix both frostings well so they turn out fluffy!
Spread on the Peanut Butter Frosting on one half.  Then put the other cake on top.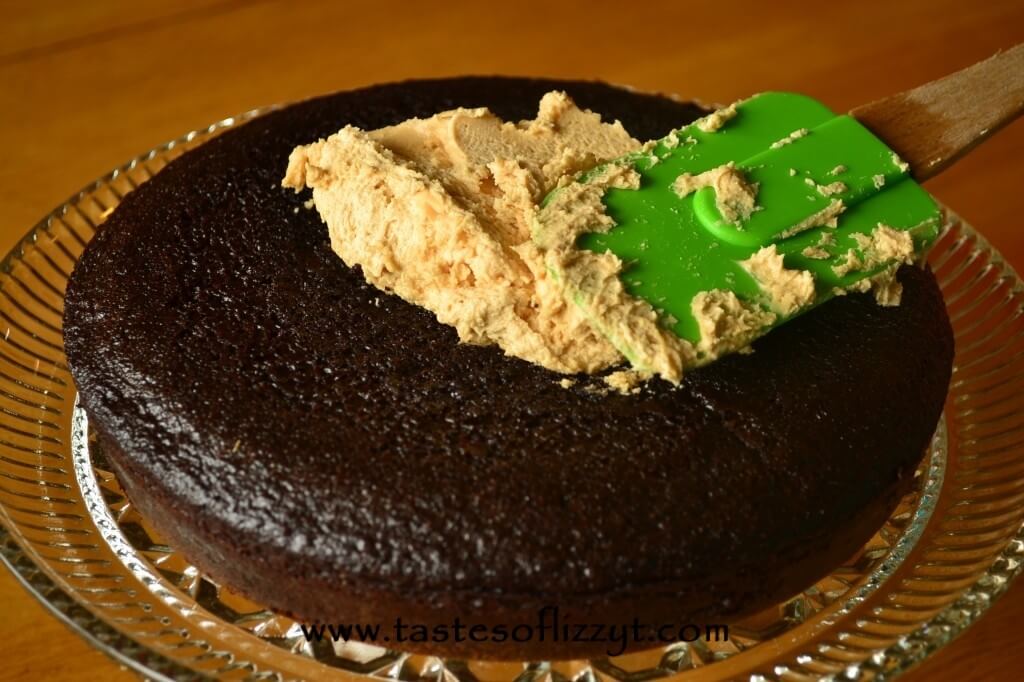 Spread that delicious Chocolate Buttercream Frosting all over the cake. Make it thick in some places in order to make it look even. To make spreading the frosting even easier, I like to put my cake in the freezer to harden a little. That way you can spread the frosting better.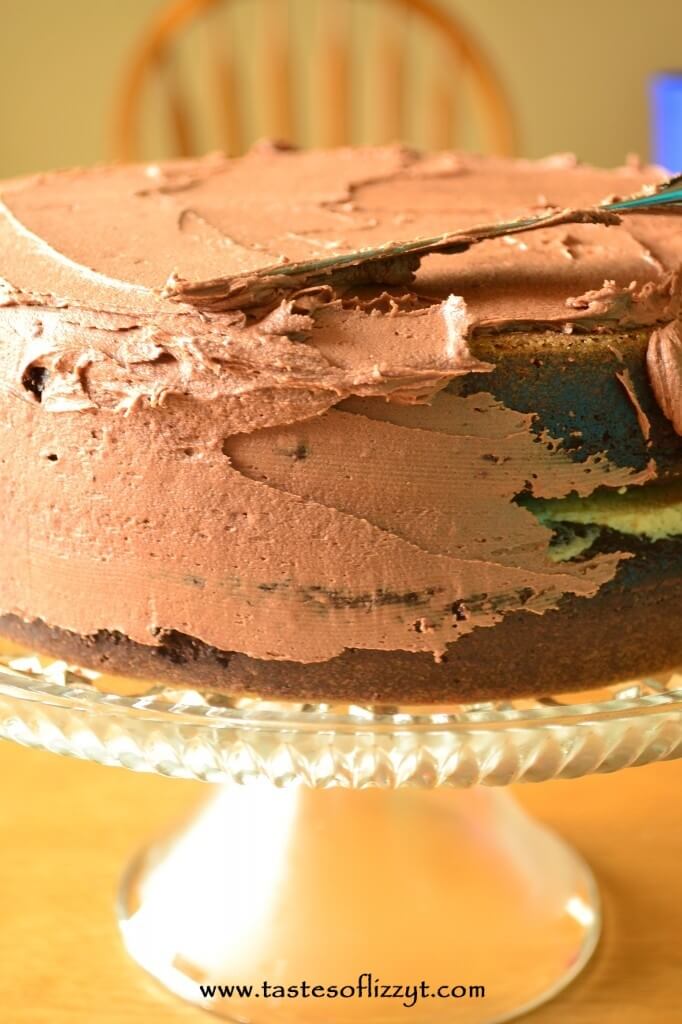 At this point, you could stop. After all, the cake will look and taste delicious as it is!
I like to decorate cakes, so I took this cake one step further. You can do it, too if you want. It's really not as hard as it looks.
Take a 2D tip and put it in an icing bag. Fill the bag with icing and get out the air bubbles.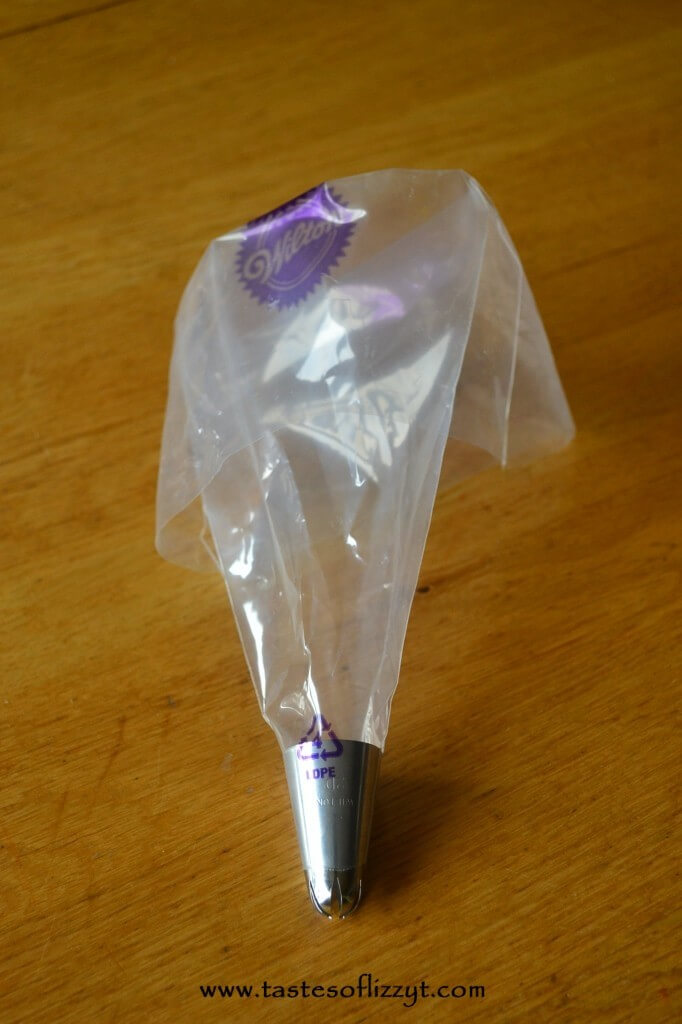 You can decorate it anyway you want and with any tip you want, but to get what I'm doing, just squeeze until your star is the size you want it, and pull away to make a flower. I put flowers all around the top and bottom of the cake.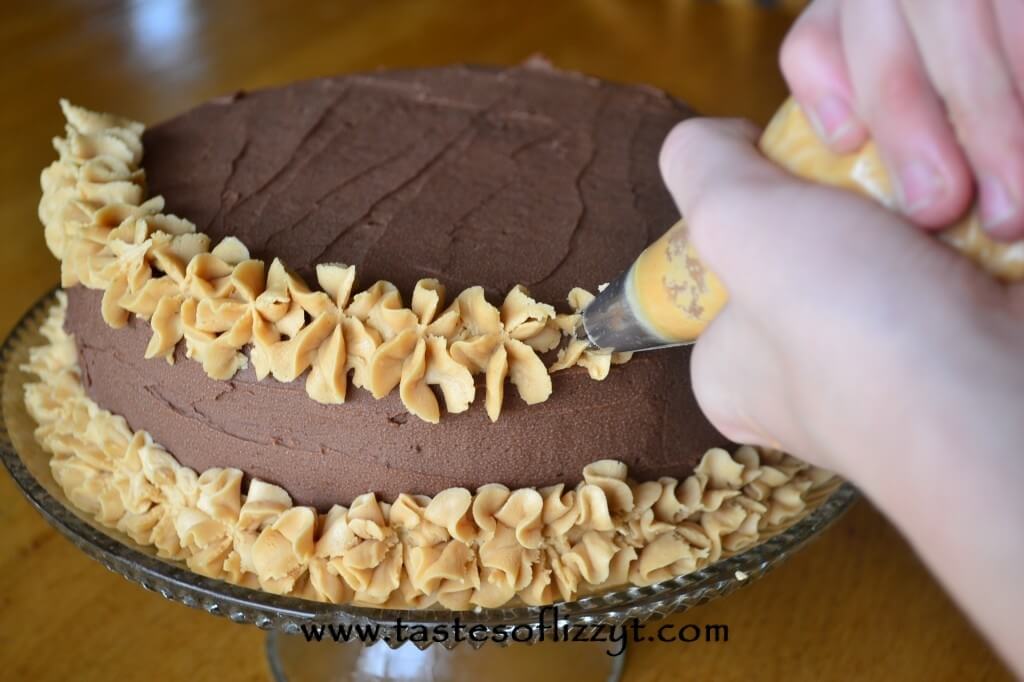 The Reese's Cups are pretty much the last step. Cut them up and sprinkle them over the top as desired.
If there is a little Reese's piece that looks lonely, eat it.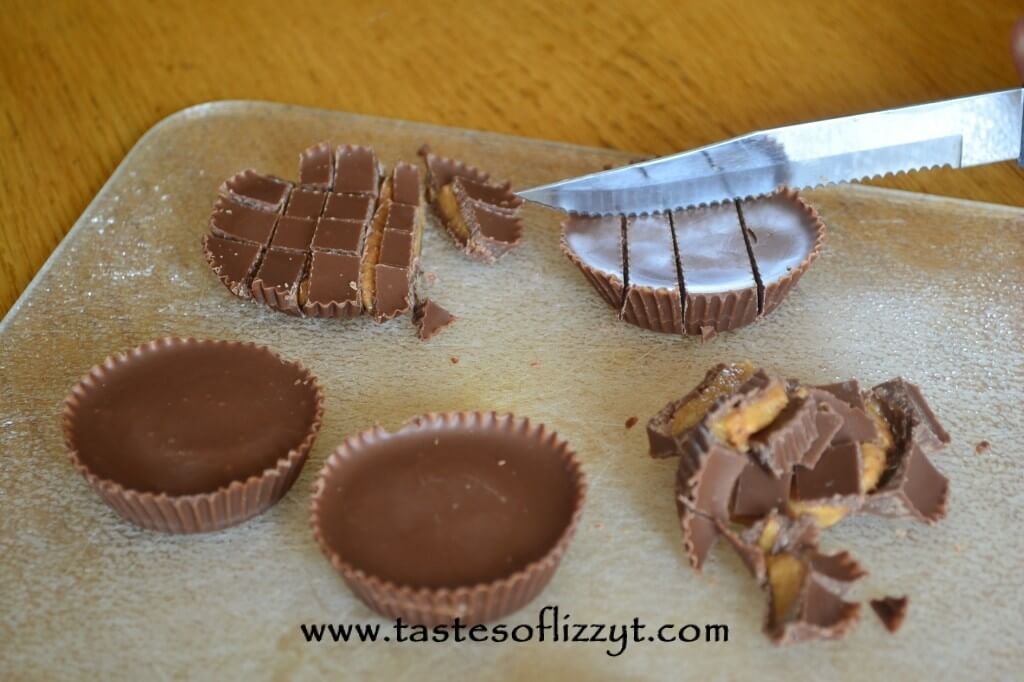 And here is your spectacular cake!! I'm telling you, this is only the beginning of the "Peanut Butter" section on my website!
Serve it with ice cream, eat it with your family, or give it to a friend. But whatever you do, don't leave it with your dog!!!
Reese
Ingredients
Chocolate Layer Cake:
1 and ¾ cups all-purpose flour
1 and ¾ cup sugar
¾ cup unsweetened cocoa powder (not dutch processed)
1 teaspoon baking powder
2 teaspoons baking soda
1 teaspoon salt
1 cup buttermilk
½ cup vegetable oil (or canola oil, or melted coconut oil)
2 large eggs, room temperature
1 teaspoon vanilla
1 cup freshly brewed strong hot coffee
Peanut Butter Frosting:
½ cup butter, softened
1 cup creamy peanut butter
3 Tbsp. milk
2 cups powdered sugar
Chocolate Buttercream Frosting:
1 cup unsalted butter, softened
3½ cups powdered sugar
½ cup cocoa powder
½ teaspoon table salt
2 teaspoons vanilla extract
4 tablespoons heavy cream
Instructions
Preheat oven to 350 degrees. Grease and flour 2 round 9-inch cake pans.
For the cake, put flour, sugar, cocoa, baking powder, baking soda and salt in a bowl and mix well.
In a stand mixer, mix the buttermilk, oil, eggs, vanilla together. Slowly add in the mix of dry ingredients while the mixer is on low. Add the coffee and make sure everything is combined. Batter will be very thin.
Pour the batter into the prepared pans and bake for about 25 minutes or until a toothpick inserted in the middle comes out clean.
Turn the cakes out onto a cooling rack. While the cakes are cooling, make your frostings.
Peanut Butter Frosting:
In a bowl, blend together peanut butter, powdered sugar, butter, and milk 3-4 minutes or until light and fluffy.
Chocolate Buttercream Frosting:
Cream the butter in a stand mixer for about 3 minutes. Add the rest of the ingredients and mix on medium speed for 3 minutes.
Now it's time to put your cake together!
Frost the top of the first cake with the Peanut Butter Frosting. Then layer the other half of the cake on top. Frost the outside of the cake with the Chocolate Buttercream Frosting.
Pipe flowers on top with the leftover Peanut Butter Frosting and/or decorate as desired with chopped Reese's Peanut Butter Cups.
Cake Recipe from Sally's Baking Addiction
Chocolate Buttercream Recipe from Savory Sweet Life