Reese's peanut butter cups stuffed inside soft, chewy brownies. Top the brownies with this unbelievable peanut butter frosting!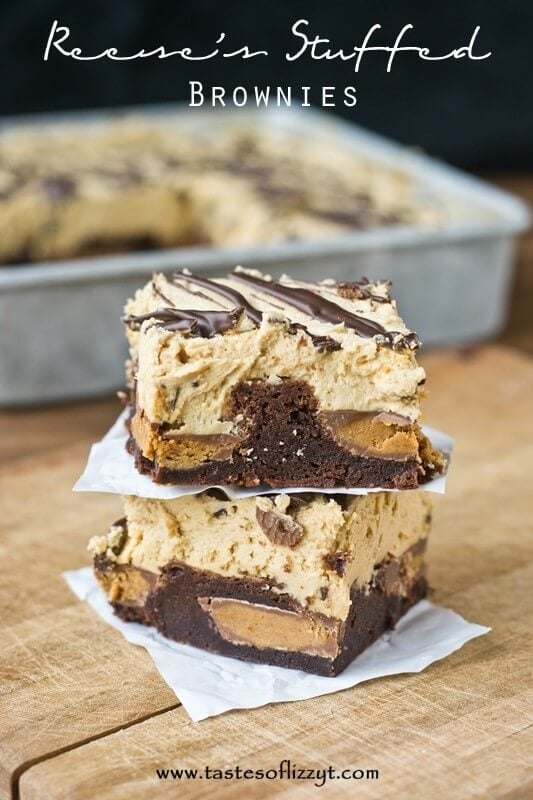 My obsession with peanut butter and chocolate is no secret.
And ever since I started this blog, I've been obsessed with frosting.
See? I told you! Look at that picture of these Reeses Stuffed Brownies. There is about the same amount of frosting as there is brownie in this recipe. And it is peanut butter frosting, which is my favorite frosting ever.
I think my puppy Josie loves peanut butter almost as much as I do. One day last week I found that there was no peanut butter in the closet for my and Josie's afternoon snack. We just sat down to a devastating snack of Cheerios instead.
Lucky for me, I didn't have to wait long before we got more peanut butter and made some delicious brownies that literally took 5 ingredients, plus frosting. Brownie mix, cream cheese, butter, an egg, and Reese's peanut butter cups. The frosting is completely optional, but also completely necessary to me. It makes the brownies look more desirable and also makes them 10 times more decadent, I think. I honestly don't really care to know what they taste like without frosting!
The frosting that we used for these brownies is the same frosting we've used for alot of our peanut butter/chocolate recipes. Yes, I do have it memorized. And trust me, I never get tired of it. When there is left over icing, we will put it in the freezer, and at some point maybe two weeks later we'll pull it out and eat it in chunks. It's allowed in our house. My brother and sister can literally smell when someone is pulling out a dessert. I don't know how they do it- just one minute they're playing, the next minute they come running upstairs for a lick of peanut butter frosting.
I have one more thing to say before you go and make these brownies (because I know you just can't resist it)- When you bite into one of these brownies, you will instantly love them. Do you know how I know? Because there are whole Reese's cups inside of the brownies. You're welcome.
 -Maddie