These apple waffles are one of the best apple recipes to make for a delicious fall treat. Top them with homemade cinnamon apple syrup for a breakfast that tastes just like apple pie. You may also like our whole grain waffles.

Apple Waffles Recipe
Do your kids like sleepovers with their friends?
My kids have been trying to cram in the time with friends in the little amount of summer that we have left.
We make promises to them at the beginning of the summer that they'll get to have sleepovers with their close friends. Then after you take out all of the traveling that we did and the traveling that friends did, there's really not much time left to keep your promises to your precious little ones.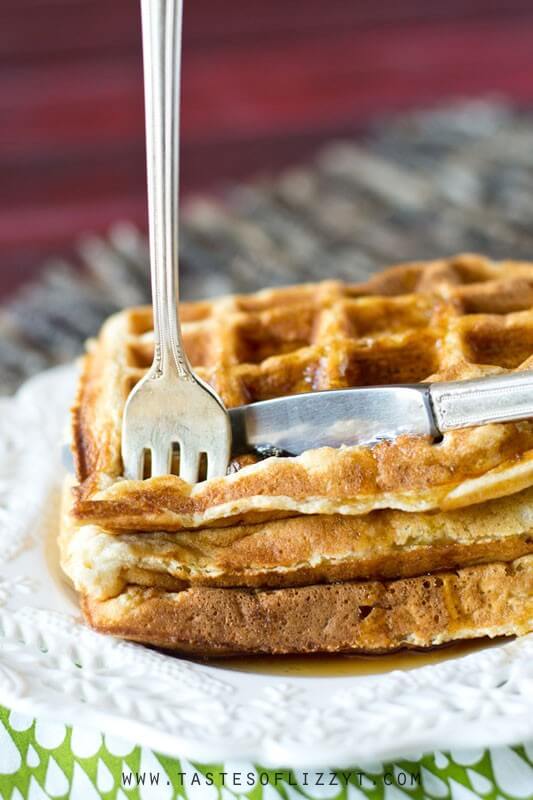 Breakfast Waffles
Two weekends ago Maddie and Braden were away for the weekend, so Kinslee had her BFF spend the weekend with her.
When we have guests for breakfast, I love having them wake up to a delicious, hearty breakfast. Since Kinslee loves apple pie, I knew these apple waffles had to happen for her.
With new recipes, I'm never quite sure what to expect, but these apple waffles are so delicious. Light and fluffy, with apples in each and every bite.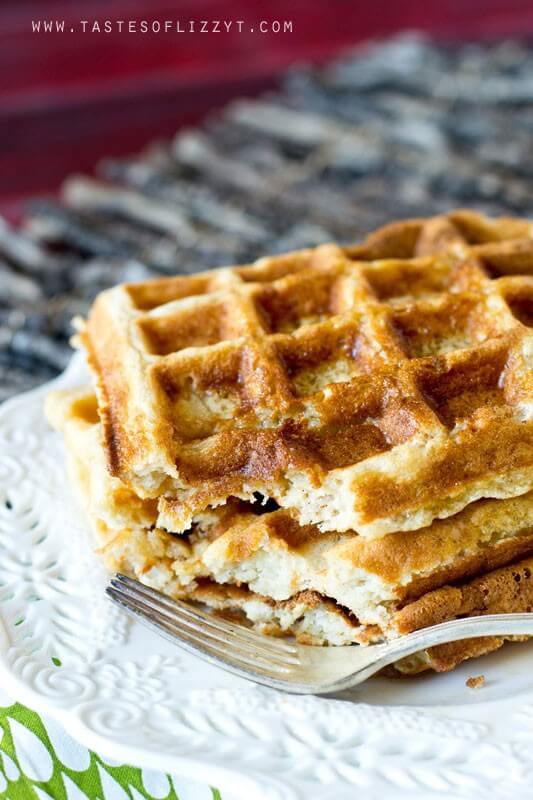 How do you make waffles fluffy?
There are two waffle making tips I'm going to share with you today.
The first tip is to use pastry flour or cake flour.
As I've mentioned before, cake flour and pastry flour have less protein content in them. Why is this good?
Flours with less protein in them create less gluten when you mix the batter. Gluten is good if you want to make thick, hearty, chewy homemade bread, but it's not the way to go for light and fluffy waffles.
This is why many recipes for breads and muffins say to "mix just until combined". That is important for a light-textured bread. Using pastry or cake flour just helps keep your waffles melt-in-your-mouth soft.
I used cake flour this time since I was out of pastry flour, but you can use either. If all you have is all-purpose flour, go ahead and use it, but it will change the texture just a tad. They'll still be good, though. I promise!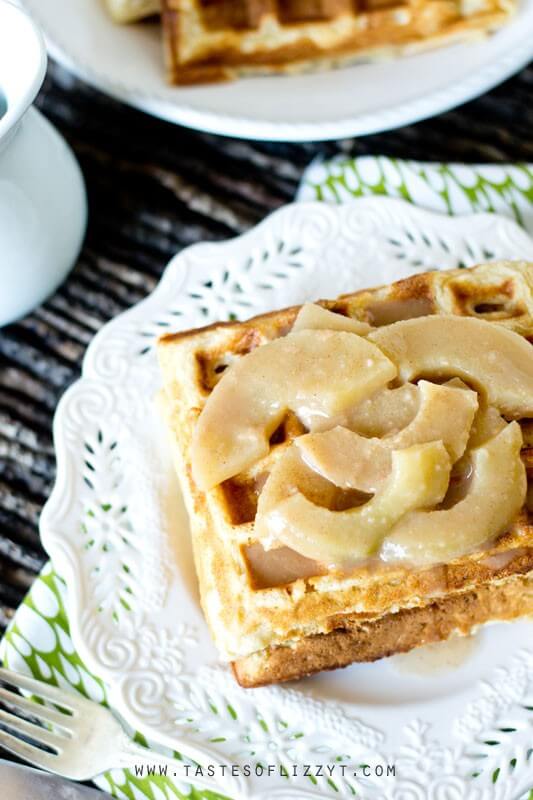 The second waffle making tip is to separate the eggs yolks from the egg whites.
Beat the egg yolks in when you add the milk, then use a mixer to beat the egg whites by themselves until they form stiff peaks. They should be white, light and airy when you fold them carefully into your waffle batter.
Try those two hints on whatever your favorite waffle recipe happens to be.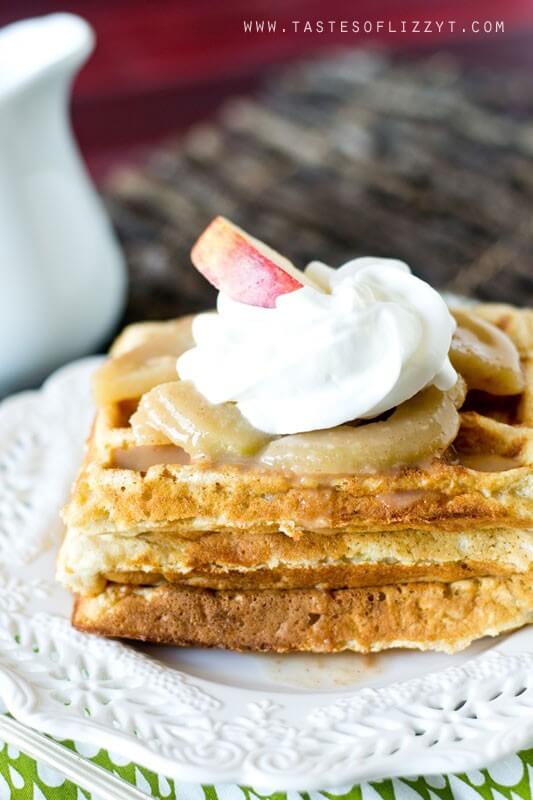 Cinnamon Apple Syrup
To top off these apple waffles, I made a simple spiced apple syrup. Although the waffles are fantastic simply with maple syrup, this apple cinnamon syrup gave this fun breakfast a special touch. Think apple pie for breakfast. It doesn't get much better than that.
Other Apple Breakfast Recipes
Apple Waffles
Diced apples fill these apple waffles. Top them with a homemade cinnamon apple syrup for a breakfast that tastes just like apple pie.
Ingredients
For the waffles:
1 1/4

cups

cake flour

1

tablespoon

sugar

1/4

teaspoon

salt

1/2

teaspoon

cinnamon

2

teaspoons

baking powder

2

large

eggs

(separated)

1

cup

milk

1 3/4

cups

finely chopped apples

(peeled)

6

tablespoons

butter

(melted)
For the syrup:
3

cups

peeled and thinly sliced sweet apples

2/3

cup

packed brown sugar

1/4

teaspoon

salt

2

tablespoons

all-purpose flour

2

cups

water

1/4

cup

heavy cream

1

teaspoon

cinnamon
Instructions
Stir together the dry ingredients.

In a small bowl, whisk the egg yolks, then add the milk and whisk again.

Pour the egg mixture into the dry ingredients and mix until smooth.

Add the chopped apples and melted butter.

Using a mixer, beat the egg whites until they are fluffy and stiff.

Fold the egg whites into the batter.

Spoon the batter into a hot waffle iron and cook.

Makes 8 waffles, 4" square.
For the syrup:
Place the apple slices in a saucepan over medium heat.

Add the water. Allow the apples to come to a gentle boil and cook for two minutes.

Add the sugar and salt.

In a small bowl, combine the milk, flour and cinnamon. Stir into a smooth paste.

Add the paste to the apples and cook until slightly thickened, stirring constantly. This should take about 3-4 minutes.

Remove from the heat and serve over waffles.
Nutrition
Calories:
330
kcal
|
Carbohydrates:
47
g
|
Protein:
5
g
|
Fat:
13
g
|
Saturated Fat:
8
g
|
Cholesterol:
82
mg
|
Sodium:
264
mg
|
Potassium:
287
mg
|
Fiber:
2
g
|
Sugar:
28
g
|
Vitamin A:
530
IU
|
Vitamin C:
3.4
mg
|
Calcium:
119
mg
|
Iron:
0.8
mg