Apple Walnut Cake is a moist snack cake with apples and walnuts in every bite. It's one of the best apple recipes to make during the apple picking season! This cake is so full of flavor that no frosting is needed. A simple dusting powdered sugar will do!

Apple Walnut Cake
Have you ever tried to grow your own apples?
My mom and dad have had apple trees for years. I've gotten to enjoy their applesauce, pies and cobblers over the years. I knew I wanted apple trees when I got my own house.
Fast forward 16 years later and guess what? I have my own apple trees! Unfortunately they are very small. Last year was the first year they produced fruit and we got about 18 apples. This year our trees were full of blossoms. I could picture myself using those perfectly round McIntosh in a few pies and apple danishes of my very own.
Something happened to those gorgeous blossoms, though. We ended up with a whopping 3 apples this year. No pies for us, but you can bet I'm going to enjoy those 3 apples for an afternoon snack sometime soon!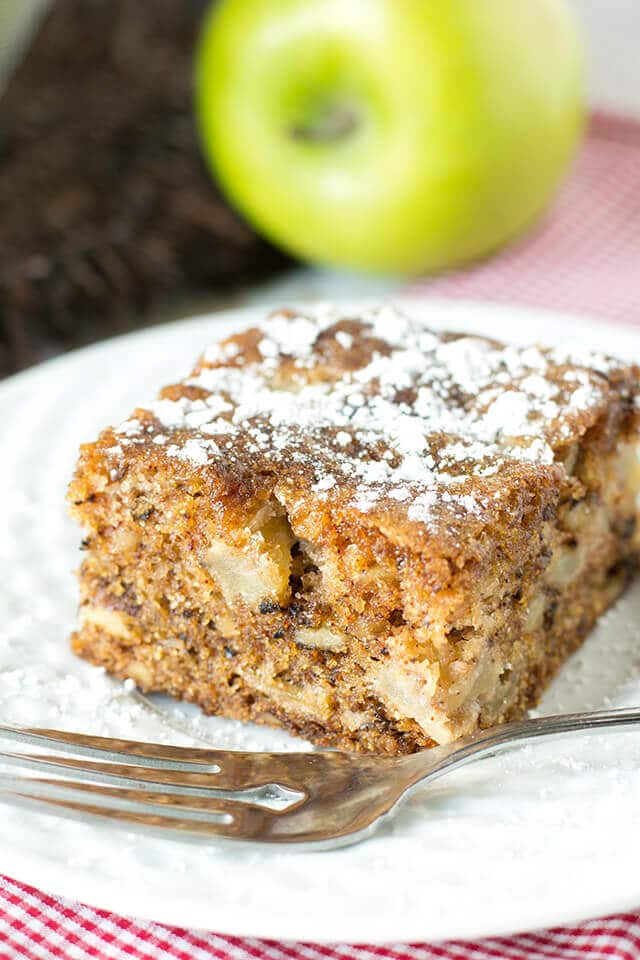 Although we had to use store-bought apples, I still love the simplicity of this little Apple Walnut Cake. Apples take center stage. Cinnamon and walnuts pair perfectly with those apples.
Every bite you take will be filled with apple-cinnamon, nutty loveliness.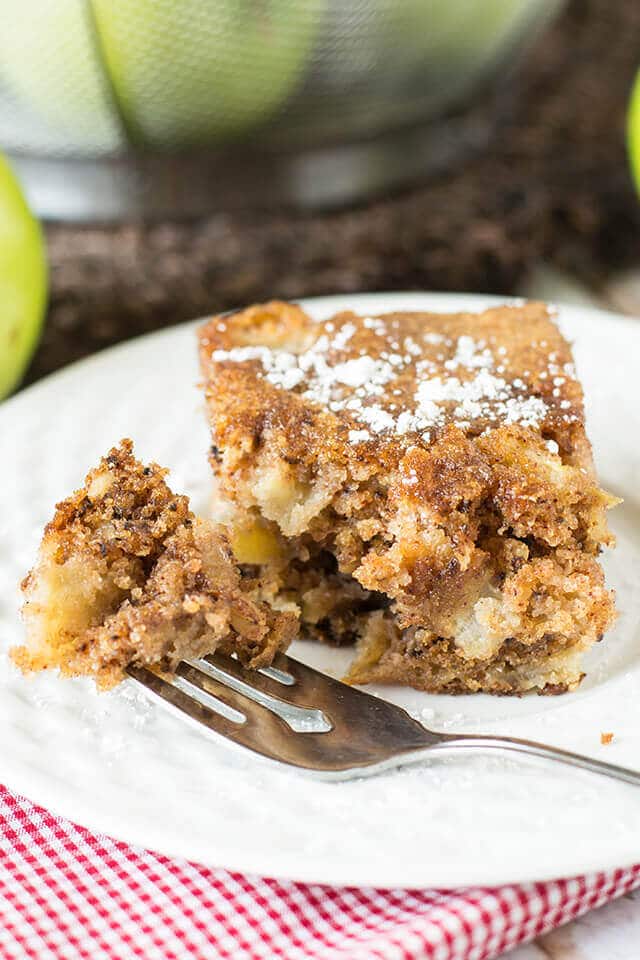 Apple Walnut Cake Recipe Notes
The longest part of the recipe preparation will be peeling and coring the apples. Even that will be a breeze if you have a hand-crank apple peeler/corer/slicer
.
Just as we told you when we made the Amish Apple Goodie a few weeks ago, those hand-crank peelers are a life-saver if you do much baking with apples at all. In about 3 minutes you'll have the 5 apples that are needed for this recipe completely ready.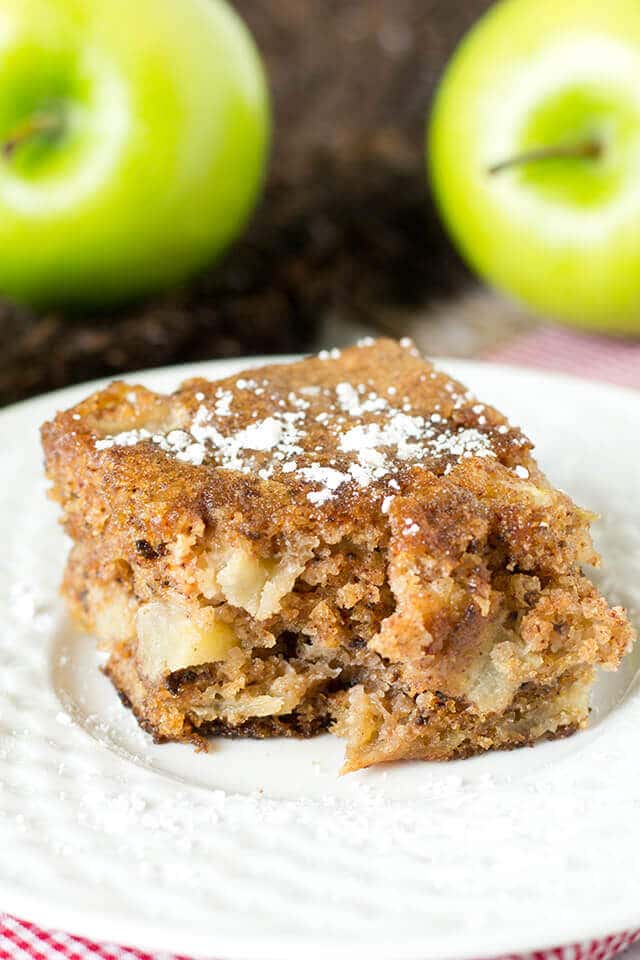 I wanted to keep the apple walnut cake basic, so I put an effortless dusting of powdered sugar on top. It makes the cake look pretty and gives just a touch of extra sweetness to the cake.
This apple walnut cake is my idea of a great start to a morning. Along with a cup of Russian tea or coffee, of course. And it's the perfect ending to a long day. Enjoy!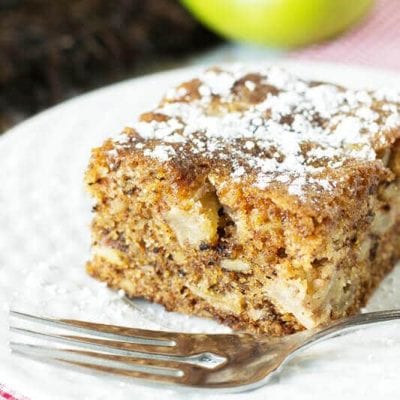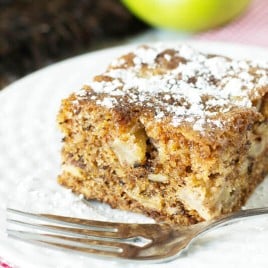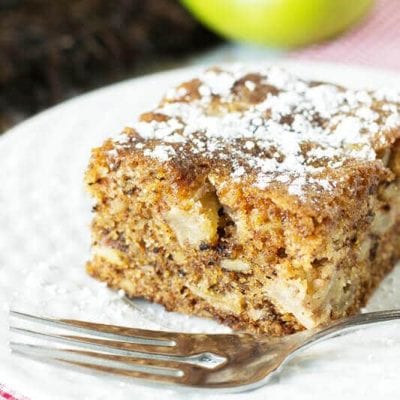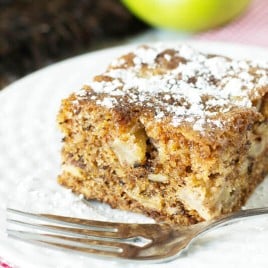 Apple Walnut Cake
Apple Walnut Cake is a moist cake with apples and walnuts in every bite. This cake is so full of flavor that no frosting is needed. A simple dusting powdered sugar will do!
---
Ingredients
3

large

eggs

1 3/4

cup

sugar

1

cup

canola oil

1

teaspoon

vanilla

2

cups

all-purpose flour

267 grams

1

teaspoon

baking soda

1

teaspoon

cinnamon

1/4

teaspoon

salt

5

apples

peeled, cored and chopped (about 5 cups)

1

cup

chopped walnuts

1/4

cup

powdered sugar

optional
Instructions
Preheat the oven to 350 degrees Fahrenheit.

In a medium-size bowl, blend together the eggs, sugar, oil and vanilla.

In a separate bowl, sift together the flour, baking soda, cinnamon and salt.

Add the flour mixture to the egg mixture mix just until blended.

Fold in the apples and nuts.

Spray a 9x13 pan with cooking spray.

Pour the batter into a 9x13 pan and spread evenly.

Bake at 350 degrees for 35-38 minutes.

Allow the cake to cool and then sprinkle the top with powdered sugar.
Nutrition
Calories:
269
kcal
|
Carbohydrates:
47
g
|
Protein:
4
g
|
Fat:
7
g
|
Cholesterol:
37
mg
|
Sodium:
127
mg
|
Potassium:
130
mg
|
Fiber:
2
g
|
Sugar:
31
g
|
Vitamin A:
85
IU
|
Vitamin C:
2.9
mg
|
Calcium:
21
mg
|
Iron:
1.2
mg