Tastes of Lizzy T participates in affiliate advertising programs. We may earn a commission when you make a purchase through links on our site.
Thanks to Bob Evans for sponsoring this post and providing us with a Ham Farmhouse Feast! All opinions are mine.
If you are looking for a traditional, easy Easter dinner to serve to your family, Bob Evans is the solution! Their Farmhouse Feast Brunch and Lunch offers a simple, fuss-free family Easter celebration.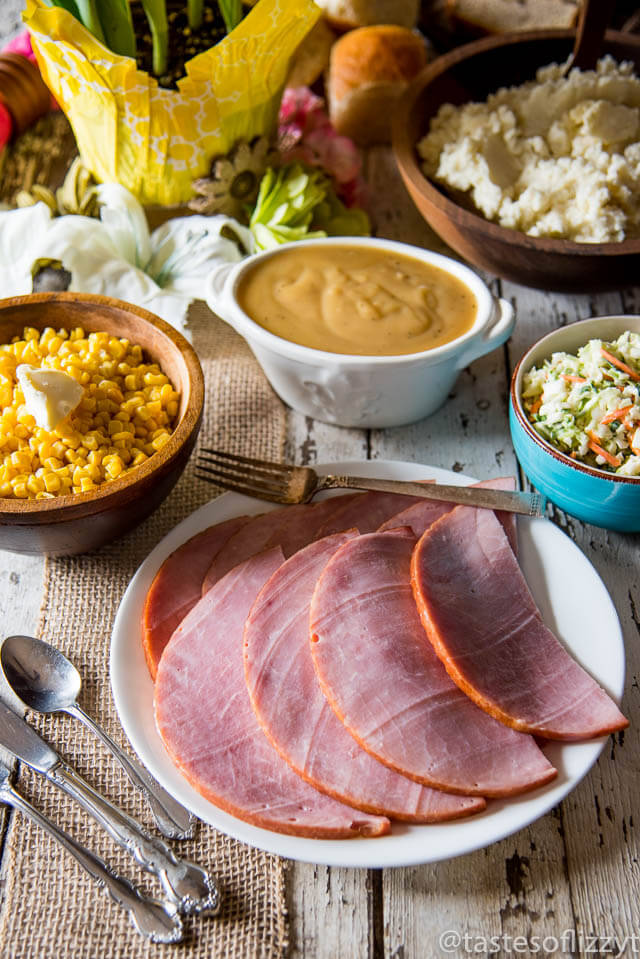 Temperatures are warming (Ok…honestly, it was warm last week and is cold again today. That's Ohio weather for you!), the sun is shining more often. Green shoots are starting to sneak through the ground and daffodils are blooming. Spring is just around the corner, which brings one of my favorite holidays….Easter!
Easter celebrations at our house always include family. And good food.
Today I'm introducing you to the Bob Evans Farmhouse Feast. If you are needing a break from the kitchen but still want traditional comfort food for your Easter dinner, let Bob Evans do the cooking. Families can dine in one of the 547 Bob Evans restaurants around 18 states, or you can carry out a complete meal to enjoy at home.  Whichever way you choose, Bob Evans is wanting to help give you an easy Easter dinner menu.
Sounds pretty wonderful, right?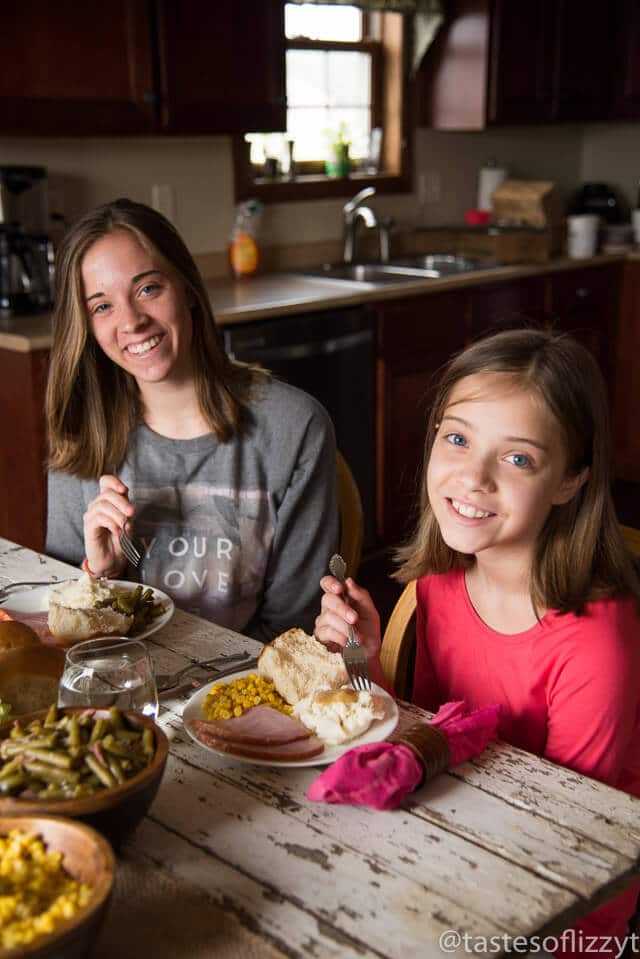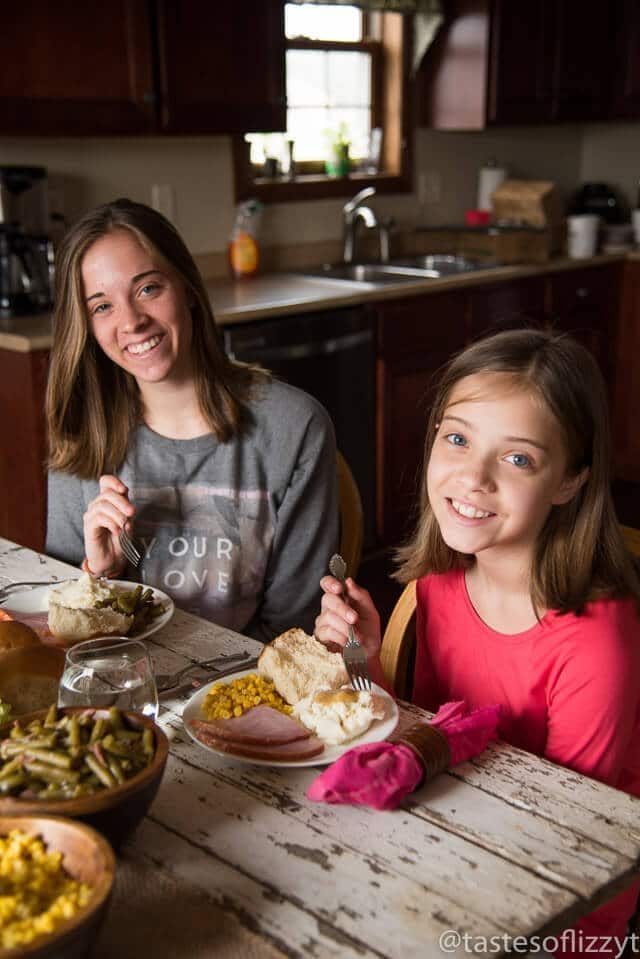 What's your Easter dinner tradition?
Are you looking for where to buy Easter brunch?
Bob Evans is known for their sweet and savory breakfast meals. On Easter, Bob Evans will open at 6 a.m. and will offer menu items all day, starting at $4.99. Guest favorites are Farmer's Choice Breakfast with Cherry Brioche French Toast, served with two cooked-to-order eggs, a farmhouse side, and a breakfast meat; and Border Scramble Omelet, a spicy pepper-jack cheese omelet smothered with a blend of Bob Evans sausage, home fries, diced tomatoes and onions in a zesty ranchero sauce.
They also have a breakfast menu relaunch with "Best-In-Class Breakfast", which focuses on fresh ingredients for your family. Freshly ground coffee, freshly squeezed 100% Florida orange juice, fresh sausage and eggs from Midwestern farms.
Bob Evans was recently named America's best breakfast restaurant according to a survey by Market Force. Why not start your Easter Sunday with the best?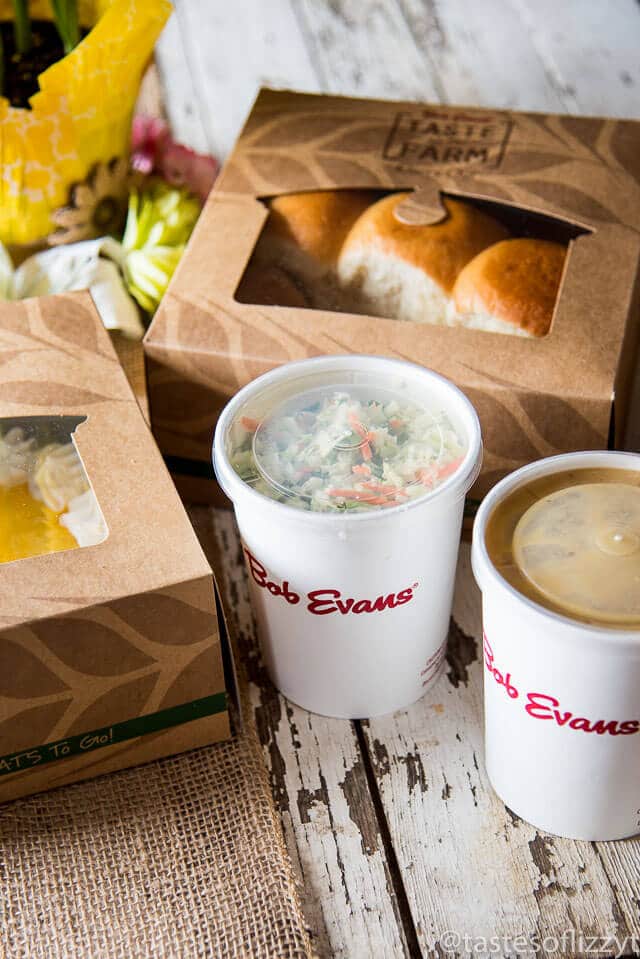 Are you looking for where to buy Easter dinner?
Bob Evans is once again offering the popular Farmhouse Feast if you prefer to eat your dinner at home with your family. This past weekend we enjoyed a Farmhouse Feast, courtesy of Bob Evans. My family was totally spoiled on Saturday as they sat down and devoured traditional Easter ham, veggies, rolls and pie.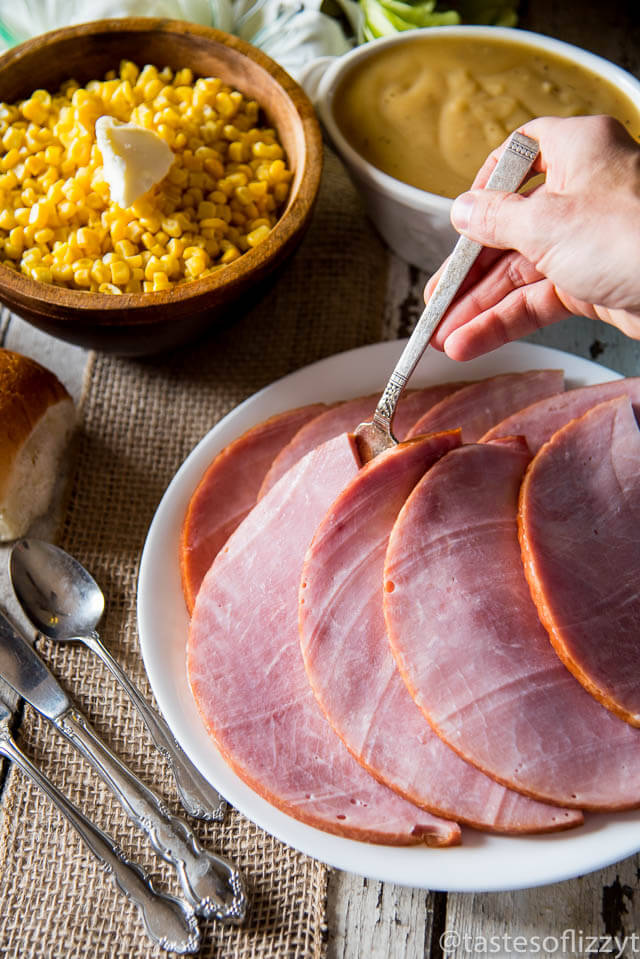 Here's important information about farm-fresh meal:
The meal includes hickory smoked ham served with mashed potatoes and gravy, green beans and ham, buttered sweet corn, coleslaw, rolls and lemon supreme pie.

The Farmhouse Feast can feed a family of four for $49.99* or a family of eight for $79.99*, which includes a loaf of banana nut bread. Additional servings may be added a la carte.

Guests can order the Farmhouse Feast at any Bob Evans Restaurant or www.bobevans.com starting March 17 and schedule their own pick-up date through Easter Sunday. The meals are fresh and made-to-order, but quantities are limited, so ordering early is highly recommended.
If you choose to get the meal to go, Bob Evans will have everything refrigerated and packaged neatly, ready for you to pick up, reheat and serve to your family.
I heated the green beans, corn and potatoes in the microwave and heated the ham in the oven.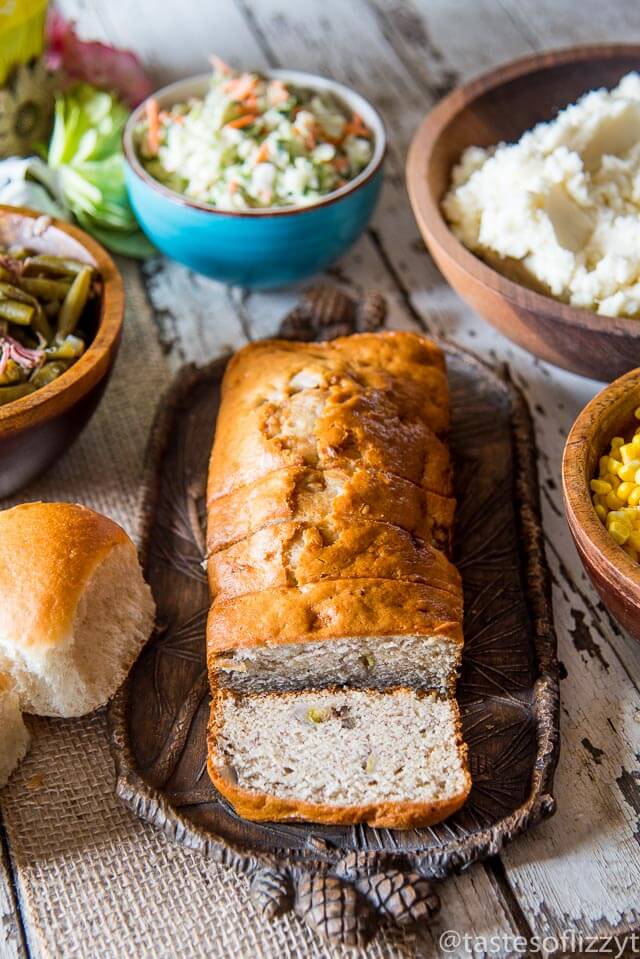 If you are planning to heat the ham in the oven, plan about 30 minutes for reheating. If you do everything in the microwave, you'll have an easy Easter dinner on the table in no time at all.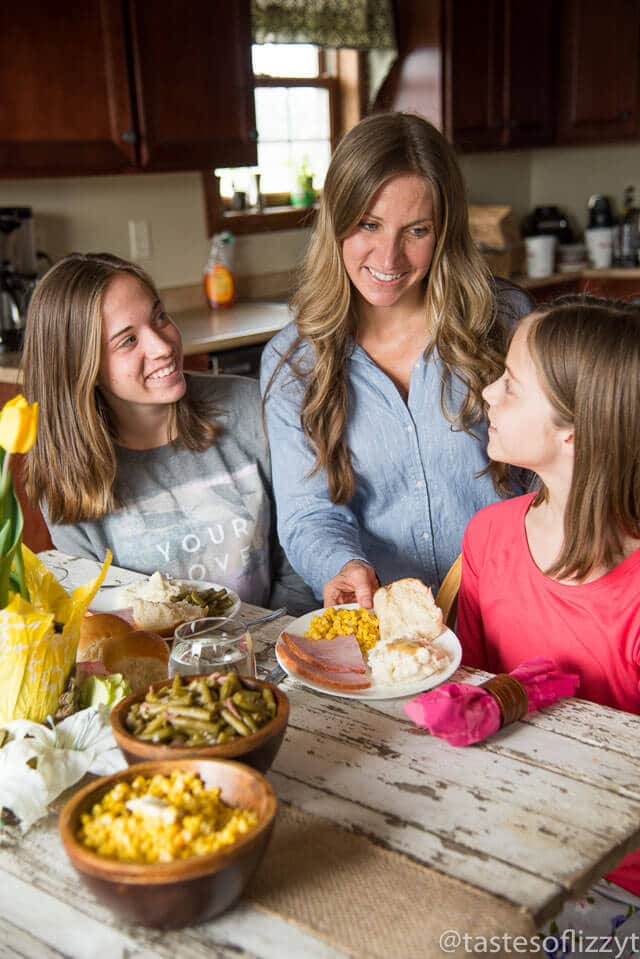 Big smiles, full bellies. 🙂
I think Braden, my quickly growing boy, loved this meal the most. He had his plate piled high!
We saved our pie for later in the day because we had totally stuffed ourselves on this delicious food. This lemon supreme pie was so pretty and made the perfect afternoon snack. It has a sweet lemon topping with a cream base. We devoured it embarrassingly quickly.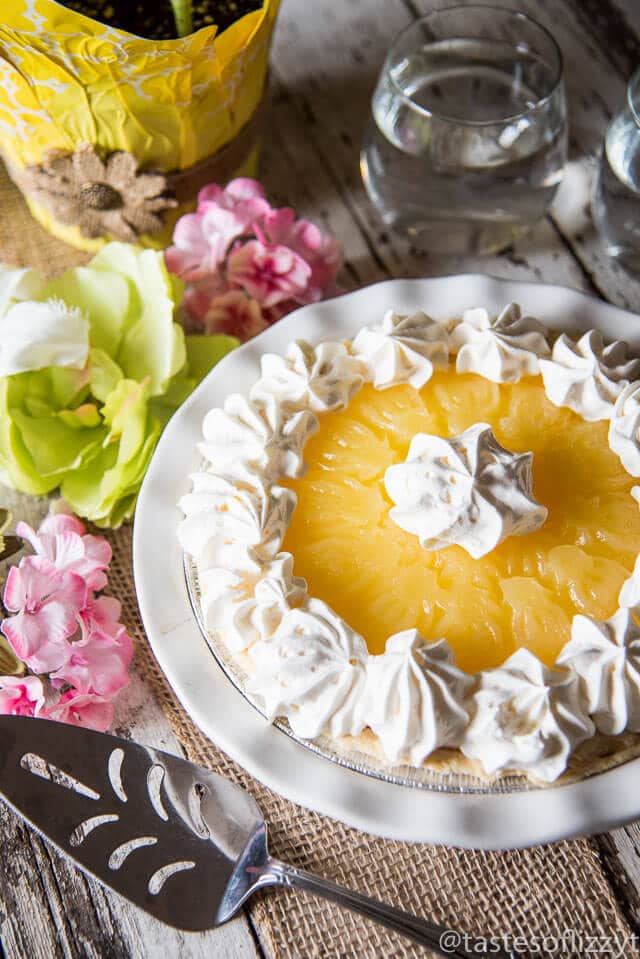 Q: Tell me, what are your Easter dinner traditions and hints for an easy Easter dinner?
Have you ever visited Bob Evans Farm in Rio Grande, Ohio? Read about our visit here!
I also had the chance to visit Bob Evans headquarters in New Albany, Ohio. See photos here.
Thanks to Bob Evans for sponsoring this post and providing us with a Ham Farmhouse Feast! All opinions are mine.